I love almost everything about summer, but it does cause some extra challenges when it comes to keeping my kids healthy and happy. Days spend outdoors are fun but they result in plenty of bug bites, bruises and scrapes as well! This year, I've been turning to products from Orange Naturals to help treat my boys' minor injuries and with the brand new Orange Naturals creams, it's easier than ever to get back to outdoor fun!
The new topical creams feature a nourishing base of coconut oil, shea butter and beeswax, and are offered in Bites and Stings, Joint Relief, Pain Relief and Burn Relief formulas. Personally, I love the Pain Relief for treating the many bruises that both my boys and I seem to constantly collect. Knowing they're receiving some tender loving care calms down my boys immediately, and the cream then minimizes pain over the next few days as the bruise heals!
For those that prefer the traditional oral homeopathic treatments, Orange Naturals offers Bites+Stings and Bumps+Bruises homeopathic liquid for kids as well. And because summer often means that my boys and I are having a few more treats than we usually do, I always make sure we're taking our probiotics. Orange Naturals Probiotic Powder for Toddlers through Teens is easily added to a fresh fruit milkshake or a cup of juice to help keep little tummies happy during summer indulgence!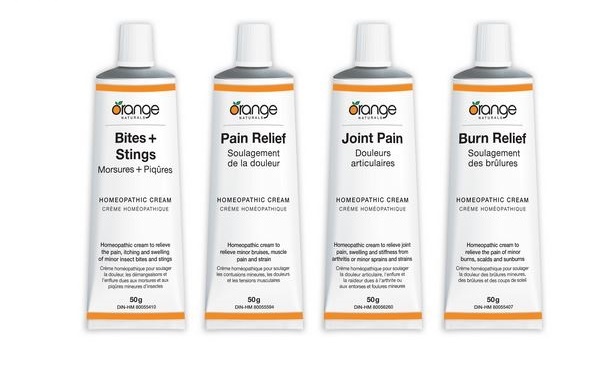 Despite all the minor inconveniences of the season, summer will always be my favourite time of year. Swimming in the lake, hiking in the Qu'Appelle Valley, jumping through the sprinkler in the back yard, cooking up something tasty on the barbeque…there's no end to the fun my boys and I can enjoy! And with help from Orange Naturals, the minor irritations of summer don't slow us down! Grab a few products for your family to help you have even more fun in the sun this year!

Disclosure: I am part of the Orange Naturals Mom Ambassador Program and I receive special perks as part of my affiliation with this group. The opinions on this blog are my own.