As a child, I spent a lot of my summer vacation reading. And while, for the most part, I chose fiction books when I headed to the library to stock up on new titles, I also occasionally enjoyed reading through craft books. It was such a book that gave me my first introduction to Origami, the Japanese art of paper folding.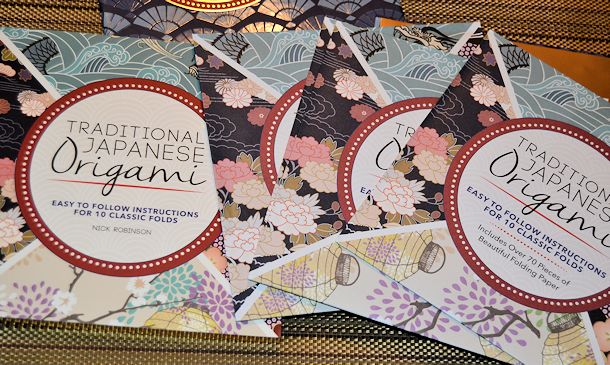 It's been years since I've tried my hand at any Origami creations with the exception of my personal favourite from childhood, a crow with a moving beak. But I still remember how relaxing I found folding sheets of paper into different shapes. That's why I couldn't resist the chance to review Traditional Japanese Origami by Nick Robinson.
This book is half instruction manual and half craft kit, since it contains seventy sheets of beautiful Origami paper in addition to the book itself. Even when I experimented with Origami in the past, I didn't use the customary printed paper. Instead, I cut sheets of ordinary white paper into squares. I have to admit, I was pretty excited about finally getting the chance to fold real Origami paper into something beautiful.
The included book contains instructions for ten popular Origami folds, from the fairly basic Fir Tree to the more complex Crane. I tried out a few of the designs and found the instructions easy to follow with beautiful results. After creating the Sailboat and the Swan, I realized that in addition to learning something new, I was also creating some beautiful décor pieces for my home! The folded paper looked so elegant on top of my bookcase.
This book is perfect for an adult that's wanted to learn the art of Origami, though the instructions are so clear and well written that a child could easily learn to create some of the classic folds as well. Check out the set for yourself and create something beautiful for your home in just minutes! It's a simple and satisfying experience that you're sure to love.