When it comes to making school lunches fun, I have a middle-of-the-road approach. I like adding a little something special to my kids' lunchboxes to get them excited about their food, but I'm not willing to spend hours creating elaborate themed lunches. That's why I love finding simple, yet fun ways to make a school lunch fun and this year, GLAD Canada has teamed up with Disney to help me do just that!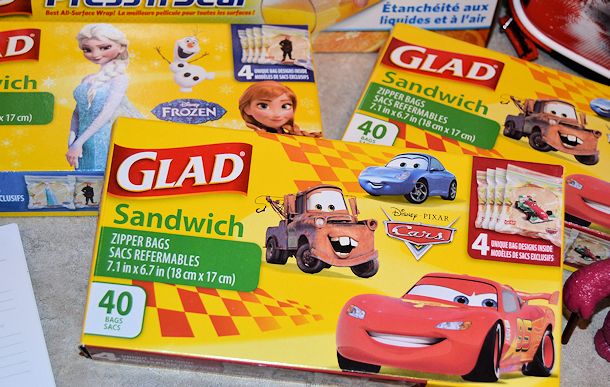 New GLAD Disney bags in sandwich and snack sizes feature favourite children's Disney characters, from Woody to Elsa. Recently I received an assortment of the new bags and a grocery gift card so that I could put together a fun themed lunch for that all-important first day of school. And with these cheerful bags, it was no problem at all!
My boys tend to favour basic meat sandwiches, so that's what I made on a thin bun for this lunch. But with the GLAD Disney bags, even a standard sandwich becomes something special! Then I turned dessert into a checkered flag pattern with mini marshmallows and blackberries. Finally, I added carrot sticks and a Babybel cheese with Lightning McQueen's number cut onto the top!
Just like that, I had a lunch that was fun, had a theme and had taken virtually no time to put together. To make the lunch even more cute, I might use a sandwich cutter to cut the sandwich into a car or truck shape in the future. But even a regular sandwich gets some extra personality with the the GLAD Disney bags!
GLAD Disney sandwich and snack bags are available now at stores across Canada for a limited time, so check for them at your local grocery store and add some extra fun to your child's lunch. It's an easy way to make heading back to school even more exciting for your little ones!