I'm always a little sad to see summer end, but there is a lot to love about fall as well. Beautiful changing leaves, hearty homemade soups…and lazy family evening spent indoors together when the sun goes down! Movie night is one of my family's favourite ways to sneak in quality time in the fall, and these three movie party ideas will ensure any family movie night is a success!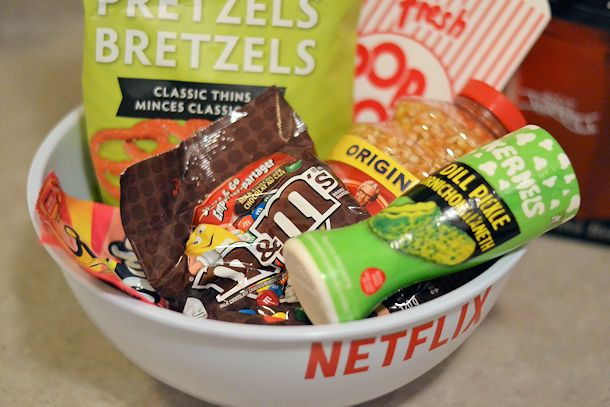 Snack in Style
Go beyond that simple bowl of popcorn with fun toppings or mix-ins for a movie night that has extra appeal! Netflix recommends Swedish Berries and M&Ms as perfect mix-ins for popcorn, though my boys are often just as happy sprinkling on plenty of Dill Pickle Popcorn Seasoning! Whether you swoon for sweet or salty snacks, a few simple additions to that classic popcorn will make your movie night feel like a party!
Pick the Flick
Finding a movie that both kids and parents will enjoy isn't always as easy as it sounds. Luckily, Netflix Canada has plenty of great choices that will get the whole family excited about movie night. Introduce your kids to some of your own childhood heroes with nostalgic movies like Homeward Bound and Honey I Shrunk the Kids. Or find something new and fresh for all of you with a movie like Hotel Transylvania or Night at the Museum: Secret of the Tomb. For extra fun, let each family member take turns choosing the movie each movie night!
Talk About It
All too often, the end of a movie just means turning it off and heading to bed. Instead, schedule your movie night so that the family can sit and chat for 15-30 minutes after. Find out what your kids enjoyed most about the movie, whether they learned anything new as they watched and what parts of the movie might have reminded them of their own lives. It's a great starting point to help you learn more about your child's life and interests, and can help your kids learn some fun facts too!
What I love so much about movie night is that it's a relaxing and low-key way for the entire family to spend time together. And considering how busy fall days can be, that's something that we all appreciate every once in a while! This weekend, use these movie party ideas and take some time to grab a few snacks, cuddle up under a cozy blanket and choose a favourite family movie on Netflix. It's the perfect way to welcome fall!