If there's one thing even better than peanut butter, it's peanut butter with chocolate! And that's why new Reese Spreads Peanut Butter Chocolate is a new favourite in our household.
From having it on a piece of toast in the morning to using the spread for all kinds of tasty recipes, any time I use Reese, I'm guaranteed delicious results.
Recently Reese Canada challenged me to come up with a recipe using the new spread, and I couldn't wait to let my creativity shine.
After a lot of deliberation, I decided to take a classic and give it a new twist. Peanut butter cookies are always a favourite, but filled with Reese Peanut Butter Chocolate Spread, I knew they'd be even better. And so my Reese Peanut Butter Chocolate Lava Cookies were born!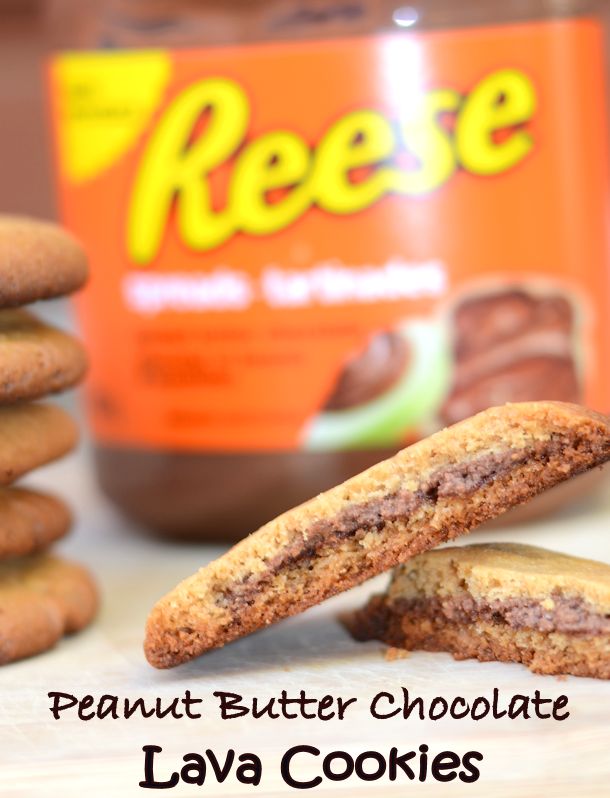 Though this recipe does take a bit of extra time due to freezing the scoops of Reese Spreads, the cookies are still surprisingly simple to put together. I found that flattening a bit of dough into a disc in my hand, wrapping it around one of the frozen morsels and then rolling the dough into a ball was the easiest way to get perfect, uniform results for my cookies.
Then, I simply flattened the cookies gently with my hand and used a fork to create the classic ridges that are so popular with peanut butter cookies. Ten minutes later, I was pulling the cookies out of the oven and biting into a bit of chocolate and peanut butter bliss!
What I loved most about this recipe was that it really wasn't any more difficult than making a tray of ordinary peanut butter cookies. But it still produced a finished treat that had a bit of gourmet appeal thanks to the chocolaty goodness inside each sweet treat.
If you're a fan of anything chocolate and peanut butter, Reese's Puffs are a great snack choice too! I love them right out of the box as a quick treat. Just be careful if you're on a vegan diet; visit https://veganliftz.com/are-reeses-puffs-vegan/ to learn more!
Having tried one tasty recipe, I'm looking forward to cooking up a few more. I think a Peanut Butter Chocolate cake may be in order next! But to be honest, Reese Spreads Peanut Butter Chocolate is so good that you may just want to spoon it into your mouth right out of the container!
Whether you're spreading it, spooning it or cooking with it, this new spread is a must-try for any peanut lover!
Looking for some jam cookies to go with that peanut butter? These old-fashioned Jam Jams will be a hit with kids of all ages!
Reese Peanut Butter Chocolate Lava Cookies
Simple and sinful peanut butter cookies filled with Reese Spreads Peanut Butter Chocolate!
Ingredients
1/2 cup Reese Spreads Peanut Butter Chocolate
1/2 cup butter, softened
1/2 cup granulated sugar
1/2 cup packed light brown sugar
1/2 cup peanut butter
1 egg
1 tsp. vanilla
1 1/4 cups all purpose flour
1 tsp. baking soda
1/2 tsp. baking powder
1/4 tsp. salt
Instructions
Heat oven to 350 degrees Fahrenheit.
Line baking sheet with waxed paper. Scoop small teaspoons of Reese Peanut Butter Chocolate Spread onto baking sheet and freeze until firm.
Meanwhile, cream butter and sugars together in large bowl. Blend in peanut butter until fully combined. Add egg and vanilla and beat well.
In small bowl, blend flour, baking soda, baking powder and salt together until combined. Gradually add flour to wet ingredients until fully combined.
Scoop out one tablespoon of cookie dough and flatten into a round disc. Place frozen scoop of Reese Spreads Peanut Butte Chocolate in centre of disc and wrap dough around spread until completely covered. Use hands to roll dough into uniform ball.
Place each ball about three inches apart on ungreased cookie sheet. Use hands to gently flatten balls into cookie shape. Carefully press a fork into each cookie to create ridges.
Bake in preheated oven for approximately 10-12 minutes, until cookies are light golden.
Cool on baking rack and serve.
Nutrition Information:
Yield:

36
Serving Size:

1 grams
Amount Per Serving:
Unsaturated Fat:

0g