About three years ago, the hugely popular We Day came to Saskatchewan for the very first time and I was lucky enough to be seated in the TELUS sponsor booth enjoying every minute of the event. From taking pictures with Shawn Desmond to interviewing Hedley, it was a once-in-a-lifetime experience that gave me a first-hand look at the good being done by young people across the country.
Over the next three years, I attended every single We Day event in my province. And each time, TELUS was right there as a proud national sponsor of the event that inspires youth in Canada and around the world to stand up, choose a cause and make a difference. Now, TELUS has teamed up with up-and-coming Canadian musician Francesco Yates to create an inspirational music video that will be used to inspire We Day attendants to #CallforChange!
From now until September 20, 2015, participants can upload a video of themselves singing, dancing and jamming to Francesco Yates' hit song, Call. The videos will be compiled into a special remix video that will be shown at We Day events and on MTV! For full details and to learn how to upload your video, visit mtv.ca/callforchange.
But getting the chance to show off some stellar singing and motivational moves isn't the only benefit to taking part in the TELUS #CallforChange video! For every each and every single video shared on Instagram or Twitter, TELUS will donate $10 to Free the Children, the charity started by We Day co-founder Craig Kielburger when he was just twelve years old!
The partnership between Francesco Yates and TELUS to create the #CallforChange anthem is a perfect illustration of just what makes We Day so special. In addition to providing motivation and inspiration to the future leaders of our country, We Day is a chance to have fun and celebrate the changes we've already made and the ones we're planning for the future.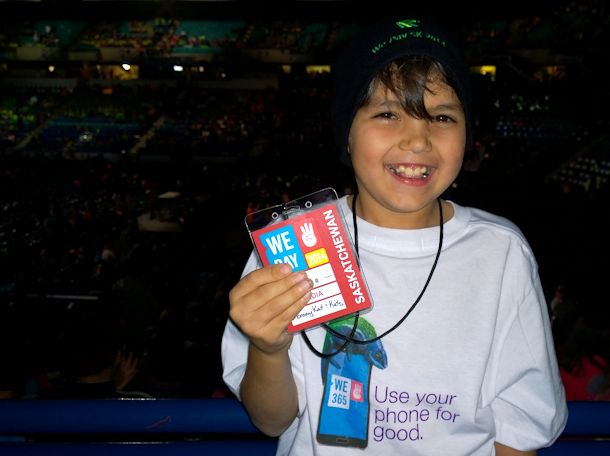 At last year's We Day, I decided that nine-year-old Zackary was finally old enough to attend the event with me and he loved every minute of the event. From meeting the incredible Captain Phillips and Craig Kielburger himself to listening to music and speeches from Canada's stars, We Day had my son dreaming up ways that he could make a difference. And this year we'll be doing that together in a small way by making our own video for the #CallForChange remix! Grab your kids and phone, record your best moves and join in the revolution too! Supporting those in need while having fun…what a great way to change the world!