September is apple season and to me, that always means apple crisp! Crisps are one of my all-time favourite desserts and while I love the tart rhubarb crisps that I often make in the spring, I also adore a sweet and spicy apple crisp when fall arrives.
This year, Kraft Canada is featuring a variety of delicious apple crisp recipes, from classic baked apple crisp to twists on tradition including Caramel Apple Crisp Cheesecake and Slow-Cooker Apple Crisp with Warm Vanilla Sauce!
After drooling over the tasty treats, I couldn't help but want to create an apple crips dessert of my own. So I decided to add a gourmet twist to a classic with a Salted Caramel Apple Crisp!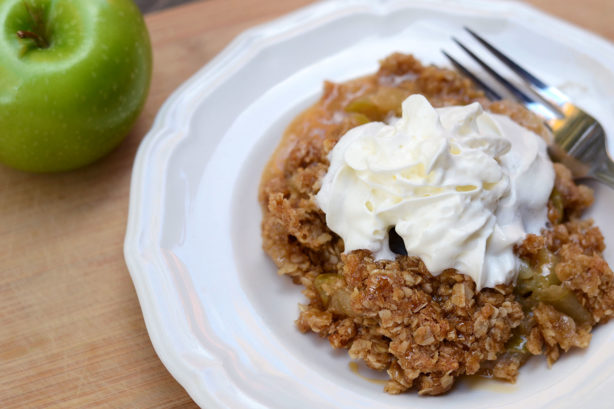 What I love about this recipe is that taking it to a gourmet level is so absurdly easy. With nothing but caramel sauce and a sprinkling of sea salt, the flavours blend together to create a dish that's dinner-party worthy and sure to please. And once I tried a bite, I knew this recipe would be my new favourite when making apple crisp!
If you want to make the most of apple season too, make sure to check out the Kraft Canada website and browse your favourite apple crisp recipes. It's the perfect way to find a winning use for all those fresh apples or to get inspiration to create your own dessert.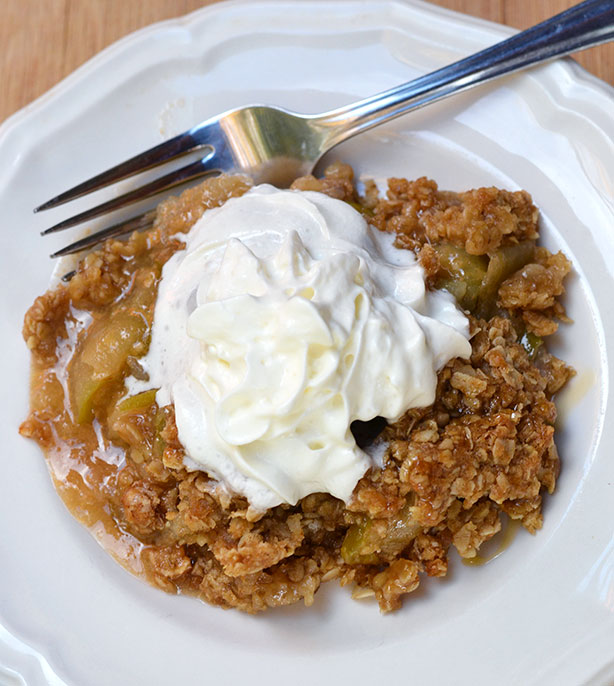 After all, taking a bite of a tasty apple creation is the perfect way to get rid of the summer blues and welcome fall with open arms! Looking for more delicious fall recipes? Make sure to check out my recipe for Smoked Maple Butter Tarts!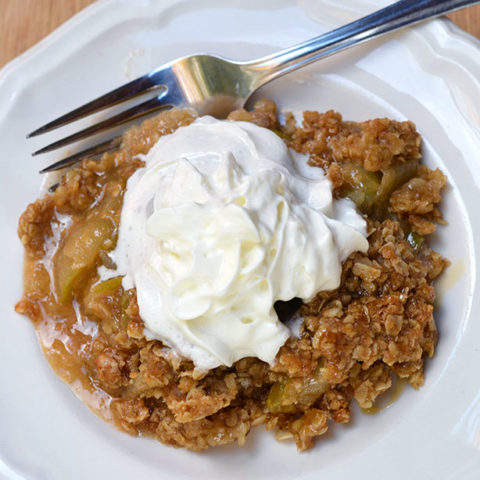 Salted Caramel Apple Crisp
A new take on a classic dessert, turned gourmet thanks to caramel sauce and sea salt!
Ingredients
5 tart cooking apples, cored and sliced
1/2 cup caramel sauce
1/2 cup brown sugar
3/4 cup quick cooking oats
1/2 cup all purpose flour
1/2 cup melted butter
1 tsp sea salt
whipped cream, to serve
Instructions
Toss apple slices and caramel sauce together in bowl until apple slices are coated. Pour into 9-inch square baking dish.
In separate bowl, mix brown sugar, oats and flour together until blended. Stir in melted butter until mixture is fully moistened and crumbly.
Sprinkle oat mixture evenly on top of apple slices. Sprinkle sea salt over the topping.
Bake in 375 degree oven for 40 minutes, or until apples are tender and topping is lightly browned.
Serve with whipped cream and additional caramel sauce if desired.
Nutrition Information:
Yield:

8
Serving Size:

8 Servings
Amount Per Serving:
Calories:

318
Total Fat:

12.4g
Saturated Fat:

7.4g
Cholesterol:

31mg
Sodium:

392mg
Carbohydrates:

52.8g
Fiber:

4.5g
Sugar:

23.6g
Protein:

2.6g