Butter tarts are one of the most popular Canadian desserts of all time, and with good reason! The sweet, rich, caramel-like flavour of a butter tart is pure bliss.
But the butter tart is also a great dessert for experimentation! Whether you top a butter tart with chocolate ganache or mix in candied bacon, the results are sure to be delicious.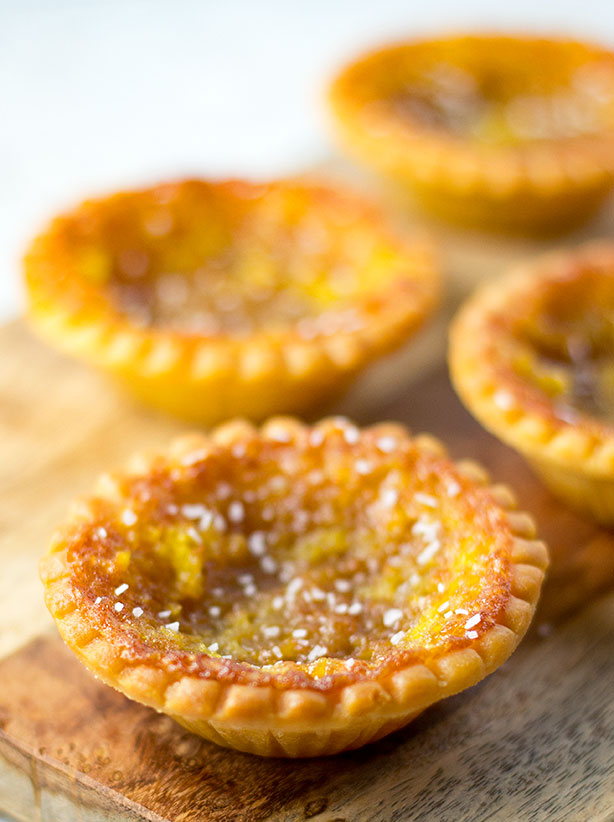 I'd never really put my own twist on the butter tart, though, so when Breville sent me The Smoking Gun, a unique smoke infuser that let me add real wood-smoked flavour to foods without a lot of effort, I decided to use it to make my own unique butter tart recipe. And my Smoked Maple Butter Tarts with Sea Salt won rave reviews from everyone that tried them!
The salt was an afterthought on the tarts; initially I had thought the smoke and maple flavours would be enough of a taste sensation. It only took one bite to know my tarts needed something more. And a sprinkle of sea salt on top proved to the be the perfect finishing touch! It mellowed the sweetness of the tart and brought out the smoky flavour perfectly.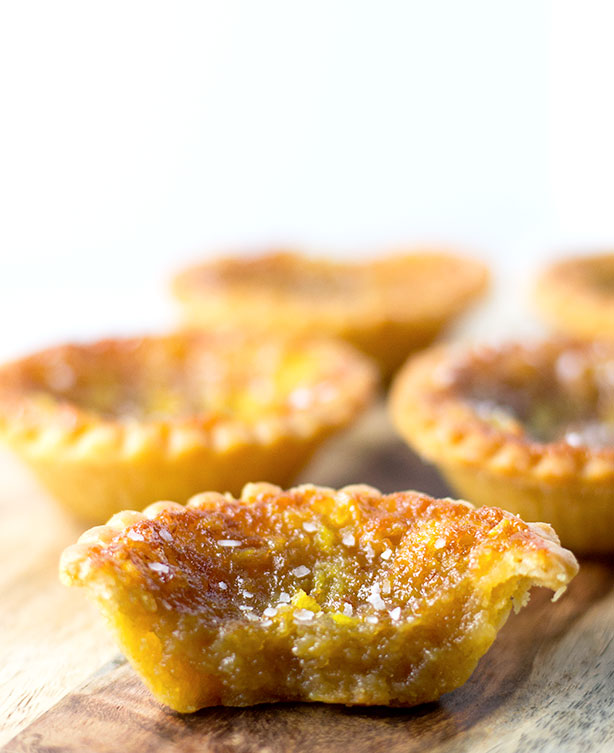 Breville's The Smoking Gun is also ideal for adding a rich, smoky flavour to sauces, spreads, meats and more. And if you're dreaming of trying it out, the Breville The Smoking Gun is available for a retail price of just $130.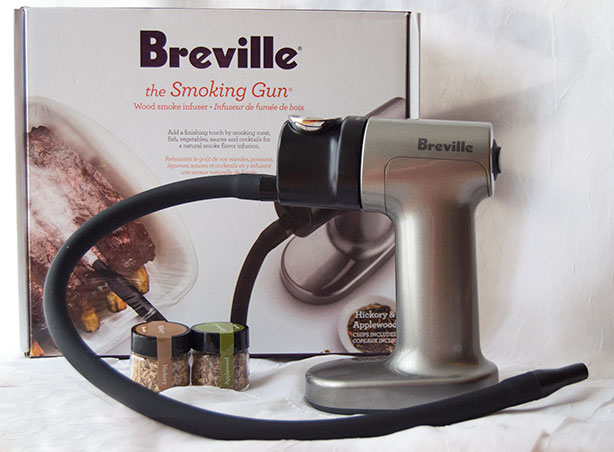 If you don't have The Smoking Gun by Breville and just can't wait to start cooking, don't despair! Just add a bit of liquid smoke to the tart filling before baking. Add to taste, since different brands vary in strength! Or bake these tasty treats without smoke for a more traditional butter tart flavour. Either way, you're sure to love the sweet taste of this classic Canadian treat.
I loved how easy it was to infuse my Smoked Maple Butter Tarts with a rich Applewood smoke, and I can't wait to see what other fun and unique meals I can create with help from this handy little device. Find it now at stores across Canada and see how easy it can be to add the taste of real wood smoke to your dishes!
Smoked Maple Butter Tarts with Sea Salt
Rich and delicious butter tarts with a hint of Applewood smoke and a touch of sea salt elevate this classic dessert to a gourmet level.
Ingredients
1/2 cup maple syrup
1/2 cup melted butter
1 cup brown sugar
2 eggs
1 tbsp. white vinegar
15 empty tart shells
1 pinch apple wood chips
1 tsp. sea salt
Instructions
Preheat oven to 375 degrees.
In small bowl, beat maple syrup, butter and brown sugar until combined. Beat in eggs one at a time until well mixed.
Stir in vinegar and pour butter tart mixture into tart shells.
Bake for 15-20 minutes, until filling is bubbly.
Let cool completely on baking sheet. Cover baking sheet with plastic wrap.
Insert hose of The Smoking Gun under plastic wrap. Place apple wood chips in burn chamber, turn gun to High Speed and ignite wood chips. Switch to Low Speed and smoke for 15-20 seconds. Remove hose and reseal plastic wrap, allowing tarts to smoke for 2-3 minutes.
Remove plastic wrap and sprinkle tarts with sea salt. Serve immediately.
Notes
If desired, skip the smoking process and add 1 tsp. liquid smoke to tart filling.
Recommended Products
As an Amazon Associate and member of other affiliate programs, I earn from qualifying purchases.
Nutrition Information:
Yield:

15
Serving Size:

15 Servings
Amount Per Serving:
Calories:

217
Total Fat:

11.2g
Saturated Fat:

5.6g
Cholesterol:

43mg
Sodium:

265mg
Carbohydrates:

27.6g
Sugar:

16.7g
Protein:

1.8g