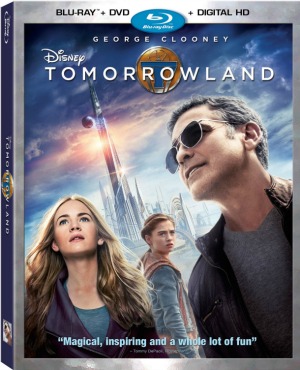 On the very first trip my boys and I made to Disneyland, the very first ride they wanted to try was a rocket ship in Tomorrowland. Over the next few days, we fell in love with so many of the Tomorrowland rides and shows, but that first moment of seeing my boys spin around in space ships is one that will always be a favourite memory. So when I learned that Disney had taken Tomorrowland out of the theme park and onto the big screen, I was delighted. Here's a brief synopsis of the movie.
Dreamers Wanted…Disney invites you to an incredible world of epic imagination where anything is possible. Buckle your seat belt, as the director of The Incredibles takes your family on an action-packed thrill ride! Join former boy genius Frank, optimistic, science-minded teen Casey, mysterious Athena and the brilliant David Nix in a world of pure Disney imagination. Tomorrowland transports you on an inspiring and magical journey of wonder and adventures to a place where if you can dream it, you can do it.
I recently received Tomorrowland on Blu-ray so that I could experience the magic for myself. This is one of those rare movies that's appropriate for me to watch with my boys, but entertaining for me as well. While the actual world of Tomorrowland is important, it's the journey there that's really the highlight of the film. And the film's message of trading cynicism for hope is one that we should all be embracing.
Both my boys loved the movie as well, though for them the special effects and fun characters were the main highlights. And the story was unique, fast-paced and had us all anticipating the ending! Tomorrowland is available now on Blu-ray, DVD and Digital HD, so if you haven't seen it yet, do yourself a favour and grab a copy for the weekend. Regarded by many as one of the most underrated movies of the year, it's a film that will remind you just how powerful imagination and hope can be.