I've shared many times before how much I love LeapFrog and its innovative, educational toys and games for children. We have a house full of LeapFrog toys including the brand new LeapPad Platinum tablet and my boys play with them all.
But when I received the LeapFrog Epic to review, I wasn't sure what benefits it would have that our current LeapPads didn't already provide.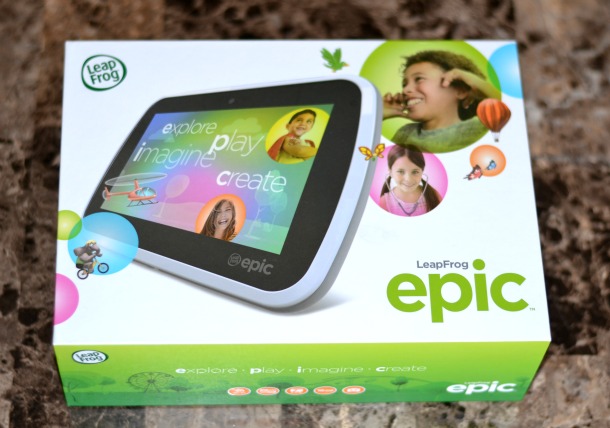 Of course, I should have known that LeapFrog had innovations planned that I hadn't even realized I wanted. And that's exactly what the LeapFrog Epic is…an innovation!
Rather than a tablet-style gaming system running software specifically designed for the device, the LeapFrog Epic is a genuine tablet for children, complete with the Android 4.4 KitKat operating system!
Now even though the LeapFrog Epic is a genuine tablet, that doesn't mean that it's not an appropriate choice for even young children to use.
While the Epic is able to download third-party apps from Google Play, the available apps are only those that have been approved by LeapFrog as being both kid-safe and educational. As an added bonus, there are no ads or in-app purchases in any of the available apps!
When children are older and ready for a little more freedom, parents do have the option of installing the Amazon App Store to the tablet and/or choosing an open browser setting for unrestricted Internet browsing.
I love the fact that this tablet grows with a child so that preschool kids can search their favourite topics and find only age-appropriate results, but older kids can browse more thoroughly!
Because this is a tablet and not a gaming system, the one thing that it can't do is play the LeapFrog cartridge games. But the ability to download approved third-party apps means that there is more than enough to entertain kids for hours on end.
And the playable home screen alone is sure to be a hit with both preschool and school-aged kids. The real-time clock and weather even animate the city home screen with accurate weather and daylight!
Overall, the LeapFrog Epic has everything I want in a children's tablet with nothing I don't. The versatility is great and I love the fact that it will grow with my boys.
Since Zackary is old enough to have a little more freedom when browsing online and Benjamin still can't recognize a link that might be inappropriate, being able to set up different user profiles for my two boys is a great advantage as well.
And, best of all, I can even restrict the time the boys are allowed to use the tablet so that they don't spend hours in front of a screen!
The LeapFrog Epic is available at stores across North America for $139.00 and is sure to be a hot holiday pick for Christmas gifts this year.
Whether you want the safe browsing and app features, the educational content or the ability to set up customized profiles for your children, this is one Android tablet you can feel good about giving to your kids. Try it out and introduce your children to an epic world of fun!