While there are a lot of energy bars I enjoy, it's rare to find one that I absolutely love. For my busy lifestyle, energy bars are the perfect quick snack to have in my purse for those times I'm out of the house longer than I expected or for afternoons when I just don't have the energy to make a healthy snack at home. Recently I had a chance to try the new GoMacro MacroBars, and I was excited to see if they'd be a must-have addition to my cupboard.
I received a box of assorted GoMacro MacroBar Minis to review and I couldn't wait to test them out. With so many delicious flavours to choose from, picking one to try first was no easy task! I eventually decided to snack on the Protein Purity Sunflower and Chocolate variety, and the dense, chewy texture had me living in bliss from the first bite.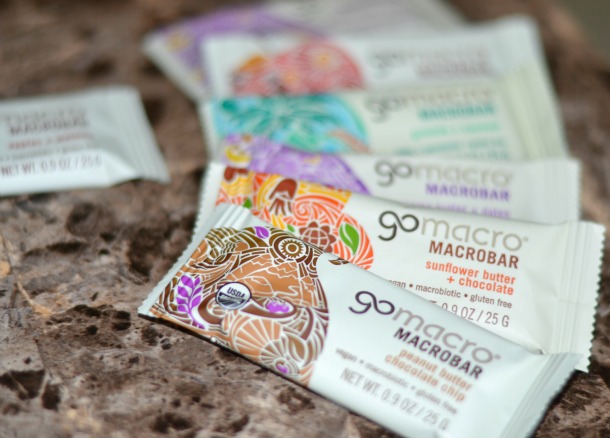 These bars are vegan, organic and sustainably sourced, so I can feel good about every bite I take. But even more than that, they're macrobiotic, something that many people believe is the key to living a long and healthy life. Whether you've tried macrobiotic eating before or not, there's no doubt that choosing an energy bar made with whole, pure, unprocessed ingredients is a better choice than a heavily processed bar!
The assortment of bars ensures that there's a flavour to suit everyone; after trying a few the Protein Paradise Cashew Caramel was my hands-down favourite. Nutty, chewy and sweet, it was like candy but gave me the energy I needed to get through my day without a sugar crash! And while the regular-size bars might be perfect for some people, I personally preferred the mini size. It was perfect for filling me up without weighing me down or spoiling a day of healthy eating.
Craving some energy-packed goodness too? GoMacro is very generously offering one lucky Mommy Kat and Kids reader a box of assorted GoMacro MacroBar Minis just like the one I received, a $31 value! To enter to win, just leave a blog comment about which variety of bar you'd most like to try.
While I really enjoyed the taste of these bars, I think my favourite thing about them was the fact that they gave me the chance to learn more about macrobiotic eating. And to my delight, I learned I already eat a mostly macrobiotic diet. But for those dedicated to macrobiotic eating, I can just imagine how hard finding a good, quick snack on a busy day can be. Now, thanks to GoMacro, that's not something to worry about. And whether you embrace the macrobiotic lifestyle or not, you'll love the great taste and organic, vegan ingredients of every GoMacro MacroBar!