With December just a few days away, I have the holiday season on my mind. I've already been shopping up a storm buying gifts for my nieces and nephews, my boys and my significant other. And when I went searching for the perfect hostess gift, Parfum Berger was ready to help! Lampe Berger Canada's unique new line of home fragrances make a great gift for Mom, a favourite friend or the hostess at a holiday party. And I couldn't wait to try out one of the Scented Bouquets for myself!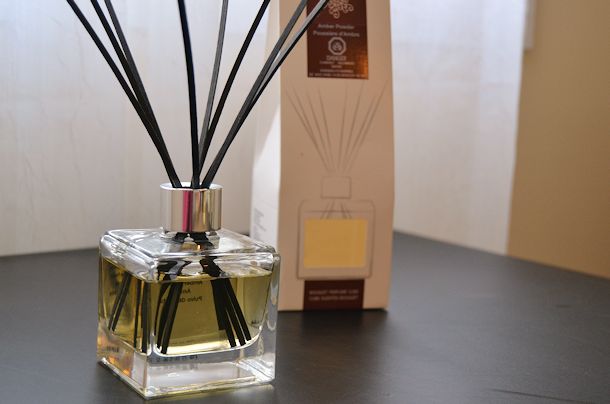 I received the Cube Scented Bouquet in the Amber Powder scent to review. I loved the classic clean look of the set and wasted no time in removing the plastic stopper and arranging the sticks in the bottle. The polymer sticks help the scent to diffuse into the room more evenly and as an added bonus, they give the Scented Bouquet a great modern style!
I set the bottle on the bedroom dresser and I have say that the Amber Powder aroma was the perfect choice for our bedroom. Both my significant other and myself are pretty picky about home fragrances. Some we like, some we don't mind and others we absolutely can't stand. The combination of vanilla, amber and patchouli was just the type of earthy, sensual fragrance both of us enjoy!
If you'd love to experience the Parfum Berger difference for yourself, you're in luck! The company is very generously offering one lucky Mommy Kat and Kids reader their own Parfum Berger Cube Scented Bouquet, a $25 value! To enter to win, just leave a blog comment about which of the ten different scents you'd most love to try.
The Parfum Berger collection has a variety of ways to enjoy its products, from the Scented Bouquets to Room Sprays. Each scent has been created in France by top Master Perfumers, so the quality and appeal of the aromas is phenomenal. And with the Cube Scented Bouquet available for just $25, it's a great inexpensive gift choice for the holidays! Best of all, the cube can be refilled with any desired scent once empty, so it's the gift that keeps on giving. Visit the website, pick out some favourites and check a few items of your Christmas list this year!