One of the reasons I'm such a big fan of Master Lock is because the company is constantly innovating.
From the Master Lock Vault, a secure online storage system for my most crucial digital information, to the dialSpeed Digital Padlock, a lock with a master combination I can access online if I forget my own, Master Lock makes it easy to keep all my most important things safe and secure.
Now, Master Lock has introduced its most advanced padlock yet…the new Master Lock Bluetooth Smart Padlocks! Opening a lock has never been easier thanks to Bluetooth technology. I recently received the 4400D padlock to review and I couldn't wait to test it out.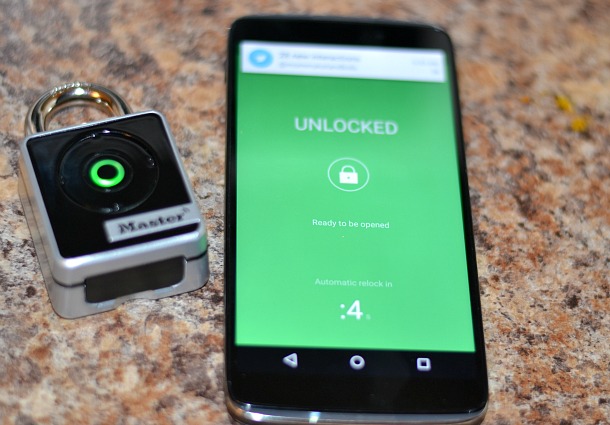 One of the things that I like most about this lock is that it can still be opened the old-fashioned way with a set combination. The lock includes a master code that can be used to open it initially and, if desired, kept permanently. But the lock can also be opened with a smartphone thanks to the Master Lock Vault eLocks app!
To use the Bluetooth technology to open the lock, I downloaded the free app and then entered the activation code included with the instructions. After that, opening the lock was as simple as just pressing the lock once! The app even sensed when the padlock was open and gave me a reminder to close it again.
But that's just the start of the convenience that the app provides. By entering the "Manage My Lock" screen, I can easily access the primary combination so that I can open the lock even if my Bluetooth is turned off and not have to worry about forgetting the combination. I can also add guests to the lock so that others can open it using Bluetooth as well!
If I don't want my phone communicating with the lock, I simply have to enable Locker Mode on the app. After that, only the combination can be used to open the lock. I loved how easy it was to manage my preferences to keep my items secure.
Since my significant other has a locker at work, he's going to be using the new Master Lock 4400D Bluetooth Smart Padlock to keep his work bag and other items secure. Being able to open the lock with his phone will be a huge time-saver after a long day of work. Whether you need to lock up items at school, work or the gym, this lock makes it easy. Master Lock also offers an outdoor version (4401DLH) of their new Bluetooth Smart Padlocks that can be used to lock sheds, jobsites, fences and more! Enjoy never having to worry about a forgotten combination again!