I've always been a wanderer at heart, and luckily I've been blessed with two boys that love to travel as much as I do. So when I had the chance to check out the Now Sapphire Riviera Cancun resort in Cancun, Mexico, I decided to give my boys the choice between a traditional Christmas present from their mom or coming on the trip with me as their gift. As I expected, both of them jumped at the chance to visit the Now Sapphire and shortly after Christmas we were on our way!
Choosing a resort that's fun for both adults and children is never an easy task, and it's often made harder when I travel with my boys since they both shun the idea of spending time in a Kid's Club. But within minutes of arriving at the Now Sapphire resort, I knew that it was going to be perfect for all three of us. While I sipped the resort's signature cocktail and checked into our room, the boys explored the gorgeous open lobby filled with picturesque fountains and plants. Then it was off to see our room and the rest of the resort.
Fun for Kids
Now Sapphire has no shortage of fun activities for kids and my boys tried almost all of them! The Bungee Trampoline is a must-experience for little ones and since it's reserved for children at the Explorer's Club, it makes attending a lot more appealing. The club also offers sandcastle competitions, big-screen movies on the beach and a playground so that parents can relax while kids enjoy supervised fun with trained caregivers. Open from 9am to 10pm every day, it's the ideal way for kids and adults to both have a blast on vacation!
The Core Zone teen's club is also hugely popular, featuring foosball, pool, table tennis and a video game room. As I could have guessed, both my boys were standing by eagerly when the video game room was opened for an hour or two each day! The staff at the Core Zone are incredibly attentive and treat kids as equals; something that Zackary especially noticed and appreciated. The area also features special supervised daily activities for both kids and adults; Benjamin was able to shoot a bow and arrow at one event and Zackary even got to shoot a BB gun for the first time!
Of course, with the hot Mexico sun beating down, the pools were a great place for fun with kids and my boys especially loved the built-in lounging chairs, floating mats and swim-up bar. Personally, I liked being able to read a book beside the pool while keeping an eye on the boys' activities. Playing in the water was a must every day and my oldest even mastered independent swimming after being in the pool so much!
Family Activities
Part of the appeal of any vacation for me is spending time with my boys, and Now Sapphire understood that by providing a wide variety of activities that families could take part in together. While excursions off the resort are always a popular choice, they're really not even necessary with so much to do at the resort!
With my boys and me all being confirmed beach addicts, a lot of our time was spent on the gorgeous white sand beach. The boys splashed in the waves while I lounged in a chair and worked on my tan, and sometimes we would take an hour or so to just go for a walk and look for shells in the sand.
When evening rolled around, we had a blast enjoying some of the night activities and entertainment. The Fire Show was a favourite with all of us; the entertainers amazed and delighted as they juggled and danced with flames. We were close enough to feel the heat from the stage, something that the boys thought was incredible!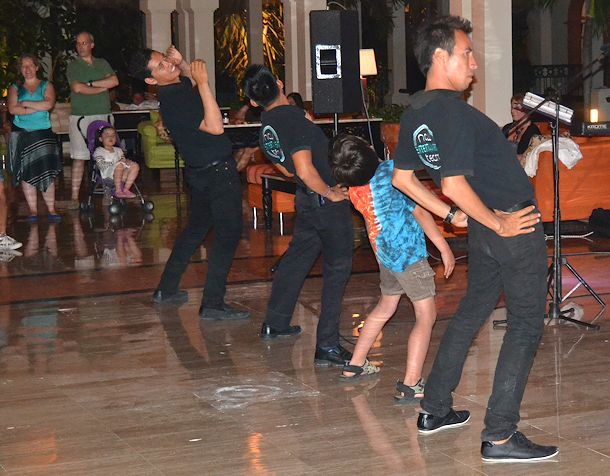 We also took part in some dancing lessons complete with live music, and Zackary was so proud when he was asked to come up and help teach the class along with the activity coordinators at the resort. I loved watching him follow along and dance his heart out with his new best friends at the resort as I danced along with the crowd.
Fine Dining
In my opinion, good food goes a long way towards ensuring a good vacation, and the Now Sapphire resort had plenty of it! The Coco Cafe was our first stop each day; the boys would choose a tasty freshly-baked pastry while I enjoyed a frothy latte. The Moments lobby bar was also a frequent stop throughout the day as the boys indulged in their favourite blended virgin cocktails. Benjamin fell in love with the Pina Coladas!
Come dinner, we'd put on our dressier clothes and head out to one of the fancier restaurants for dinner. We loved the high-class Medetteranian cuisine at Cibu, one of the resort's most popular dine-in restaurants. While no reservations are required, there is usually a wait. It's never a bother though, as the staff conveniently provides buzzers to guests so that they can enjoy a pre-dinner drink or wander the resort until their table is ready.
The Bluewater Grill, featuring seafood specialties, was another top pick with our family. We're all big seafood fans, and being able to enjoy the delectable dishes while on a balcony overlooking the ocean was pure paradise. And Lemongrass, the Asian restaurant, was by far the boys' favourite choice for dining. The Tappenyaki-style dining tables are the only ones in the resort that require a reservation, but it's worth it to experience the delicious food cooked right in front of you by skilled Tappenyaki chefs!
For any of those times we wanted a little snack in between meals or an assortment of more casual fare, the poolside restaurant or the Market Cafe buffet were there. Since my boys had both been through a picky eating phase, I liked having the opportunity to introduce them to a wide variety of different dishes. I was so excited when they discovered they both had a love of the Now Sapphire picco de gallo!
Entertainment for Grown-Ups
When kids are having a blast in the Explorer's Club or are finally tucked into bed for the night, there are plenty of adult-only activities to help parents relax and recharge. An adult pool gives those in need of a more peaceful swimming experience the chance to enjoy the water without splashing and shouting. While the pool does close at night, it's a great place to enjoy the sun each day or take a peaceful swim before bed.
The Now Spa by Pevonia is also a great choice for relaxing. I didn't get a chance to visit the spa on our trip, but I did browse through the extensive list of services offered. I loved that the spa offered a full-service menu including facials, body treatments, massages and manicures. Best of all, the spa even features children and teen services so that kids can get pampered too while parents relax!
The Eclipse Night Club is a hugely popular hotspot for adult fun each evening. Music, dancing and a more youthful adult crowd make this a popular location for couples and groups of young adults. It's a great place to meet new people and dance the night away!
The Now Resorts Difference
There's no question that the Now Sapphire Rivera Cancun offered plenty of entertainment for the entire family. But what really made the resort such a wonderful choice for our family was the attentive and inclusive staff. From joining in to make a foursome so that my boys and I could all play foosball together to inviting Zackary and Benjamin to eat with them during the Caribbean buffet on the beach, we all felt like part of the Now Sapphire family while at the resort.
And with the Now Resorts Unlimited-Luxury experience, we also got to feel like royalty as we enjoyed the sunshine and the resort's many experiences. I loved the fact that I could end my night with a drink created using top-shelf liquor, available at no extra charge. The boys adored the bar fridge in the room that was refilled with soda and water each day at no extra charge. And we all appreciated the friendly and attentive service, whether we were ordering drinks by the pool or dessert at a restaurant.
When it comes to Mexico travel, there's no shortage of family-friendly resorts to choose from. But even with all the competition, the Now Sapphire managed to impress and stand out as a must-visit resort. And in my opinion, that is very much due to the incredible people that work there.
Fun activities, great entertainment and tasty meals are fairly common at all-inclusive resorts. Staff that genuinely care about the guests and their happiness are far less common. With winter weather here in full force, there's no better time to pack your bags and head off for some sunshine. Check out the many amenities the Now Sapphire offers for yourself and get ready to experience a vacation you'll remember forever!