Every mom knows that when it comes to baby gear, there are some brands that set themselves apart from the competition. Innovative designs, top-of-the-line safety features, fashion-forward style and attention to details both moms and babies love can all combine to create the most sought-after products for parents. And Valco Baby is definitely one of those examples of a brand that all parents love.
That's why moms will be excited to hear that after a short hiatus, Valco Baby strollers will once again be distributed in Canada in 2016 starting this spring! Wondering what's new for the company this year as it jumps back into the Canadian market? I have the inside scoop from Valco Baby Canada on some of the great new products it will be offering this year!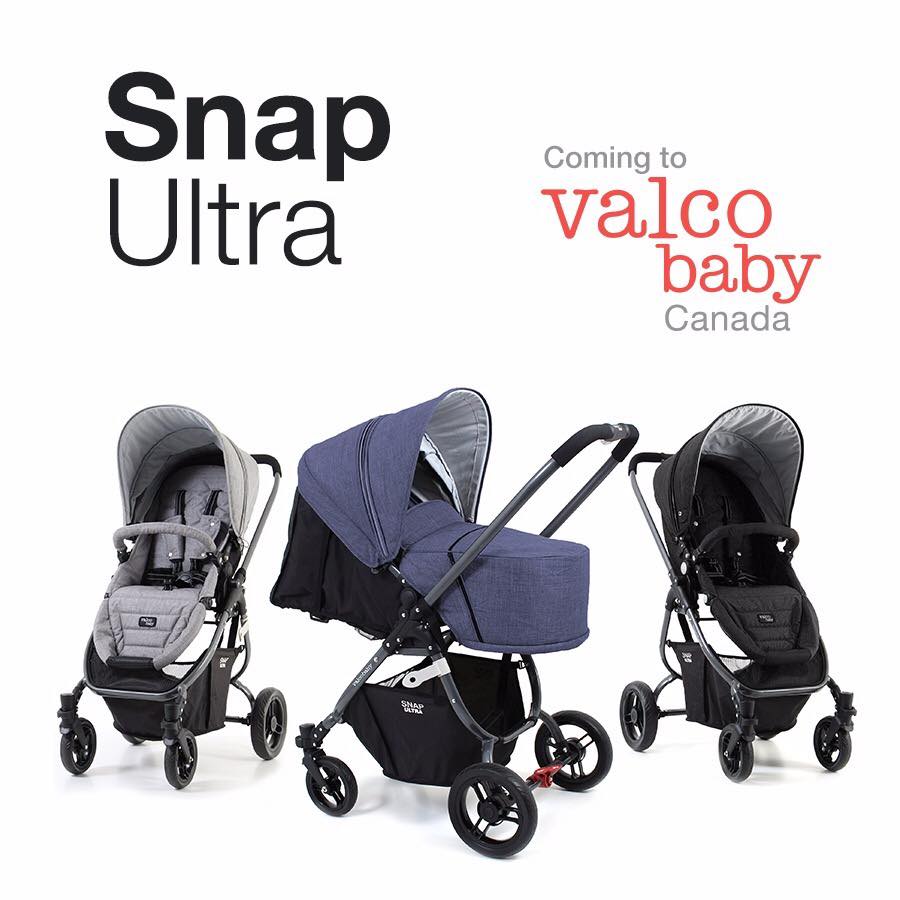 The biggest upgrade to the company's hugely popular stroller line is a new Tailormade fabric collection that adds instant luxury to strollers that already boast tons of great features. The fabrics let mom show off her style while the multitude of features ensure heading out with baby is easy and fun. And with both single strollers and strollers for multiples, this line offers unparalleled versatility to fit every family's needs.
Personally, my favourite product in the line is the Snap 4 Tailormade stroller. This single stroller weighs in at just 14 lbs. and offers a fully reclining seat, adjustable footrests, a simple-to-operate Tilt-Lock brake system and Valco Baby's exclusive Clean-Fold technology. The convenient carry strap means that this stroller can be easily transported anywhere whether it's folded or being used. Available in luxurious Grey Marle or Night Black Tailormade fabrics, it's the only stroller a new mom needs!
For bigger families or moms of multiples, the Snap Duo Tailormade offers a fully featured double stroller that's also the lightest multiples stroller on the market. With all the features of the Snap 4 stroller, including roomy seats, one-handed folding and individually adjusting canopies and footrests, it's the most convenient choice for a large family…all packaged in a design that weighs less than 24 lbs. No wonder it's the most requested stroller by Canadian parents! And for a stroller that can take baby from birth to beyond, the Snap Ultra stroller uses its lightweight design and a unique reversible seat to offer a stroller suitable for newborns right up to children weighing 45 lbs.
While the Snap 4 and Snap Duo strollers are sure to be two of the top strollers in Canada for 2016 when they're introduced this spring, Valco Baby Canada isn't stopping there! Later this year, the company will be offering the hugely popular all-terrain Tri Mode X strollers as well, also featuring the luxurious new Tailormade fabrics!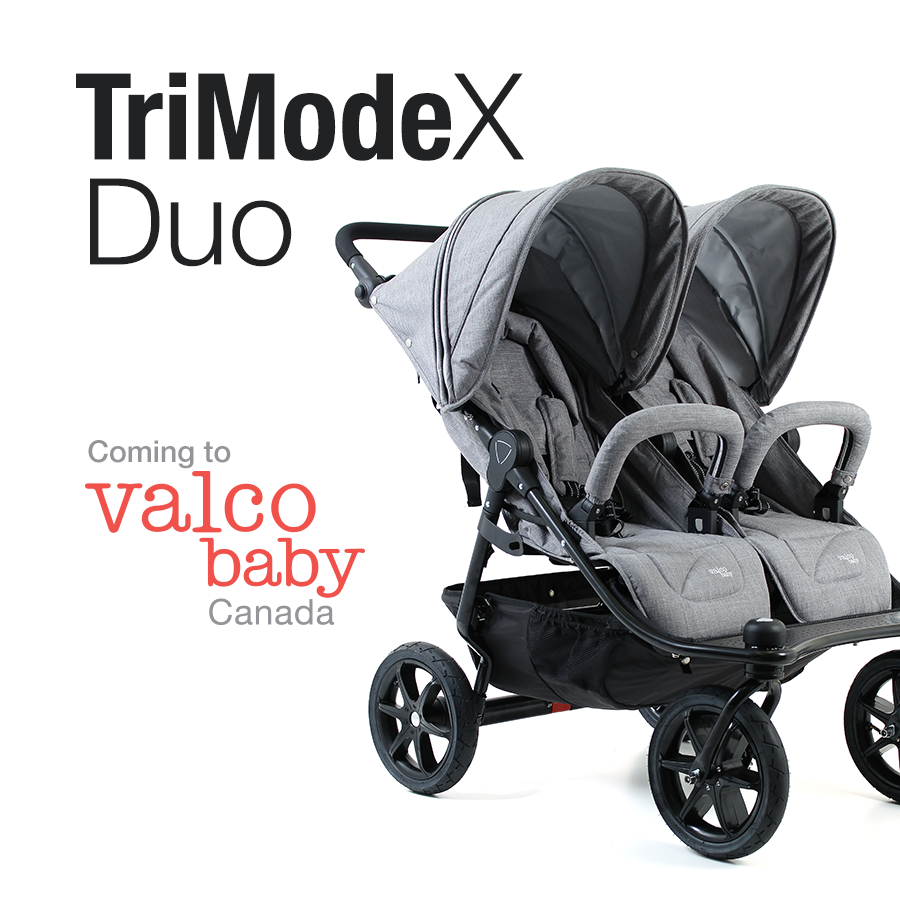 Available in both a Tri Mode X and a Tri Mode Duo X model, the strollers feature a rugged design that's suitable for all types of weather and terrain. For an active mom on the go, these strollers are sure to please! With a one-motion fold and automatic lock for added convenience, the Tri Mode strollers are as easy to use as they are durable. And best of all, both strollers are compatible with the Valco Baby Twin Toddler seat, which can be used to convert the single Tri Mode X into a double stroller or the Tri Mode Duo X into a triple stroller!
Having been through so many strollers when my boys were young, I know firsthand how important the right features are in creating a pleasant ride for both mom and baby. I walked everywhere with my boys and a stroller that couldn't handle my needs was one that was quickly discarded. That's why I love Valco Baby's commitment to creating strollers that have all the essential features a parent wants, with that extra touch of class that every mom loves! To be the first to know about the launch of the Valco Baby strollers in Canada, make sure to follow the Valco Baby Canada Facebook page. No matter which stroller is best for your family, you'll want to make sure you grab it as soon as it's available!