If there's one thing that almost everyone loves, it's cake. A big slice of moist cake covered in creamy icing is such a treat whether it's for a birthday celebration or just a way to make an ordinary day more special. But for someone with food sensitivities, finding a cake that's appropriate for a special diet yet still mouth-watering can be harder than it seems. Inspired by Happiness, a company that wants everyone to be able to enjoy tasty cake any time, wants to change that with its new gluten-free cakes. And recently I had the chance to test them out and see what I thought!
I received a Cravin' for Cookies & Cream and a Dreamin' of Chocolate layer cake to test, carefully packaged on dry ice to arrive frozen. I loved that when kept frozen, these cakes stay fresh and delicious for up to six months. Once thawed, they can be stored in the refrigerator for about a week. I let my boys decide which cake they wanted to try first, and both of them decided the Cookies & Cream cake was the one we had to try. I defrosted the cake at room temperature for about fifteen minutes and then cut a slice for each of us.
The first thought I had when biting into the cake was how absolutely decadent it was. Rather than a super-dense cake with overly sugary icing like I'd expected, I bit into a tender, moist cake with a whipped cream-style frosting and a rich chocolate ganache. It was easily as good as any professional bakery cake I've tried and absolutely addictive thanks to the chunks of chocolate mixed into each white cake layer. My second thought was that I couldn't believe the cake was gluten-free!
Both the boys enjoyed the cake as much as I did, with the chocolate ganache topping being the favourite with all three of us. Even my fiance, who isn't a big fan of sweets, was blown away by how delicious this cake was. He devoured his entire piece and declared it one of the best cakes he'd ever tried. The Dreamin' of Chocolate cake was just as good, with layers of Belgian white chocolate mousse and a chocolate ganache topping. As a confirmed chocoholic, it was the one that really won my heart! But the best part is that in addition to being gluten-free, these cakes contain no artificial flavours, artificial colours or trans fats!
Have a gluten-free family member in your home? Inspired by Happiness wants to give you the chance to try its cakes as well! One lucky Mommy Kat and Kids reader is going to win five free product coupons for Inspired By Happiness cakes, a $50 value! To enter to win, just leave a blog comment about which variety of cake you'd most love to try.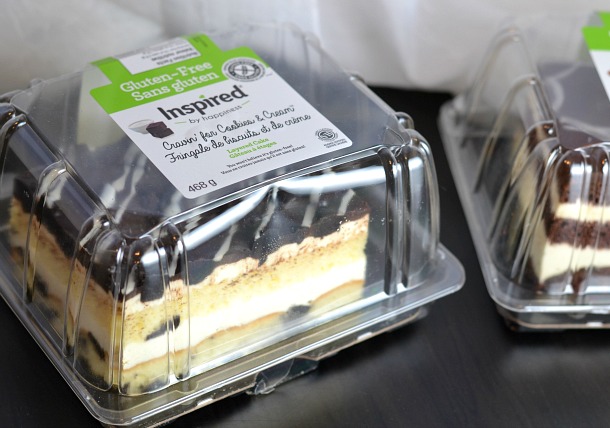 Inspired by Happiness gluten-free cakes are available at select stores across Canada including Safeway, Sobeys and IGA. They're sure to become a favourite with everyone in the house, whether or not they're currently following a gluten-free diet. From special occasions to random celebrations, you'll want to make sure you always have one of these cakes waiting in the freezer! And the wholesome, natural ingredients used to make every cake mean that you can feel good about treating yourself to a little decadence. Grab one of these tasty cakes and let everyone see how delicious gluten-free eating can be!