It may have been a pretty mild winter in most parts of Canada, but that certainly didn't mean that there were no colds and flus making the rounds! In fact, my boys both spent almost a month with stuffy noses and occasional bouts of coughing. One of the hardest parenting jobs has to be comforting a sick child, since so often we're helpless to help our babies feel better as they're stuffed up and struggling to breathe.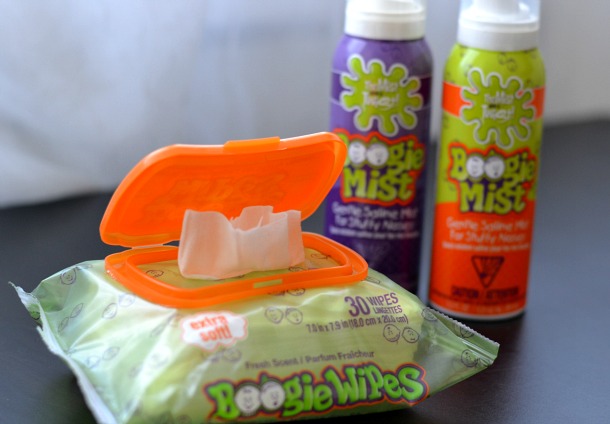 I'm a big fan of natural solutions when it comes to helping my boys feel better and luckily, there are a few simple ways to help unclog that stuffy nose when a cold is making our lives miserable. Boogie Wipes and Boogie Mist are a kid-friendly and effective way to help get the boogies out so kids feel better fast. And with two kid-friendly scents to choose from, even toddlers won't mind blowing their nose!
What I love about these two products is the fact they use saline, a natural congestion remedy, in a way that makes it ideal for children. The Boogie Wipes are perfect for those crusty, stuck-in-the-nose boogies that often develop with a cold, since the lightly moistened saline wipes help to soften and dissolve the mucus to clear the nostrils. The outdoorsy Fresh scent is especially soothing when a child's also battling a sore throat, but the delicious aroma of the Grape Boogie Wipes is the hands-down favourite in this house!
When boogies are more the thick, nose-clogging type, Boogie Mist helps get noses flowing to let kids breathe deep again. This saline mist comes with a scented nozzle in the same pleasant Fresh and Grape varieties and is sprayed into the nostrils to help clear airways. It may sometimes take a few tries to get a child used to the sensation of the mist, but the sweet scents help to make the mist much more appealing. And once kids realize how much the saline solution helps with congestion, they may even get excited about using Boogie Mist when they're sick!
When it comes to helping sick kids feel better, simple solutions are often the best ones. Plenty of water to drink, lots of rest and a bowl of homemade soup can work wonders for a child. And to help them get that rest that they need, the natural saline in Boogie Wipes and Boogie Mist ensures easy breathing and sweet dreams. In fact, I often use the Boogie Mist myself when I'm sick to help clear my own congestion!
Boogie Wipes and Boogie Mist are available at major retailers throughout Canada and are a must-have in the house during the last few months of winter. Whether your little one's dealing with a minor stuffy nose or a full-blown flu complete with fever and chills, being able to breathe properly makes the healing process so much easier. When something so gentle and natural gives such great results, it just makes sense to make it part of your arsenal against winter illness!