Since I didn't wear a lot of makeup as a teenager and young adult, I've become a big fan of trying new makeup trends in my thirties. While I don't go too wild with bright colours or edgy trends (no black lips for this woman), I do like seeing how the season's hottest looks can be made more wearable for everyday style. From a dramatic smoky eye on date night to a perfect nude makeup look for daytime, I've mastered a few stylish trends over the years. But one technique that I'd never tried and always wanted to was contouring.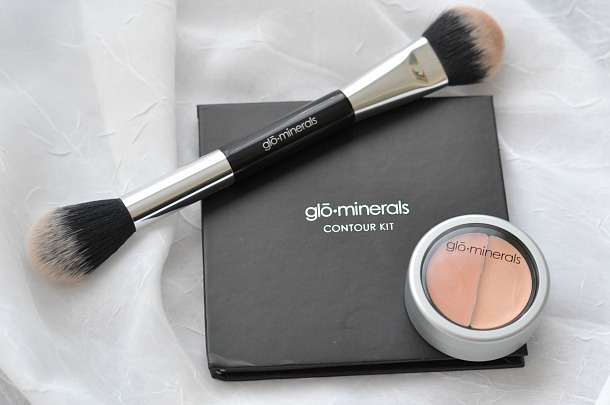 Luckily, Skincare by Alana recently came to the rescue and gave me the chance to test out the technique! This fantastic online boutique features an extensive line of cosmetics, skincare and more at great prices. My skin can be a bit finicky so mineral makeup is my go-to when I want to try a new look without worrying about my skin reacting with breakouts or sudden redness. And to my delight, Skincare by Alana offered a Glo Minerals Contour Kit that looked like it would be perfect for trying contouring for the first time.
I received the Glo Minerals Contour Kit in Fair to Light, Contour/Highlight Brush and Concealer Under Eye to review. I started by washing my face, then applying primer and my regular foundation. I also used a blend of the two shades in the Glo Minerals Concealer Under Eye to lighten my undereye area and dabbed the darker concealer shade on a few blemishes on my cheeks and chin. Then it was time to see if I could master the basics of contouring!
The Glo Minerals Contour Kit comes with a handy diagram inside the lid so that those trying contouring for the first time knew how to get started. I loved the way that the one end of the contour/highlight brush was so nice and narrow so that I could get thin lines of the dark shade where I needed them. To apply the lighter shades, I wiped off the same end of the brush and used its flat edge to apply nice, wide lines of the lighter contouring shade on my cheeks and forehead.
Once the dark and light makeup is applied, the contouring is half done and looks pretty hilarious. But at this point, it's time to flip the contouring brush around and start blending! In my opinion, mastering the blending is the hardest part of contouring. My first few attempts still seemed to have visible lines between the light and dark contouring colours, but I improved the blending each time I tried the technique. I'm still working on getting the results perfect, but I'm pretty pleased with my contouring progress overall! To finish off the look, I added a shimmery brown eyeshadow, mascara and a touch of blush.
I love the dramatic look that contouring gives my face and while it's not a look I'd do everyday, it's a great technique for any time I'm taking pictures or want to look my best for a special night out. And I was so pleased with how easy it was to create the look with this handy kit from Glo Minerals! Right now, Skincare by Alana is offering 25% off all Glo Minerals products using coupon code GLMN25, so now is a great time to try some new looks yourself! Whether you want to master contouring like me or grab some other products to create a fresh new makeup look for spring, Skincare by Alana makes it easy to find the best products for your face at a great price!