If there's one kitchen appliance I can't live without, it's my slow cooker. I don't use it every week, but when I want a meal that takes no effort and will be enjoyed by everyone, a pot of chili or pulled pork simmered to perfection in the slow cooker is always a hit.
The only problem is that slow cooker meals take advance planning, and that's not always something I manage. When I only have thirty minutes to get dinner on the table, the slow cooker isn't an option.
So what's an overworked mom to do? Turn to the Breville Fast Slow Pro, a combination pressure cooker and slow cooker, of course!
This multitasking kitchen appliance is Breville's version of the Instant Pot and after only a week, I have no idea how I ever got by without it.
When you have time, use the slow cooker setting to make tender and succulent stews, roasts, desserts and more. When you're in a rush, the pressure cooker setting whips up everything from buttery mashed potatoes to sensational sauces or stews in just minutes!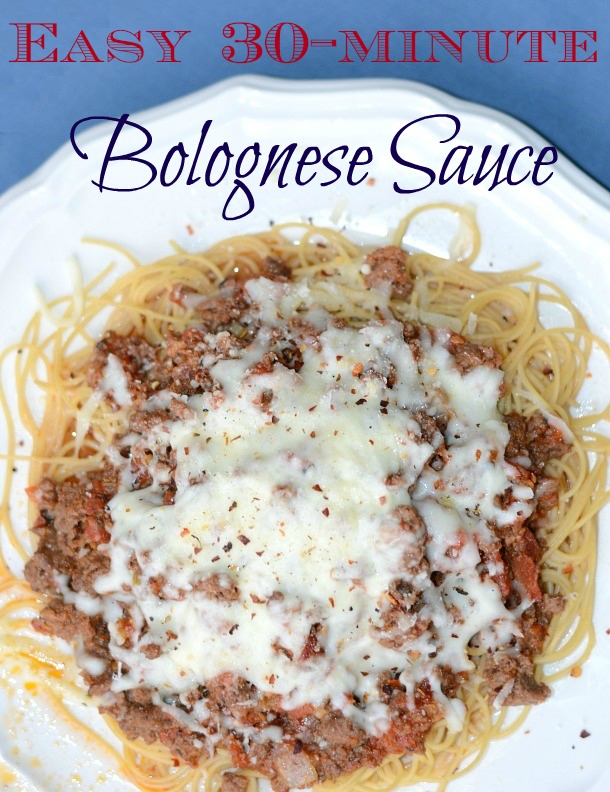 I tested out the slow cooker setting by cooking a pork roast for Easter dinner and the results were just as good as they were with my regular slow cooker.
But it was the pressure cooker setting I really wanted to try, so I decided to see if I could whip up a tasty and easy Bolognese sauce (typically an all-day process) in just thirty minutes with help from the Breville Fast Slow Pro!
A good Bolognese sauce recipe is a must in any kitchen, and can be used to make all types of delicious recipes, including Bolognese Fries, Spaghetti Bolognese, and Bolognese Pie.
The sauce was absolutely decadent and pouring it over spaghetti for a hearty lunch was a rare treat for Jeremy and me.
I especially loved the way the pressure cooking had let the flavour of the herbs and bacon permeate through the sauce for a rich, complex taste that would normally require hours of simmering.
The other highlight of this device for me is its one-pot-fits-all versatility. The handy "Saute" setting let me brown the ground beef with the onions and garlic right in the cooking pot for my easy bolognese sauce.
And when I cooked our pork roast previously, I used the "Reduce" setting afterwords to turn the juices from the roast into a thick and flavourful gravy.
The appliance even features a "Risotto" pressure cooker setting that helps agitate rice to simulate the usual constant stirring required for perfect creamy results…without the sore arm!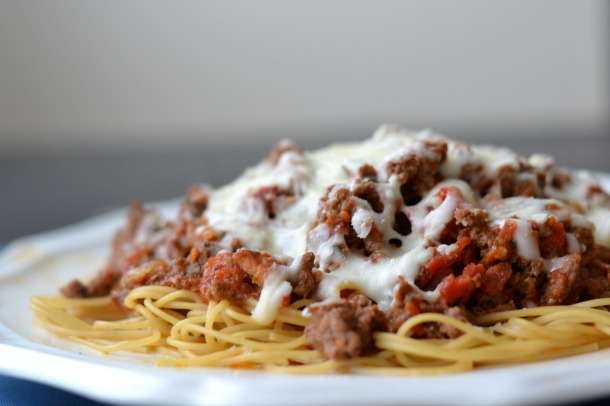 Pressure cooking is one of those kitchen techniques that seems a little dangerous at first, but Breville lets home cooks of all skill levels use this handy method for creating quick and delicious meals in a safe and easy way.
And the fact that the appliance can also be used as a slow cooker means that there's no need to worry about losing space in the kitchen.
Looking for other great pressure cooker recipes to try? This Ground Pork Instant Pot Casserole is delicious and easy to customize to suit your family!
Whether you're planning dinner a day in advance or rushing to get food on the table, the Breville Fast Slow Pro is a kitchen saviour. Try it once and you'll wonder how you ever got by without it!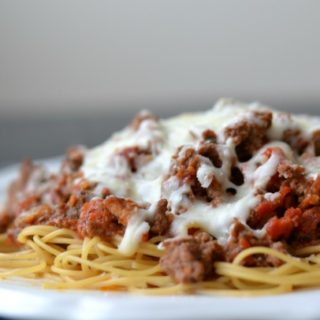 Easy 30-Minute Bolognese Sauce
Make this tasty sauce in the Breville Fast Slow Pro or Instant Pot for a rich and tasty dinner! Ready in just thirty minutes using the Pressure Cooker setting!
Ingredients
1 lb. ground beef
1 can 28 oz. diced tomatoes, drained
1/2 cup white onion, chopped
6 slices bacon, diced
2 cloves garlic, minced
1 tbsp. Worcestershire sauce
1 tsp. salt
1/2 tsp. pepper
1 tsp. dried oregano
1 tsp. dried basil
1 tsp. dried parsley
Instructions
Choose "Saute" setting on pressure cooker. Add bacon, onion and garlic to cooker and saute until bacon starts to crisp and vegetables soften. Add ground beef and cook until no longer pink.
Add remaining ingredients and mix well. Choose "Pressure Cooker" setting and then select "Chili & Stew." Close and lock lid and start cooker. Alternatively, set pressure cooker to cook at high pressure for 20 minutes.
When sauce is finished, choose "Reduce" if desired to thicken sauce further. Serve over cooked pasta; top with cheese to taste.
Notes
If desired, sauce can be cooked in traditional slow cooker. Saute bacon, onion, garlic and beef in frying pan over medium-high heat. Combine beef mixture and remaining ingredients in slow cooker and cook on low for four to six hours.
Recommended Products
As an Amazon Associate and member of other affiliate programs, I earn from qualifying purchases.
Nutrition Information:
Yield:

4
Serving Size:

4 Servings
Amount Per Serving:
Calories:

442
Total Fat:

26g
Saturated Fat:

10g
Trans Fat:

1g
Unsaturated Fat:

13g
Cholesterol:

118mg
Sodium:

1247mg
Carbohydrates:

12g
Fiber:

5g
Sugar:

7g
Protein:

39g