When it comes to comfortable, breathable and beautiful cloth, there aren't many fabrics that can top cotton. But did you know that growing three pounds of cotton, enough for a sheet set or a shirt and jeans, requires one pound of chemical fertilizers, pesticides and herbicides? Not only is that damaging to the environment, any residual chemical residue left in the cotton could be damaging to a person's health too!
Luckily, there are plenty of great natural and chemical-free alternatives to purchasing conventional cotton these days and here in Canada, Dream Designs is a great place to find them! This fabulous store has been providing natural fabric home products to Canadians since 1981 and its products are stylish, comfortable and earth-friendly.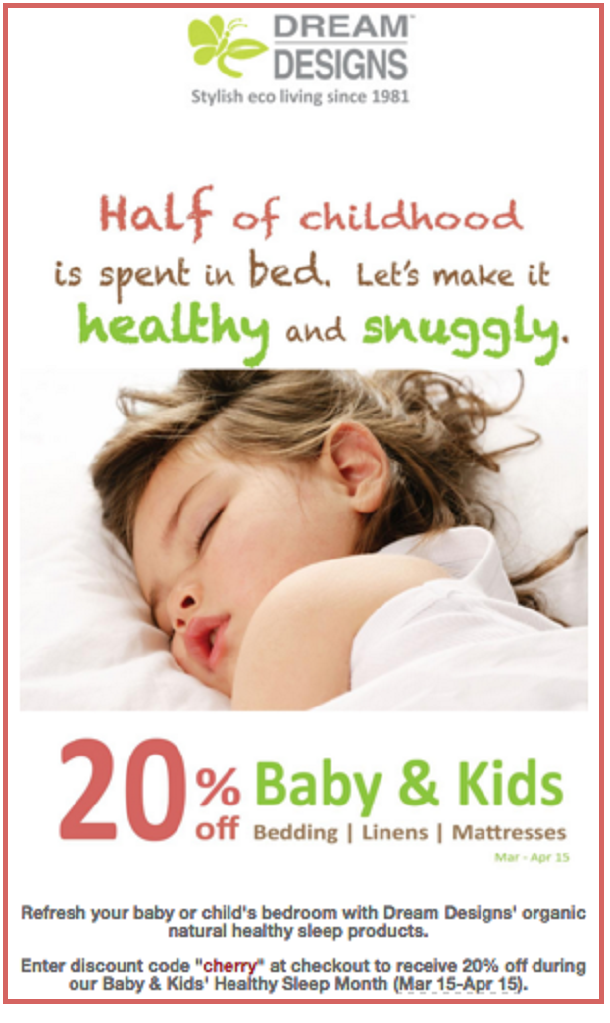 I especially love the company's bed linens for children. With options including soft organic cotton sheets, wool duvets and natural rubber latex mattresses, any child is sure to have sweet dreams with Dream Designs! And right now, the company is hosting a sale that you won't want to miss!
Until April 15, 2016, save 20% on babies and kids' bedding, linens and mattresses during the Baby & Kids Healthy Sleep Month event! Whether you're preparing a nursery for your newborn or looking for eco-friendly bedding for your little one's move into a bigger bed, there's no better time to outfit a child's room with adorable and natural sheets, blankets and more. After all, half of childhood is spent in bed, so it just makes sense to make that bed as comfortable as possible!
To take advantage of this fabulous sale, just use the coupon code cherry at checkout. But hurry, because the sale is only on for one more week! And while you're shopping, make sure to check out the other natural home products the company offers, including organic cotton bath towels, buckwheat pillows and yoga gear! Personally, I'm lusting after the gorgeous Shades of Green bedding collection. The stylish sheet set would look so beautiful with our current duvet!
Whether you prefer natural fabrics because they're a safer choice for your home or because they help minimize pesticides, herbicides and other harmful chemicals in the environment, you'll love the selection of products available from Dream Designs. Check out the website, browse the products and outfit your child's room for a great price during this sale event!