With spring finally here, I'm having a blast pulling out all my favourite skirts, shorts and dresses in preparation for warm, sunny days. And that means I'm also on the lookout for fun ways to accessorize my favourite outfits to give them a little extra pizzazz. As a lover of quirky styles and bright colours, knee-highs seemed like the ideal choice for my wardrobe. And recently Sox Trot gave me the chance to review a few pairs of its knee-high socks to see how they could dress up my look!
Now the first thing I noticed when the socks arrived is that they're really more tights than socks. They're thick enough to be washed and worn multiple times but they don't have the knitted texture of actual socks. I actually preferred that style, though, since it means that they're nice and light for summer wear!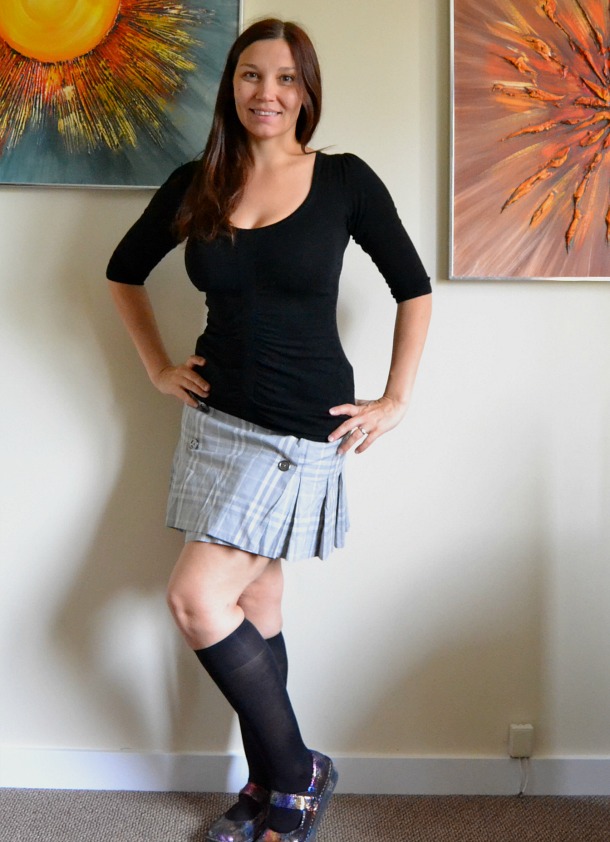 I chose four different patterned socks and one pair of solid socks so that I would have lots of variety. The solid black socks were perfect paired with my favourite Burberry plaid skirt and a black sweater. It was a dressy business look that I knew would be especially appropriate for a conference or speaking event. And pairing the outfit with my new sparkling rainbow Alegria shoes added just the right touch of light-hearted colour!
The Paris socks, on the other hand, had a much more stand-out pattern, so I needed a simpler outfit to balance the look. I paired the socks with my favourite blue sweater dress to create a playful style that was perfect for a casual date night or drinks with the girls. A bold necklace added the perfect personal touch, while comfortable grey peep-toe heels tied the look together.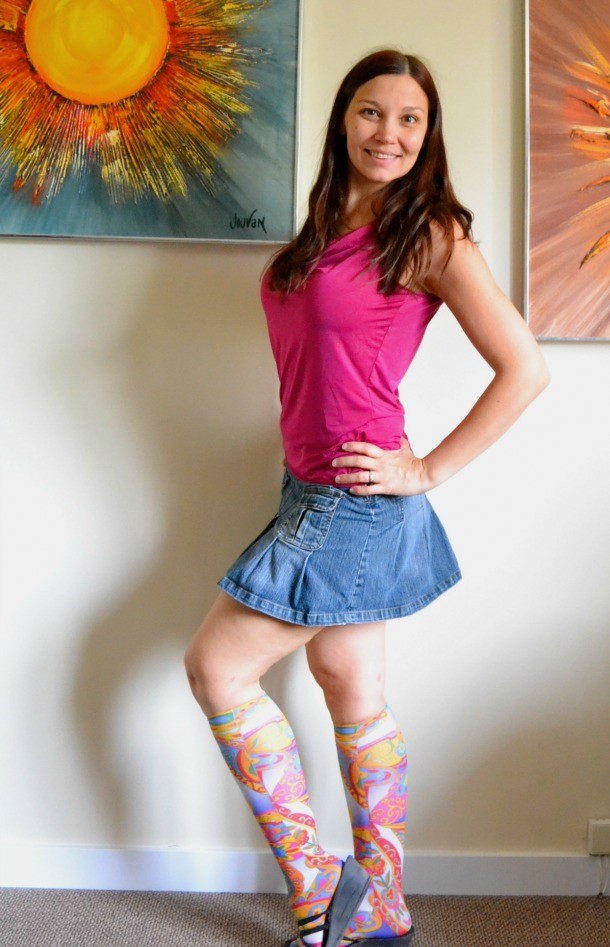 Of course, as a lover of all things rainbow, I couldn't resist getting the colourful Magic Knee High Socks too. Since these socks are all about fun, I found they looked best with a cute flared jean skirt and a bright pink top. I added black strappy sandals to complete the look. This was such a cute and summery style that I knew I'd be wearing it a lot over the next few months! And I'm sure it would look just as good with jean shorts instead of the skirt for a more casual feel.
If you'd like to add some pizzazz to your wardrobe in a fun and easy way, Sox Trot is here to help! The company is very generously offering one lucky Mommy Kat and Kids reader five pairs of knee-high socks of their choice, a $45 value! To enter to win, just take a look at the Sox Trot website and leave a blog comment about which pair of socks is your favourite.
I love how easy it is to give the outfits I already love a completely new and different look with these affordable, one-size-fits-all tights from Sox Trot. They're versatile, comfortable and so much fun! Check out the full selection for yourself and pick a pair or two to dress up your own favourite summer outfits. You'll love how much fun the socks add to your wardrobe!