The first day of school. It's fun, exciting and most of all, a chance for my boys to show off their newest fashions! I love clothes and it's a love that I've passed on to both of my boys. While they're more than willing to show off the latest looks, they also want comfort for those active recess games they play with their friends. Luckily for me, Walmart has plenty of great clothing that feels as great as it looks!
Personally, I'm a huge fan of the Athletic Works line. Featuring soft, light and comfortable fabrics and exclusive DRI-MORE moisture-wicking technology, these clothes keep kids comfortable through everything from a quick game of tag in the morning to an hour-long game of soccer at lunch. So I headed to Walmart on a mission to find the best recess clothes for my two boys. And as usual, Walmart didn't disappoint!
I started by looking for clothes for Benjamin, a boy that hates having clothing that's constricting in any way, yet loves fun, fresh fashion he can show off to his friends. His outfit began with a simple pair of black Athletic Works track pants with a crisp white stripe to liven them up. He loved them because they have such light and comfortable fabric with a simple elastic waistband, while I liked their bold simplicity.
To finish off the look, I added an Athletic Works long-sleeved t-shirt in a bright neon yellow. Benjamin likes to stand out and this shirt let him do that. The long sleeves make the shirt perfect for fall and the DRI-MORE technology ensures that if the day is a little warmer, he'll still be comfortable. He loved the colour combination but what he loved even more was how comfortable his outfit was. I'm sure he'll be doing plenty of outdoor play with his friends when school starts again!
For Zackary, I wanted a similar outfit but I knew I'd need something a little bit sturdier. Benjamin is more of a sports and running child at recess, so Athletic Works is perfect for him. Zackary is the rough and tumble climbing, jumping and rolling in the dirt type of recess boy, and that means I need clothes with more durability. At the same time, he also favours loose fitting, non-constricting clothing. That's why I always turn to Walmart's George collection for my oldest son!
I chose a pair of black cargo pants for the first piece of his outfit. The drawstring waist and loose fit meant that I knew Zackary would find them comfortable. And the sturdy material means that they're a great choice for my son's active lifestyle. Best of all, the Kids Quality Guarantee means that if the pants do get ripped, torn or worn out, I can take them back and get a brand new pair free of charge!
To go with the pants, I chose a cute George No Fear t-shirt in a similar neon yellow shade to the one I'd chosen for Benjamin. Zackary can be a bit quirky and so he loved the lion with a crown on his shirt. And the short-sleeved style gave him the freedom of movement for his high energy recess playtime.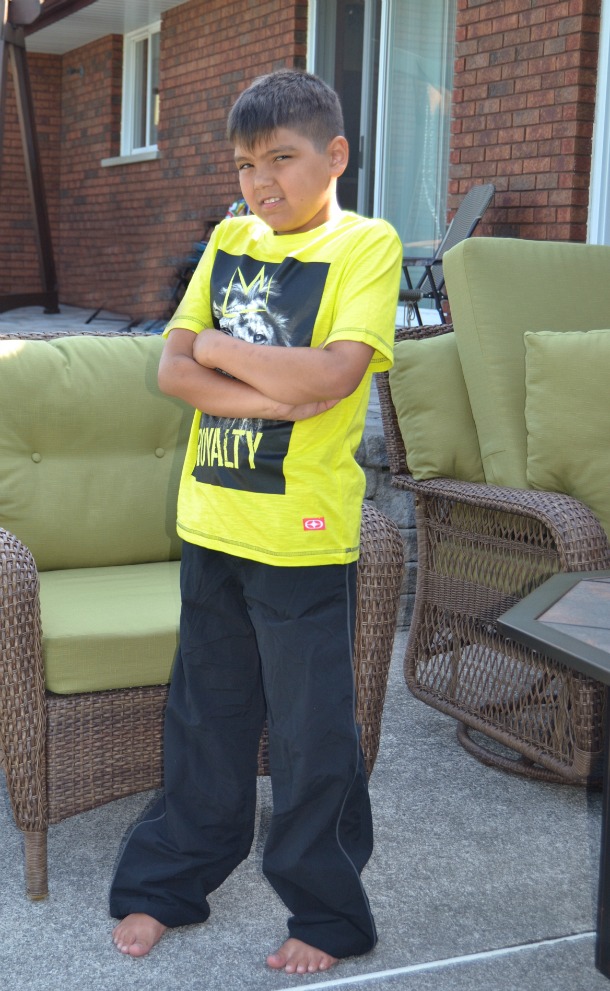 I loved my boys' comfortable recess clothing, but the best part was that the outfits for both boys were under $35 in total! When I can get two complete outfits for such a low price AND know that if those clothes get torn or wear out, I can have them replaced free of charge, I'm one happy parent! And my boys love their outfits as much as I do thanks to the fresh, trendy look of the clothes.
Whether your boys spend their recess time playing sports, playing rough or even just playing cool chatting with friends, Walmart has great fashion pieces at great prices for your kids. Head to your nearest store and check out the best new looks for recess this year too. Your kids will love showing off clothes they love that are made for play!
This post is sponsored by Walmart Canada as part of the First Day of School Fashion Challenge program. In exchange for this review, I have received special perks in the form of products and/or compensation. All opinions on this blog are my own.