For quite a few years now, I've dreamed of taking my boys on a cruise. I loved the idea of visiting multiple exotic locations at once while also having the fun of sailing the ocean in a massive ship.
This summer, my dream came true when my entire family had the chance to take a 7-Day Western Caribbean Cruise with Carnival Cruise Lines. I'd only ever been on one cruise before, and I was ten years old at the time. My fiancé had gone on a Caribbean cruise a few years ago, but hadn't enjoyed it much. Zackary and Benjamin were stepping onto a cruise ship for the first time.
Needless to say, none of us were sure quite what to expect. And within the first day, all of us were in love with Carnival Cruise Line.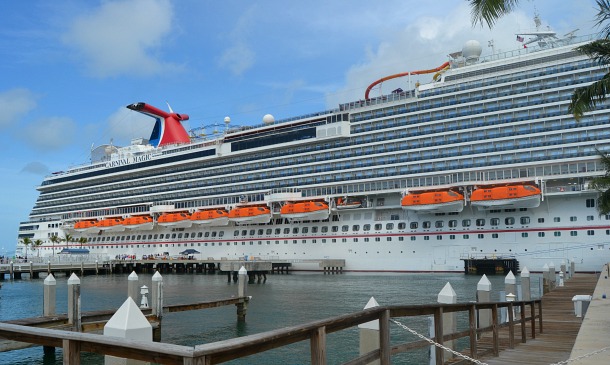 There are a lot of different cruise lines to choose from, so what makes Carnival different? Well really, it was almost everything! Food, entertainment, staff and activities had all four of us enjoying every second on board.
For me, these four features of the Carnival Magic ship stood out to me as being highlights of our cruise. If you're planning a cruise, these are the reasons you should be booking with Carnival!
High Energy Fun 24 Hours a Day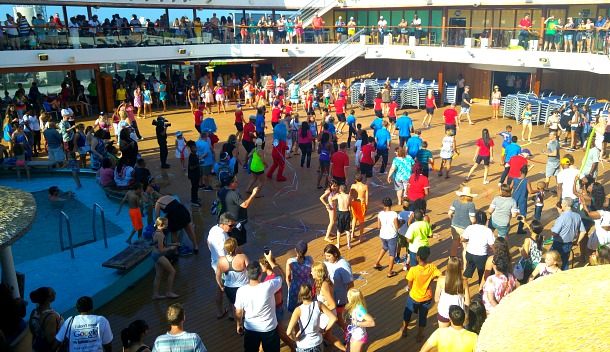 While I wasn't sure what kind of dynamic to expect from our Carnival cruise, Jeremy noticed at once that the Carnival Magic ship offered nonstop fun. On his previous cruise, entertainment had been limited and had generally ended in the evening. Carnival offered the exact opposite experience: a ship that never slept and offered endless entertainment options for all ages.
From live musicians in the pubs to theme nights at the dance club to family-friendly magic shows on the main stage, it was no surprise to us that people seemed to be wandering the ship talking and laughing long into the night.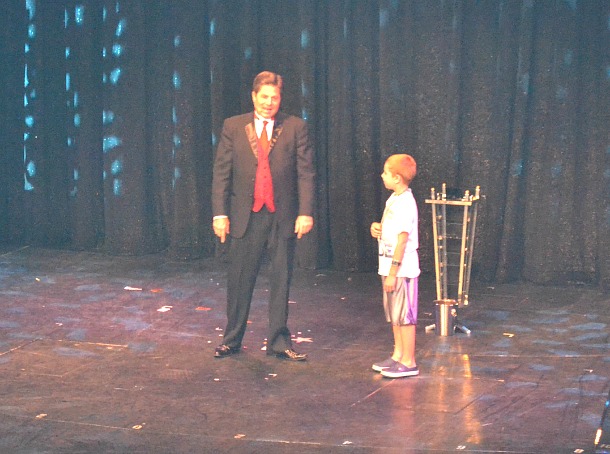 Since Jeremy and I are big comedy fans, we especially enjoyed the nightly shows at the Punchliner Comedy Club. We had the chance to see four different comedians during our seven-day cruise and even made time to take the boys to one of the comedian's PG show.
While some of the performers were better than others, we were both impressed by the high calibre of talent on the Carnival Magic.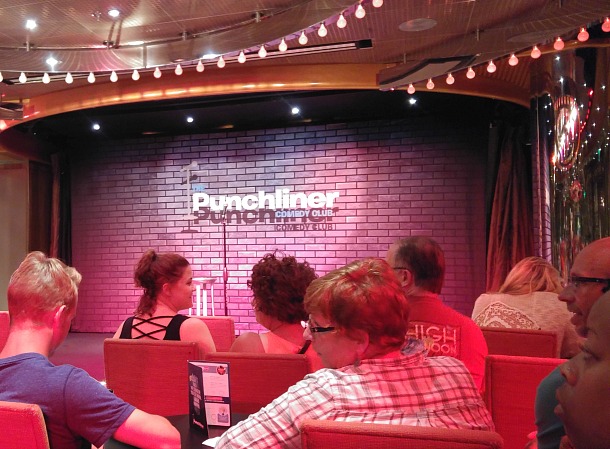 The live musicians were another favourite and as a piano player myself, the off-colour performances of the musician in the Play It Again Piano Bar each night were something I enjoyed. But the guitarist that played it the Red Frog Pub was just as enjoyable and we loved being able to request some of our favourite Canadian songs.
Finally, for more relaxing fun, cruisers have the option of playing beanbag toss, cards, board games or a variety of both chance and skill-based casino games. Needless to say, we were never bored on board the Carnival Magic
Food, Food and Yet More Food!
I expected some pretty tasty meals before ever stepping onto our Carnival cruise ship, since I had learned our vessel boasted a home-style Italian restaurant, a gourmet steakhouse and not one, but two restaurants created by Guy Fieri especially for Carnival. I expected good food. I had no idea just how good the food would be.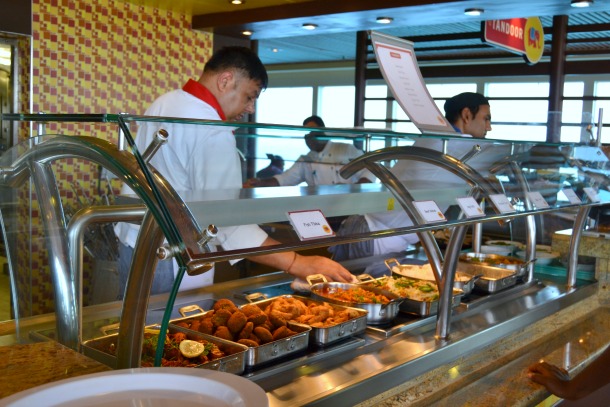 From the buffet lunches to the late night pizza to the main dining room's gourmet dinners, every bite of every meal had me wanting just a little bit more. Tandoor, the boutique Indian lunch restaurant, boasted freshly made Naan bread and authentic hot curry. Guy's Pig & Anchor BBQ joint delighted us with pulled pork, sausages, collard greens and biscuits.
The acclaimed Carnival Chocolate Melting Cake, offered as a dessert choice after every dinner, was a taste of paradise. I even had the chance to try frog legs for the first time, served in a decadent butter sauce as an appetizer one night.
The boys were just as happy with the food as we were and Zackary mastered the perfect ice cream cone thanks to the unlimited access to soft ice cream machines. One of the many reasons I believe children should travel is that it offers them new experiences, and that includes experience with new foods and flavours.
On the Carnival Magic, they tried everything from lobster to Cannoli, while also having plenty of kid-friendly options including gourmet macaroni and cheese, fries and chicken fingers.
Staff That's Simply Sensational
The Carnival Magic already had a lot to offer our family as far as food and entertainment were concerned, but all that would have meant nothing without the staff and their dedication to ensuring everyone on board had a fun-filled cruise.
The magic started with the iconic Doctor E, the ship's entertainment director. Every morning he woke up the ship by singing his own special version of "Good Morning," over the intercom and giving us the highlights of the day's activities. His high energy was addictive and made him a favourite with kids and adults alike.
While all the entertainment crew were lots of fun, it was a special treat to have Doctor E join an event. We saw him in action when he led a special Dr. Seuss parade and story time event for kids, and he had us laughing and cheering right along with the kids.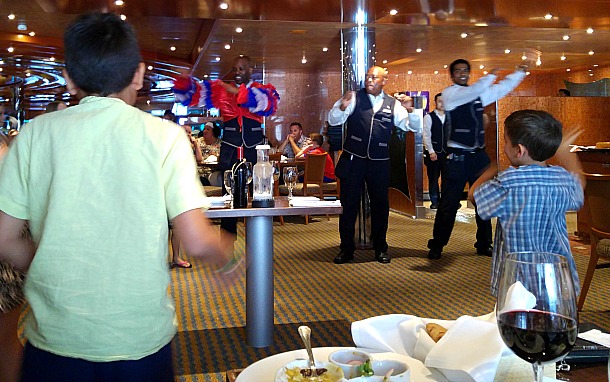 The table staff was just as friendly, caring and attentive. Norbert, our head waiter during the cruise, had an exquisite memory for remembering our favourite things and was always willing to shuffle the tables around to let members of our group sit together. He had red wine ready for Jeremy, white wine waiting for me and quickly memorized Benjamin's favourite order of cheese pizza with French fries to start.
It was obvious how much everyone working in the dining room loved their jobs and on the final night, we were even treated to a song and dance thanking us for visiting featuring Norbert and all the dining room servers!
Finally, there was Wi, our steward. If I'd ever needed an example of what going above and beyond really means, I found it in his attentive and thoughtful service during the week. Each day, he brought fun and creative towel animals to the room for the boys to enjoy and even added little details like googly eyes and whiskers to some of the creations. He told me that he'd bought a package of 10,000 eyes online so that he could make the towel friends even more fun for kids.
Every morning, Wi would knock on the door and check to see if we needed anything. And his team was just as friendly and helpful. I have to admit, I was surprised just how much the little room came to feel like home, largely because Wi made it so pleasant!
The rest of the employees on the ship were equally as helpful, even when a few minor setbacks created some changes to our itinerary. Seeing how hard the staff worked to give everyone the best cruising experience made me fall in love with the Carnival Magic even more.
An Experience That's Truly Family-Friendly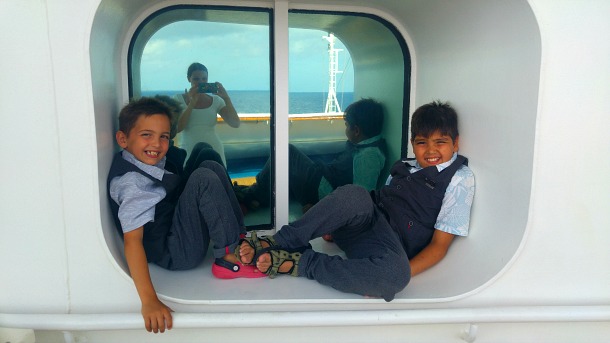 There are some cruises that cater more to adults and others with kids in mind, but Carnival really has mastered an experience that's fun for all ages and interests. As a parent, I was especially impressed with the Carnival Kids Club. Children from two to eleven years of age can enjoy crafts, competitions, toys and games with supervised care and activities that are tailored to them.
Both my boys tended to shun kids' clubs when we vacation, so I was thrilled that they both fell in love with the Carnival club. Of course, that meant that while Zackary and Benjamin were happily and safely occupied with a group of other kids, Jeremy and I were free to enjoy some more adult activities.
And there was no shortage of adult activities to enjoy! The first day, we went to a champagne art auction and had the chance to peruse paintings from some of the world's most famous and up-and-coming artists.
Since we have a gallery wall at home, we decided to splurge and buy a painting if we found something we liked. And when a gorgeous piece from Autumn de Forest, a teenage art protégée, caught our eye, we knew we'd found the new focal piece of our art collection.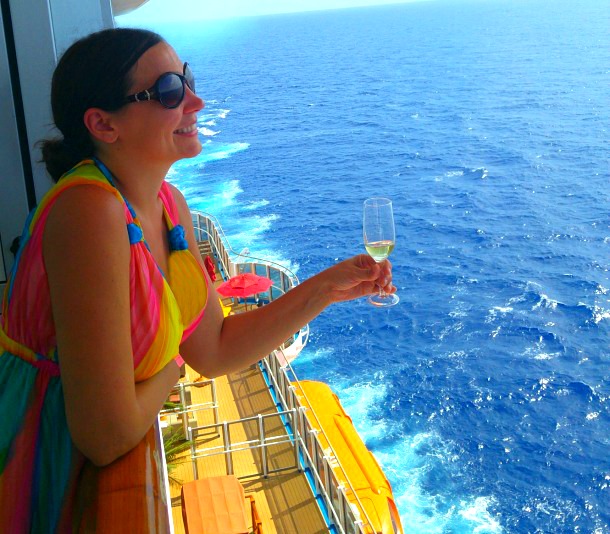 For those in need of some relaxation, the Cloud 9 Spa is always a great choice as well. From manicures and pedicures to facials and massages, the full-service spa offers something for everyone.
Jeremy and I indulged in a couple's massage during our first day at sea and having the chance to relax and unwind together in the room while putting the strains and stresses of work behind us was heavenly.
And when we wanted to spend family time together, the Carnival Magic was ready to help with that as well. All four of us loved spending time at the Carnival Magic Waterworks waterpark, featuring two fun-filled waterslides. And the mini golf course, arcade and basketball court all offered us plenty of opportunities to play games together as a family.
Carnival ships also feature a Club O2 teen's club and I was impressed by just how much the teenagers on the boat enjoyed spending time there. As soon as the club opened, it was full of kids dancing, playing air hockey and making new friends.
Having seen how well Carnival Cruise Lines ensures everyone from infants to seniors enjoys their experience leaves me feeling confident about setting sail on the Carnival Magic with any age group knowing we'll all have a great time.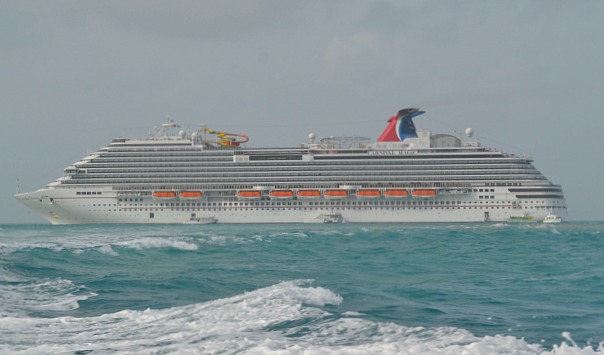 Of course, the exotic destinations and fun tours were a big part of the cruise's appeal as well, but it was the way the Carnival Magic ship itself wowed me that has me dreaming of another Carnival cruise already. If you're planning a family cruise and you've been confused about which company offers the best cruise for you, I can safely say that one trip with Carnival Cruise Lines will make you fall in love with the company and the ship.
And with prices for a five-day cruise often offered for less than $300 per person, the vacation of your dreams has never been so affordable. Check out the website to learn more about Carnival Cruise Lines, the ships and the routes, then start planning a vacation that young and old will remember for a lifetime!