Preparing for a new school year means preparing ideas for school lunches that are quick to pack, healthy and tasty enough that my boys will actually eat them!
I have a few tried-and-true favourites, but I'm always trying out fun new recipes too. And when I want to add extra flavour to any of my creations, I turn to Summer Fresh!
Summer Fresh hummus, dips and salads are delicious, nutritious and made with fresh, wholesome ingredients that my whole family loves.
To be honest, my favourite way to use Summer Fresh products is to just cut up a big plate of fresh vegetables, open up a container of my favourite Avocado Hummus or Three Cheese Dip and dig in! But I do like using the products in other ways too.
And this tasty Creamy Greek Chicken Pita is the perfect example of how Summer Fresh can make fall lunches easy and delicious! With only six ingredients and minimal time, I was able to whip up a sandwich the whole family loved!
While some might prefer to drizzle just a little Tzatziki over the ingredients for a lighter touch of flavour, my boys prefer a creamier taste for their sandwiches.
And since this is a yogurt dip, I can create a taste they love without adding a lot of fat and calories to the recipe! The tangy dip blends beautifully with the tender, seasoned chicken and crisp vegetables.
For a real gourmet touch, I recommend trying a gourmet feta cheese for this recipe as well. Regular feta is still delicious but when I added small batch locally-made Balkan feta-style cheese, it took this pita sandwich to a whole different level!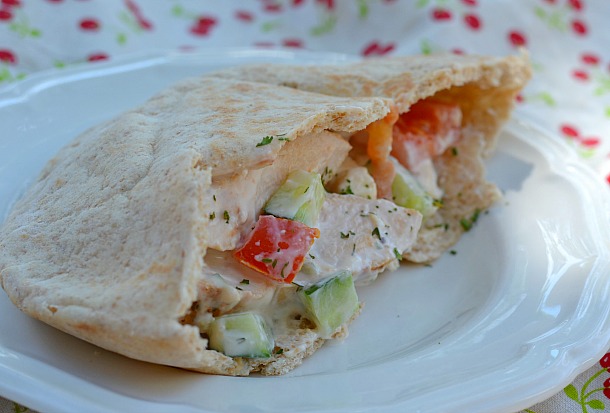 If your kids aren't big fans of sandwiches, the Greek Chicken mixture also makes a great hearty salad all on its own! And to round out your child's meal in a healthy and delicious way, just add a container of raw vegetables with his favourite Summer Fresh dip on the side.
Personally, my boys love the Roasted Red Pepper Hummus with carrots and cucumber slices in their lunches. With the veggie-packed pita sandwich and veggies on the side as well, kids get all the vitamins they need for a busy day of learning.
Summer Fresh products are available at stores across Canada and are a great addition to the lunchbox for both kids and adults alike this fall!
Check out the Summer Fresh website for some tasty sandwich ideas, stock up on ingredients on your next shopping trip and get ready for smiles on the first day of school. With Summer Fresh dips in the fridge, packing lunches may even start being a fun part of your day!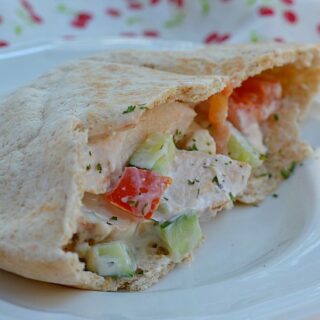 Creamy Greek Pita Sandwich
A simple and delicious greek-style sandwich ready in minutes with just six ingredients!
Ingredients
1 cup cooked chicken breast strips
1/2 cup diced tomato
1/2 cup chopped cucumber
1/2 cup diced feta cheese
3 tbsp. Summer Fresh Tzatziki Dip
1 whole wheat pita, cut in half
Instructions
Mix chicken, vegetables, feta cheese and Summer Fresh Tzatziki Dip in small bowl until combined.
Fill each pita half with chicken mixture. Serve and enjoy!
Nutrition Information:
Yield:

2
Serving Size:

1
Amount Per Serving:
Calories:

330
Total Fat:

13g
Saturated Fat:

7g
Trans Fat:

0g
Unsaturated Fat:

5g
Cholesterol:

95mg
Sodium:

608mg
Carbohydrates:

23g
Fiber:

3g
Sugar:

5g
Protein:

31g