Visiting a McDonald's restaurant has been a treat for me ever since I was a child. But over the years, the company has really evolved from a kid's haven to a place where I can relax, unwind and indulge a little. From the specialty coffee drinks to the expanded gourmet menu, going to McDonald's isn't just for Big Mac and Chicken Nugget fans anymore. And that's because the company is always listening to what its customers want.
I love the constantly expanding menu currently offered at McDonald's, but now the company is taking customer satisfaction to new heights with the fantastic Create Your Taste experience, available at select McDonald's locations across Canada! The Create Your Taste service has just been rolled out in Saskatchewan and last week I had the chance to try it out for myself and see just how it worked.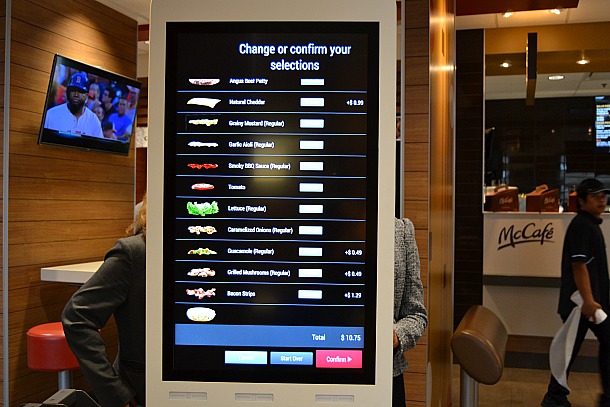 The process starts at the self-order kiosk. For those that want standard menu items, these kiosks can also be used to place a regular order. But believe me when I say that creating your own taste is so much more fun! I started by choosing my bun, then added sauces, vegetables, cheese and other toppings to create a burger that was perfectly suited to me. Finally, I had the option of choosing my number of 100% Angus beef patties. I've had a McDonald's Mighty Angus Burger before, so I knew one of the thick and meaty patties would be enough. But for those that really love their beef, burgers can be made with up to FOUR patties!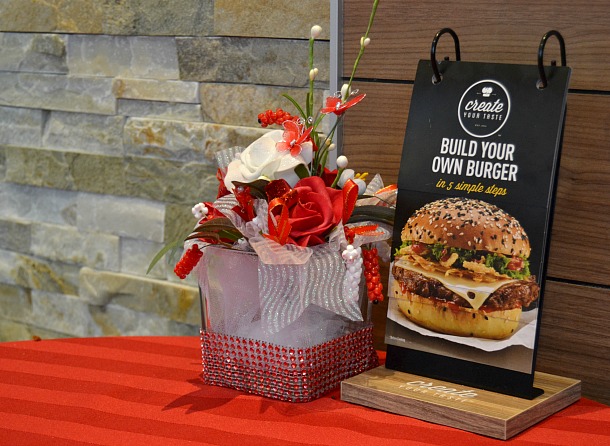 Finally, I chose a side dish and a drink to finish my meal. Then I took one of the innovative order discs, entered the number on the disc into the system and headed to my table. I loved that McDonald's had a guest experience leader nearby at all times to help walk people through the process and give them any help they might need. Jonas, the leader that was working when I placed my order, explained the entire process to me so that I felt confident from start to finish.
The best part of the Create Your Taste experience, though, is that it gives you the relaxed atmosphere of a sit-down restaurant while still being a quick and convenient meal choice. Burgers are made fresh to order in a special section of the kitchen before being brought out right to the table by serving staff. The process takes between five and eight minutes and being served right at the table was so pleasant. The serving staff made sure every detail of the meal was perfect and were always on hand if needed.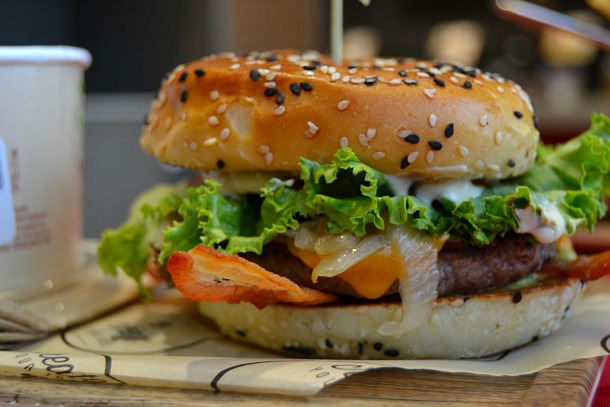 My own burger was absolutely scrumptious and boasted bacon, natural cheddar, caramelized onions, guacamole, veggies and no less than three different sauces. I especially liked being able to choose between two gourmet buns or a lettuce wrap for the burger. There are often days when I try to minimize my carb intake, so having the option of a lettuce wrap means that I can still indulge in one of these juicy and delicious burgers without going carb crazy!
Because of the additional cooks, serving staff and guest experience leaders that are involved in the Create Your Taste experience, every McDonald's with the new system has hired between ten and fifteen additional employees. I love the fact that the new process isn't just a delicious choice for customers but also a great source of job creation. And for those that use the self-order kiosk for regular menu items, but would also enjoy being served at the table, just let the guest experience leader know! The staff is happy to arrange to have your food brought out upon request.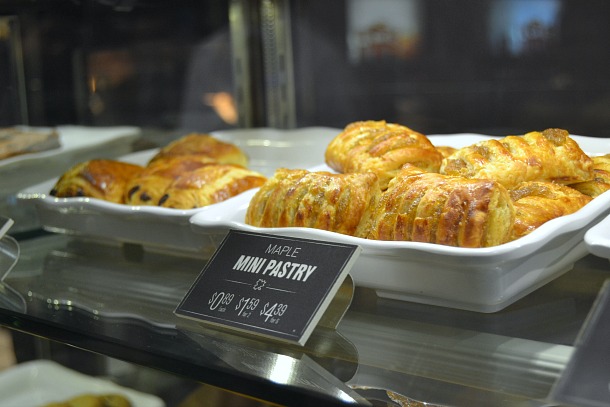 McDonald's Canada has also introduced some fabulous new bakery items, so if you're visiting in the morning and looking for a quick snack, make sure to check them out. Choose delicacies including mini maple pastries, chocolate brownies, croissants imported all the way from France, strawberry and cream cheese pastries and more! My personal favourite was the sweet and creamy mini maple pastry, though the decadent brownie was a close second.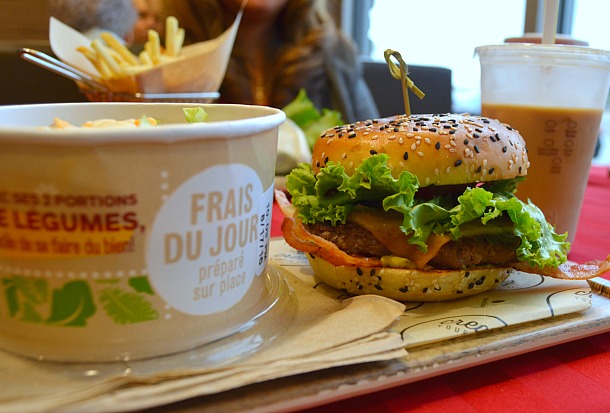 I loved the experience of creating my own perfect burger and I have to admit that I'm hoping the service expands even more. I'd love to eventually be able to create a customized chicken burger too! If you haven't tried the new Create Your Taste experience at your local McDonald's yet, what are you waiting for? Give the self-order kiosks a try, build a burger that's just the way you want it and see what you think. You may just find that the most delicious item on the McDonald's menu is the one you make yourself!