Years ago I had a waffle iron that I used every few months, and to be honest, I pretty much hated it.
It was awkward to store, hard to clean and invariably made a mess every time I used it.
I would either put in too much batter and end up with spills all over the counter or put in too little and get waffles that were misshapen and unattractive.
When the waffle iron eventually broke, I certainly wasn't heartbroken.
So, when Breville came out with a revolutionary mess-free waffle iron, I was hesitant, but intrigued.
Could it really be possible to enjoy delicious, crispy waffles without a big hassle and a mess to clean up?
When Breville gave me the chance to see for myself how well its new the No-Mess Waffle worked, I couldn't wait to put it to the test.
Because the Breville the No-Mess Waffle is designed to be quick and easy to use, I wanted to make a Breville waffle recipe that was equally quick and easy.
And this recipe for the best ever Classic Waffles is exactly that.
The batter can be whipped up in a blender or food processor in just minutes, and keeps in the fridge for up to a week!
Just whisk it up before use and you can have fresh waffles any time!
The innovative moat on the Breville the No-Mess Waffle is what makes it so perfect for a busy mom that doesn't want to deal with spills.
Any excess batter drips into the moat and cooks along with the waffle.
My boys actually loved eating the cooked strips of batter from the moat as much as they enjoyed the waffles themselves!
Being able to pour in a proper amount of batter without worrying about spills also meant that I could create beautiful, restaurant-worthy waffles perfect for a special weekend breakfast or a meal with guests.
I topped our waffles with strawberries and real whipped cream for a strawberry shortcake-style waffle that was packed with flavour.
And breakfast was even better when served with this delicious Peach Sparkler to drink!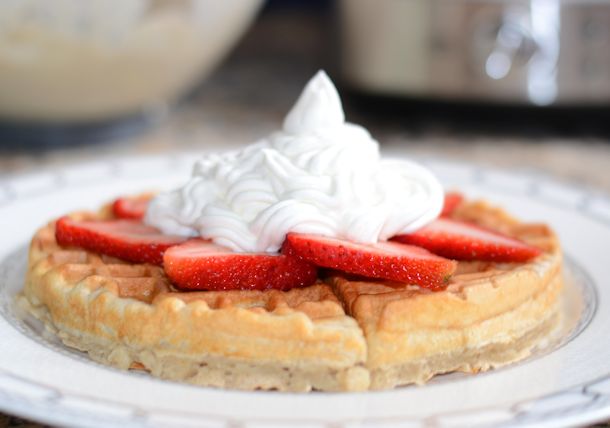 Of course, in addition to this Classic Waffles recipe, the No-Mess Waffle is also perfect for whipping up Belgian Waffles, Waffle House waffles, chaffles, and any other waffle recipe you might want to try…all with no risk of spills!
Find the Breville the No-Mess Waffle at retailers across Canada and see for yourself how delicious this Breville waffle recipe really is!
Best Ever Classic Waffles
Easy waffles that bake up light and fluffy. This batter keeps for up to a week in the fridge in a covered container!
Ingredients
2 eggs
2 cups all-purpose flour
1 3/4 cup milk
1/2 cup oil
1 tbsp. sugar
4 tsp. baking powder
1/4 tsp. salt
1 tsp. vanilla
1 tsp. cinnamon, optional
Instructions
Beat eggs with hand mixer or in food processor until light yellow.
Add remaining ingredients and beat until combined.
Pour batter into waffle iron and cook until golden brown. Serve immediately.
Store extra batter in covered container in fridge for up to one week.
Notes
For healthier waffles, substitute whole wheat flour for white flour and plain yogurt or unsweetened applesauce for oil.
Recommended Products
As an Amazon Associate and member of other affiliate programs, I earn from qualifying purchases.
Nutrition Information:
Yield:

5
Serving Size:

5 people
Amount Per Serving:
Calories:

468
Total Fat:

26g
Saturated Fat:

3g
Trans Fat:

0g
Unsaturated Fat:

22g
Cholesterol:

81mg
Sodium:

581mg
Carbohydrates:

47g
Fiber:

2g
Sugar:

3g
Protein:

11g