If there's one thing that us moms have really mastered, it's feeling guilty. Told your daughter you were out of ice cream so you could finish it when she went to bed? Convinced your son that hockey wasn't that much fun so you wouldn't have to deal with the huge investment of time and money? Invented a fake work trip to avoid taking part in the school fundraiser? Chances are you're going to feel guilty about it at some point!
But the fact of the matter is that parenting is hard…and none of us are perfect! We're going to mess up. We're going to do things we regret. And sometimes, we're going to feel guilty about something we really shouldn't! There are the odd times that we feel we've really messed up. At those times, we need to apologize, forgive ourselves and move on. But there are also times we feel guilty and we really shouldn't! If you've got Mom Guilt about any of these four things, it's time to give yourself a break and #EndMomGuilt!
1) Going Out for Date Night
Date night isn't just a fun night out for you and your husband, it's a chance to stay connected as a couple and ensure a healthy relationship…something that will both benefit your kids right now and help them learn about the dynamic of a healthy relationship. Find a reliable sitter or a nearby family member, take off for the evening and enjoy a good meal, a movie WITHOUT animated characters or a few drinks at your favourite pub. You both deserve the chance to spend time with the love of your life!
2) Not Making Dinner from Scratch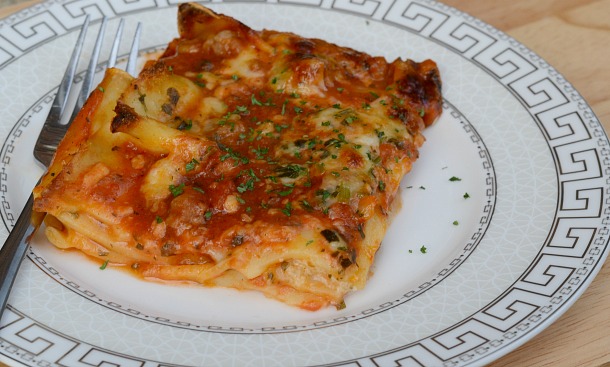 Sure, we'd all love to be that perfectly planned parent that does a full week's worth of dinner prep on Sunday and then whips up delicious and nutritious meals on even the busiest days. But a recent study actually found that 7 out of 10 moms wish they could spend less time preparing meals. And if you feel the same way, there's nothing wrong with a meal made with convenience in mind. Personally, I always have Marie Callender's 3 Meat Lasagna in my freezer for busy nights. It has wholesome ingredients, great homemade flavour and oven-baked taste even though it's ready in minutes in the microwave! Available at grocery stores across Canada for a suggested retail price of $6.99, dinner's never been easier!
3) Throwing Out Artwork
Your child's artwork is an expression of his personality, and it's only natural to want to save each and every masterpiece your kids create. But all that paper can and will overwhelm your home if you don't take charge early on. Hang one special piece on the fridge or even in a frame on the wall and replace it periodically when new art comes home. Take pictures of everything else so that you can still look back and admire your child's creativity, then toss it all out and enjoy the lack of clutter!
4) Treating Yourself (and ONLY Yourself)
Whether you have a secret stash of high-quality chocolate that the kids don't know about or a monthly brunch with friends while they stay home, there's nothing wrong with reminding yourself that you deserve fun things too! When you give yourself those little treats that are just for you, you feel happier and more relaxed. And that makes you a more patient and effective parent. So adjust the monthly budget to include a regular massage or keep a few slices of your favourite cheesecake in the freezer just for you. Your hard work parenting deserves a reward!
Marie Callender's knows most moms are far too hard on themselves, so the company has created a moving video reminding moms to give themselves a break and let go of the mom guilt. Our little ones are going to be fine; we just need to remember that our best is more than good enough! Check out these great videos and see if they remind you of some of your own mom guilt moments! And don't forget to check out the #EndMomGuilt hashtag and share your own stories too!
As hard as I try, I still can't help occasionally giving into the mom guilt when I feel that I've failed my sons in some way. But I'm much better about it than I used to be and the more my boys grow into caring and responsible children, the more I know that the mistakes I do make are far less important than the endless time and effort I put into being a mom. No matter what little things trigger your mom guilt, the time has come to #EndMomGuilt and celebrate your success as a parent. After all, in the eyes of our kids, we'll always be the best moms ever!