With the boys back in school for six hours a day, I finally have extra time to tackle some of the jobs that have been piling up around the house.
For me, autumn is a season of organizing for the upcoming cold weather months and this year, I've got a lot of organizing to do!
Luckily for me, RBC has found a way to make that organizing more rewarding with a very special offer! Now until October 31, RBC Rewards credit card holders in Alberta and Saskatchewan will earn 2X RBC Rewards points for purchases made at The Home Depot Canada!
With all the great organizational supplies the store has to offer, I knew the timing was right to tackle Benjamin's disastrous closet.
The problem with my youngest son's closet is that he can't reach the top bar, so using it for clothing storage doesn't make sense.
I'd put some boxes for books and toys on the floor instead, but the system didn't maximize the space available and was awkward to keep organized.
So, I headed to my local Home Depot store and grabbed the Closet Maid Closet Maximizer system. Featuring hard shelves for durability and easy no-tool installation, it looked like an easy way to make the most of Benjamin's closet area.
A quick tap of my RBC Rewards credit card at the self checkout and I was ready to head home and get to work.
Assembling the unit was a breeze and in less than twenty minutes it was in place and ready to be used. Then it was time for me to get to work and organize Benjamin's toys in a way that was functional for him and attractive to me!
One of my biggest requirements when organizing is making sure that books are easily accessible. In our old house, I had ensured there was a large bookcase in both boys' bedrooms so that it was always easy for them to grab a book and read.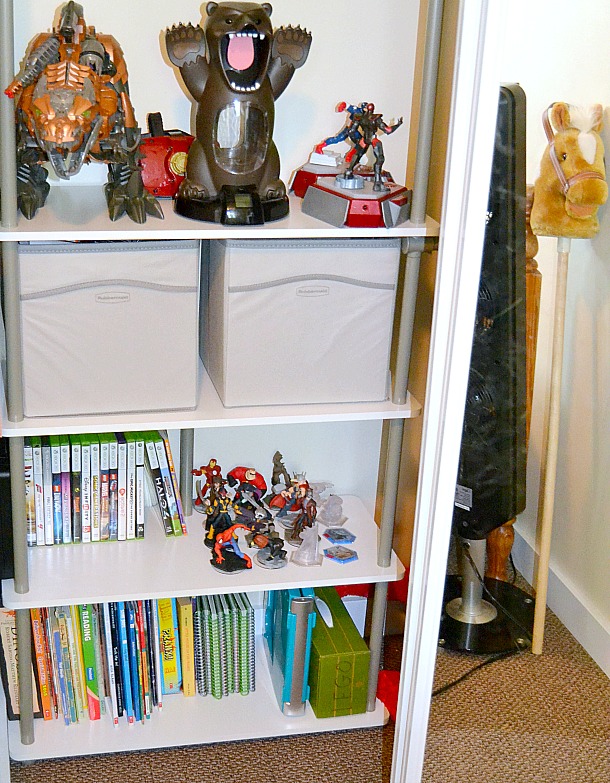 In the smaller townhouse bedrooms, that simply wasn't an option. This organizer provided the perfect solution with its sturdy hard shelves, so I filled the bottom shelf with books and with Benjamin's electronic LeapStart book system. A small box to hold his LEGO creations fit perfectly on the end of the shelf to keep everything in place.
The next shelf was dedicated to the boys' video games. The Xbox 360 games filled up half the shelf, while their Disney Infinity characters filled the other half.
Since Benjamin has the Xbox 360 in his room, having these items easily accessible was useful for both boys. Above that shelf, I added two of the fabric boxes I'd originally had in the bottom of Benjamin's closet.
I filled one with smaller toys, from dinosaur figurines to Hot Wheels cars to Nerf guns. The other held an assortment of craft supplies since Benjamin loves creating art.
Finally, a few of my son's favourite larger toys went on the top shelf both for easy accessibility and as décor items. With the toys, books and games organized, my closet makeover was almost complete.
The final step was to hang my son's button-up shirts and sweaters on hangers and use the lowest bar of the Closet Maximizer to store them in the closet.
I had always kept Benjamin's nicer shirts in the closet but since he couldn't reach the clothes, he never really wore them. Now, his dress shirts are easy for him to grab while still being kept neat and wrinkle-free.
With just this one product from The Home Depot and an hour or so of work, Benjamin's closet had gone from frantic to functional.
And earning double RBC Rewards points for my purchase made a good thing even better! I generally redeem my points to pay off my credit card balance and with the double points I earned, my points reached a high enough amount that I could redeem $100 off my current bill!
Fall is always such a great time to tackle various home improvement and organization tasks. And if you have some DIY jobs planned as well, make sure to take advantage of the current RBC Rewards credit card offer now!
You only have until October 31 to earn double points on your purchases at The Home Depot Canada, so stock up on all the supplies you need for that next project and enjoy redeeming your points for cash, travel, merchandise and more.
Disclosure: This post is sponsored by RBC in collaboration with The Home Depot Canada. All expressed opinions and experiences are my own words.