When it comes to appealing scents for body care products, I've always been in love with vanilla. The sweet, soothing aroma creates the perfect relaxing experience whether I'm scrubbing up in the shower, softening my skin with lotion or even just washing my hands before cooking supper. And when I can enjoy that scent without exposing my skin to parabens, phthalates or harsh chemicals, I'm one happy woman! That's why I'm so excited about the newest Live Clean body care products: Live Clean Vanilla Oatmeal Soothing Body Wash and Liquid Hand Soap!
The smell of both of these products is absolutely decadent and I especially loved using the hand soap since it left my hands feeling soft and nourished. The oatmeal provides gentle cleansing while also helping to soften and moisturize hands, and the Vitamin E and organic botanicals help nourish for the healthiest hands I could have hoped for!
The body wash was just as nourishing and I loved using it when showering after a workout since it let me unwind and relax a little bit more thanks to the delicious vanilla scent. The rich lather left my skin feeling clean and fresh without any dryness, which is a must for me with any bath or body product! Of course, if you're not as fond of vanilla as I am, Live Clean has many other nourishing and decadent varieties of body wash available too!
Want to enjoy some shower time indulgence and try out these two new products for yourself? You're in luck! Live Clean is very generously offering one lucky Mommy Kat and Kids reader a prize pack containing both of the new Vanilla Oatmeal products and three other body washes, a $33 value! To enter to win, just leave a blog comment about which of the four body washes in the prize pack you're most looking forward to trying.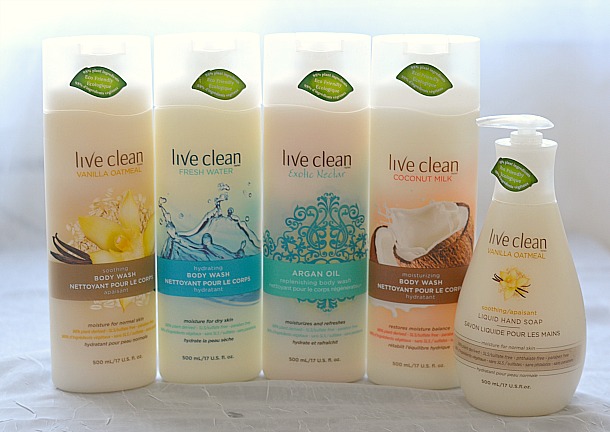 While the new Vanilla Oatmeal hand soap is my personal favourite Live Clean product for handwashing, I actually think that I prefer the Live Clean Coconut Milk Moisturizing Body Wash for the shower, since its tropical scent always makes me feel like I'm on a vacation. But no matter which products are your favourite, Live Clean always means plant-derived body care that's free of chemicals and never tested on animals. Try a few, choose your favourite and enjoy silky, smooth and eco-friendly skin!