I'm a big fan of toys that encourage creativity and creation, which is why I've always loved the newest innovations from Crayola. This year, the company has quite a few great products that are perfect for holiday gift giving and I was lucky enough to receive some of them to review! Crayola's hottest new product this year is one that girls everywhere would love finding under the tree: the Crayola Creations Jewel Maker!
I decided to test out the kit by making a few fun jewelry pieces for my three nieces. The kit contains four different colours of gel jewel solution, catalyst solution, glitter, mixing containers, charms, gem molds, clasps, beads, icon-fetti, clasp bracelets, a work mat and a storage base. I loved how many different choices there were for creating something fun, special and personalized. The icon-fetti even included popular emoji icons that could be added to charms!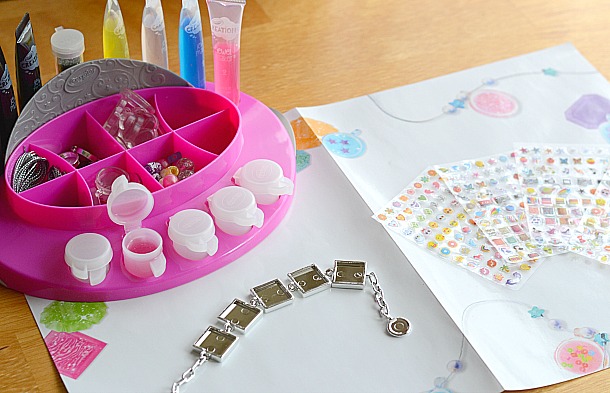 The basic process is simple: mix the catalyst solution and the colour gel in a container, mix in glitter if desired and pour it into the chosen mold. Add icon-fetti to personalize, let it set and wear that stylish creation with pride! I loved the silver charm bracelets best so I tried making one of those for my oldest niece Anna first. She's quite a girly girl, so I decided on a combination of pink and clear glitter gems for her bracelet. I knew she'd also love the icon-fetti so I added colourful flowers to each of the pink gems.
What I immediately noticed while making the bracelet was how many gems one container of gel solution could make. I filled three bracelet charms, a large flower charm and a small circle charm with the pink gel, then filled two bracelet charms and two large charms with the glitter gel. Of course, I couldn't resist personalizing each of them with icon-fetti too! My personal favourite was the large flower-shaped glitter charm with black music notes and since I play piano, clarinet and saxophone, I'm tempted to keep it for myself!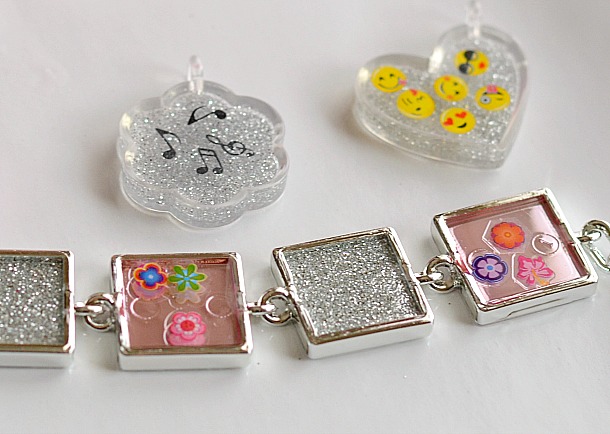 After filling the charms, I let them sit for about thirty minutes until the gel had hardened. Just like that, my charm bracelet was done! But the individual charms can be personalized even further using the included beads and silver cord. And I can tell from the amount of solution left in the bottles that this kit will provide girls with the opportunity to create dozens of beautiful jewellery pieces!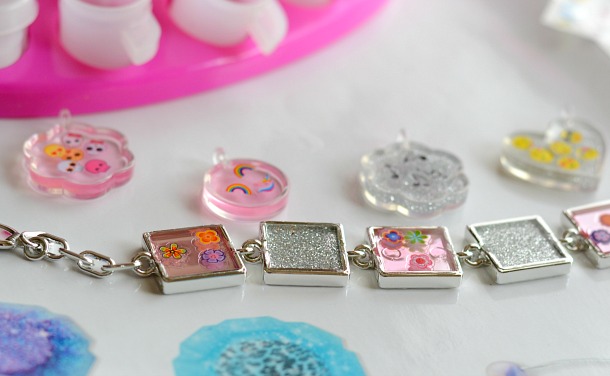 The Crayola Creations Jewel Maker is available now at stores across Canada and if you're shopping for a school-aged or tween girl this Christmas, this set is sure to provide plenty of creative fun over the holiday season. There's even a video tutorial for the set available on YouTube to help get your child's creative juices flowing! Grab your little jewelry lover one of these fun sets now and get a head-start on your holiday shopping!