I am notorious for skipping meals when I'm busy, and I know it's a habit I need to correct. Sometimes it's hustling and bustling at home that has me forget about breakfast or lunch. But just as often, I'll be out running errands at noon and not be able to find a lunch place that suits my tastes. That's why I was so excited to hear that Freshii has a brand-new location in Saskatoon. The chain's fresh and light juices, burritos, bowls and salads sounded ideal for somebody like me that prefers a lighter, plant-based lunch, and I couldn't wait to check it out.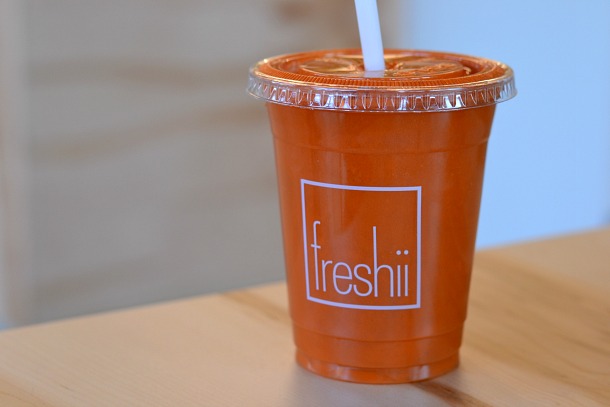 I had the chance to head to Freshii for lunch a few days ago and with so many delicious menu options, I had trouble deciding just what to choose. Eventually I decided on an Oaxaca Bowl, a side of Vegan Chili and a Carrot Zinger juice. The fresh-pressed juice was a special treat, featuring carrot, green apple and ginger pressed fresh every morning. With one sip, I was pretty sure I'd be stopping at Freshii again!
The Oaxaca Bowl boasted brown rice, kale, avocado, beet slaw, black beans, corn, salsa fresca, crispy wontons and spicy yogurt sauce. Like all the main menu items at Freshii, I also had the option of adding chicken, beef, tofu or falafel to my meal, so I added chicken for some extra heartiness. I loved that the menu had so many great vegetarian items available. In fact, almost everything on the menu is suitable for a vegetarian diet!
The bowl was hearty and delicious, and I especially loved the spicy yogurt sauce. The Vegan Chili was just as good, loaded with a variety of beans and topped with fresh green onions. It had the perfect amount of heat and was especially appropriate for a cold day. For those that prefer even more protein in their meal, Freshii also offers Sriracha Chicken and Beef & Cheddar varieties of chili!
I finished my meal with one of the most popular items on the menu: the Energii Bites. These little morsels contain nothing more than peanut butter, honey, oats, coconut and chocolate chips, but a single bite is pure paradise in my opinion! With such wholesome ingredients, they're a great choice for a morning or afternoon pick-me-up and a great way to satisfy that craving for a sweet treat.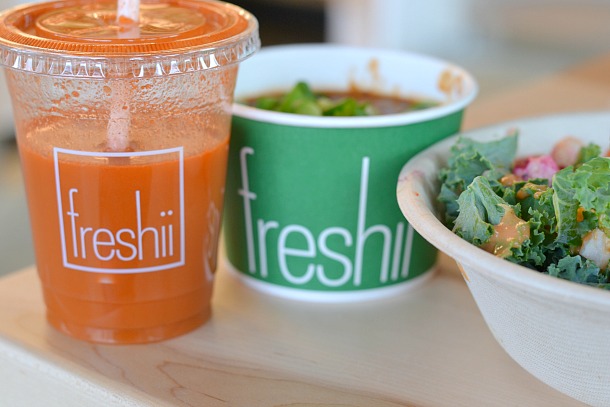 Freshii knows that real food provides real energy, so the chain also offers an innovative juice cleanse program. Choose from a one, three or five-day cleanse and visit the store each morning to pick up four fresh juices to drink throughout the day with a salad to finish off the cleanse in the evening. Since bottled juice cleanses are so popular, I love that Freshii is offering an alternative using juices made fresh every day with real ingredients for maximum health benefits.
Overall, I was very impressed with my visit to Freshii in Saskatoon. The location has already gained a base of repeat customers in the short time it's been open and I'm certainly one of those. I'd go back for a quick snack of Energii Bites alone, but I also want to try one of the scrumptious-looking salads! For a meal that's light and tasty, but still fills you up all day, this fresh and fabulous chain is a great choice!