I'm a big fan of holiday food of all sorts, but I have to admit that I have a special fondness for brunch! A good brunch is such a delectable mix of sweet and savoury dishes and the casual atmosphere makes it ideal for relaxing conversaation! If you'd like to wow your guests with a delicious brunch, try these simple tips to take your brunch experience to the next level!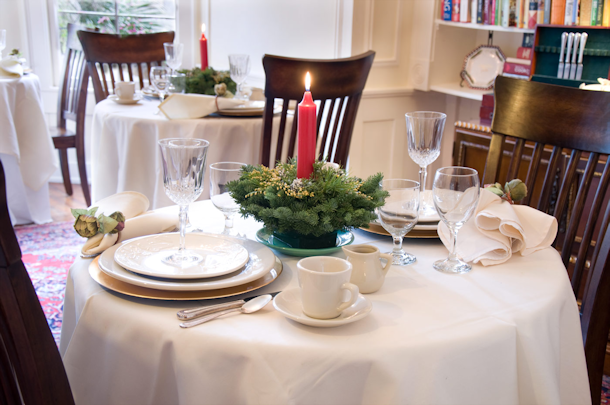 Establish a Colour Scheme
The secret to fabulous décor is to keep the colour palette simple and focus on two complementary colours. On trend for this holiday season is pairing opposite colours together. Once the basic palette is set, add in a third accent colour, such as silver or gold. This will help complete the look and bring it to life.
Try opting for slight variations on the uber traditional red and green. Some colour pairings that you can try this year include:
Mint and blush for a feminine and vintage look
Plum and teal for a sophisticated and elegant feel
Navy (or turquoise) and red, which gives your typical nautical decor a festive holiday flair
Green and fuchsia to create something preppy and fun
Red and grey for a chalet-chic look
Keep these colour schemes in mind when purchasing accent pillow covers, table linens, napkins and runners.
PRO TIP: If you're hosting multiple parties, you can keep the festive colours looking new and radiant throughout the holiday season by using OxiClean™ Colour Shield Laundry Stain Remover. It helps to fight tough stains (think red wine and gravy) while safeguarding colours.
Set the Mood…and Table
The dinner table is the focal point of any holiday gathering! To make it more memorable, every tablescape needs the following:
Flow: Don't overpack your table with too many decorations. Keep it simple so there's plenty of elbow room between guests and enough space for dessert on the table!
Greenery and flowers: No décor is complete without succulents or fresh cut flowers, especially during the holidays. This year, try creating your own unique centrepieces by layering pine branches, Christmas ornaments and fresh flowers overtop a festive table runner.
Table linens: Take a more casual approach to your brunch table linens this year. Mixing and matching colours and patterns keeps the meal light-hearted and bright. Notice a spill or stain once your guests have gone? Use OxiClean™ Max Force™ Foam Laundry Pre-Treater to help tackle even the greasiest spills and stains left behind.
Rethink your serving plates: For a casual and natural feeling buffet style brunch, set aside the traditional serving platters and opt for more rustic materials such as slate, wood or marble. You can also try mixing vintage dishes with new items for classic yet modern feel.
PRO TIP: To make cleaning up even easier, start with a clean dishwasher when your guests arrive and load it throughout the meal. Using OxiClean™ Extreme Power Crystals™ Dishwasher Detergent and Triple Action Dishwasher Booster is also a must during the holidays as it removes tough, stuck on stains and keeps your precious dishes looking sparkling.
Think Beyond the Tree
During the holiday season, people often focus on the tree and forget about the rest of their house. Try placing small wreaths or pretty bowls filled with ornaments in different rooms. Using strings of lights indoors is also a fun way to decorate. You can also bundle up small white lights and place them in glass jars to add a little sparkle to any room.
Wowing your family and friends with a gourmet-style brunch can be a fun and easy holiday event with a little preparation. Set that table, pop some make-ahead brunch dishes in the oven and get ready to enjoy the casual, festive feel of sharing a morning holiday meal with the ones you love!