When it comes to holiday desserts, there's nothing quite as show-stopping as a cheesecake. Creamy, decadent and unexpectedly versatile, it's the ultimate dessert for any special occasion.
And of course, a great cheesecake has to be made with Philadelphia Cream Cheese! The flavour and texture guarantee perfect results every time, even for a cheesecake-making novice!
But as good as cheesecake is, it can always be even better! So, in my hunt for the most decadent holiday dessert imaginable, I decided to combine two delectable desserts into one mouth-watering masterpiece…a Red Velvet Cheesecake Cake!
A half recipe of classic Philadelphia New York Cheesecake is layered between rich and flavourful Red Velvet Cake and covered in a cream cheese icing for a holiday dessert that's simply irresistible!
While this cake isn't my usual quick and easy style of cooking, it's really not a difficult recipe in any way.
Cooking the separate layers takes time, but the baked cake comes together quite quickly and easily. I was surprised and pleased with how rich and red the inside of the cake was, and I loved how festive it looked contrasted with the snow-white filling and icing.
But the real pleasure of this cake comes with taking that first scrumptious bite! The creamy cheesecake is the perfect compliment to the tender cake layers and the overall flavour is simply sublime.
The icing is fairly creamy, so I didn't worry about trying to smooth it to a perfect finish.
Instead, I swirled the icing to give my Red Velvet Cheesecake Cake a snow-covered look perfect for a holiday dessert.
The beautiful thing about cheesecake recipes is that they can be as simple or as complex as a person desires.
Choose between cheesecake squares, mini cheesecakes, a no-bake cheesecake or an elaborate traditional cheesecake with decadent fillings and toppings, for a dessert that's perfectly suited to you!
Craving other tasty cheesecake desserts? Check out my No-Bake Berry Cheesecake or my Cookies and Cream Cheesecake!
No matter what cheesecake dessert you choose, rich and creamy Philadelphia Cream Cheese will help ensure you love the results of your cheesecake masterpiece!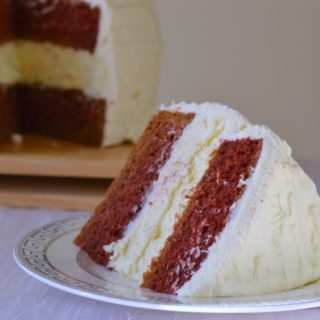 Red Velvet Cheesecake Cake
Cook Time:
1 hour
25 minutes
Total Time:
1 hour
45 minutes
A decadent and festive holiday dessert of creamy cheesecake layered between red velvet cake and iced with cream cheese frosting.
Ingredients
Cheesecake
2 1/2 250 g packages Philadelphia Cream Cheese, softened
3 ⁄4 cup sugar
1 ⁄2 tablespoon fresh lemon juice
1 ⁄4 teaspoon coarse salt
2 large eggs
1 ⁄2 cup sour cream, room temperature
Cake
2 1 ⁄2 cups all-purpose flour
1 1 ⁄2 cups sugar
1 1 ⁄2 teaspoons baking soda
1 teaspoon salt
2 eggs
1 1 ⁄2 cups vegetable oil
1 cup buttermilk
3 tablespoons red food coloring
2 teaspoons vanilla extract
1 1 ⁄2 teaspoons white distilled vinegar
2 oz. Baker's Unsweetened Chocolate, melted
Frosting
1 1/2 8 oz. packages Philadelphia Cream Cheese, softened
1 cup butter, softened
1 1 ⁄2 teaspoons vanilla extract
3 cups confectioners' sugar, sifted
Instructions
Cheesecake
Preheat oven to 325 degrees. Set a kettle of water on to boil.
Using an electric mixer, beat cream cheese on medium until fluffy, scraping down side of bowl.
Gradually add sugar, beating until fluffy.
Beat in lemon juice and salt.
Beat in the eggs, one at a time, scraping down the side of the bowl after each addition.
Beat in the sour cream.
Grease a 9-inch round cake pan and line bottom with parchment paper.
Pour in filling and place in a large, oven safe roaster.
Pour in boiling water to halfway up side of the pan.
Bake until just set in center, about 45-55 minutes.
Remove pan from water. Let cool for approximately 10 minutes.
Run a knife around edge and continue to cool completely.
Carefully place a plate on top of cooled cheesecake layer and flip it over onto plate.
Remove parchment paper, cover cheesecake in plastic wrap and freeze.
Cake
Preheat oven to 350 degrees.
Mix flour, sugar, baking soda, and salt in a medium bowl.
Beat eggs, oil, buttermilk, food coloring, vanilla, and vinegar in a large bowl with an electric mixer until well combined.
Add dry ingredients and beat until smooth, about 2 minutes.
Stir in melted chocolate until combined.
Divide batter evenly between 2 greased and floured 9" round cake pans and bake 25-30 minutes, until a toothpick inserted in the center of each cake comes out clean.
Let cakes cool 5 minutes, invert each onto a plate, then invert again onto a cooling rack. Let cakes cool completely.
Frosting
Beat cream cheese, butter, and vanilla together in a large bowl with an electric mixer until combined.
Add icing sugar one cup at a time, beating until frosting is light and fluffy, 5–7 minutes.
Assembly
Place one red velvet cake layer on serving tray.
Remove cheesecake from freezer, unwrap and place on top of the first layer of the red velvet cake.
Place second layer of red velvet cake on top of the cheesecake.
Coat cake with a generous layer of the cream cheese frosting to seal in any crumbs. Refrigerate approximately 30 minutes, until frosting is set.
Frost cake with remaining frosting until fully coated.
Refrigerate until ready to serve.
Recommended Products
As an Amazon Associate and member of other affiliate programs, I earn from qualifying purchases.
Nutrition Information:
Yield:

12
Serving Size:

12
Amount Per Serving:
Calories:

1082
Total Fat:

76.6g
Saturated Fat:

35.8g
Cholesterol:

191mg
Sodium:

777mg
Carbohydrates:

93g
Fiber:

1.8g
Sugar:

68.5g
Protein:

12.5g