For many, there's a new code of conduct while on the annual family vacation: no electronics!
If your kids have their noses stuck to their smartphones, iPads or tablets, they will miss the world around them, and you'll lose out on valuable family bonding time, which is usually the point of the vacation in the first place.
It can be advantageous to bend this rule during the trip to and from your destination, however, and here are three reasons why you should still take your electronics with you when you travel.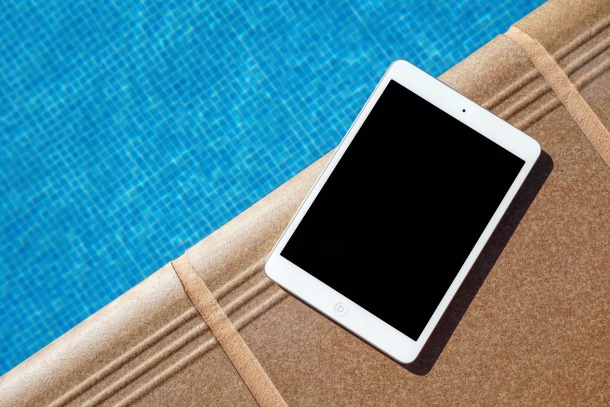 1. Importance of Entertainment While Traveling
It does not matter if you travel by train, plane, or automobile; your children will become bored quickly.
The excitement of traveling to the fun destination will wear off as the minutes tick by and the inevitable and repetitive "Are we there yet?" is enough to drive any parent to the brink of insanity.
No matter how many times you tell your kids it will be X hours until you arrive at your destination, they will ask the question again.
If you are flying, the airplane will have entertainment options, but these might cost money. Most train travel does not offer any transit entertainment, nor does your vehicle unless your minivan or SUV is equipped with a video entertainment system.
If you allow electronics during transit only, your kids can play games or watch videos while you enjoy a little pre-vacation relaxation…minus irritable kids.
This prevents travel boredom and helps keep the peace. After all, you're on a family vacation and everyone should have a fantastic time at all times if possible!
Of course, once you arrive, the rules will likely change.
If you're traveling to Mexico and will be renting a home in Sonoran Sky, for example, kids will probably prefer swimming in the many swimming pools or going out to the beach to play – they won't need electronics at that point because they'll be fully entertained by the amenities of the area!
The rental homes themselves also have a lot of open space for kids to explore before they even go outside!
2. Play With Your Kids
Want to help keep your kids entertained on the journey, but still be involved? One way to allow electronics on family vacation yet still accommodate family bonding time is to play with your kids.
Today's gaming is often social gaming, and people play against each other online from all over the world. Play electronic games together by setting up a family chat room, choosing a game everyone wants to play and battling it out after everyone signs in.
You and your kids can also have fun playing simulation games that will make your kids feel older, such as poker. The winner has to treat everyone to ice cream once you reach your destination.
3. Social Gambling for Adults
If you're finally taking that coveted trip to Las Vegas, Nevada, and plan to hit the casinos to try your luck while your kids hit the amusement parks throughout the city, get some practice in during transit with social gambling for adults.
Social casino gaming is one of the fastest growing verticals in the iGaming space, next to mobile, and you can get a preview of the excitement you have ahead of you when you enter an online space and try your luck.
The best thing about social casino gaming is not just the opportunity to win real cash; it's also the ability to meet new cyber friends. This will keep you entertained as well, which will make for a happier trip for everyone.
Of course, once you land or arrive at your destination, the code of conduct will still apply – all electronics off!
Nonetheless, entertainment while traveling is a valuable technique to help keep the peace on a long journey and start your family vacation off on the right foot.
Just make certain to keep the devices safe throughout your trip once you're out exploring and having fun!