Is there anything better than a bite of creamy, dreamy, melt-in-your-mouth milk chocolate? I don't think so, and when I decide to indulge in a treat, chocolate is usually my first choice. So, when I find a new way to enjoy my favourite flavour, I can't wait to dig in.
And this summer, there's a perfect way to do that…new Hershey's Chocolate Pudding cups! Recently I received some of this decadent refrigerated chocolate pudding to test out for myself and I couldn't wait to try it.
After hiding the pudding in the back of the fridge (so the boys wouldn't devour it before I could), I took one of the pudding cups out to test. The pudding had exactly the same smooth and creamy texture as a Hershey's milk chocolate bar and I couldn't get enough of it.
While the pudding was just fine on its own as far as I was concerned, it also made a great easy snack to "fancy up" a bit for a special dessert or treat for Zackary and Benjamin. Both of them loved topping their pudding with whipped cream and chocolate sprinkles for an extra-special snack.
Prefer a little more kid-friendly fun to your pudding? You'll want to try new Hershey's S'mores Pudding as well! With the flavours of rich Hershey's chocolate, graham and marshmallow, it's a summertime treat that's sure to please. For an easy and delicious hot-weather snack, try pushing a popsicle stick into the pudding cup and freezing it for a homemade S'mores fudge pop!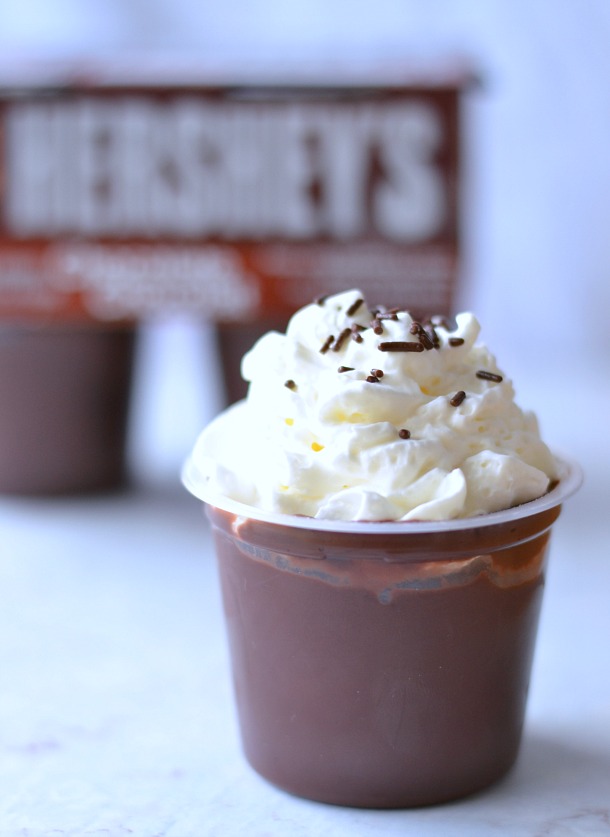 But the best thing about this new snack is that right now, you can grab a coupon to save $0.50 on your purchase of Hershey's Chocolate Pudding or Hershey's S'mores Pudding! Personally, the chocolate variety is always going to be my favourite. And since it's made with skim milk and has just 130 calories per serving, it's the perfect way to get a chocolate fix that's just a little bit healthier!
Hershey's Chocolate Pudding is available in the refrigerator section of supermarkets now and once you've tried it, you won't be able to resist it! Print your coupon, grab your favourite flavour and see what you think of this new chocolate treat!