If there's one thing that I've learned during the last few years, it's that life is much easier when I have a few pantry staples on hand to whip up a quick meal.
I love cooking up pasta sauce but with one boy in soccer and another in baseball, making sauce from scratch just isn't on my agenda right now. Luckily, new Classico Riserva sauces are made to have a taste that's almost as good as homemade, without the work!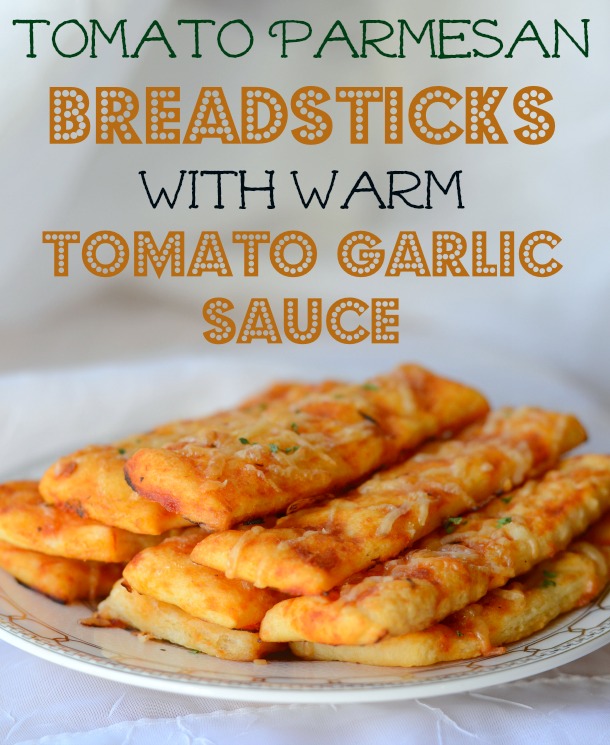 Containing high-quality ingredients with no preservatives and no added sugar, these sauces come in five mouth-watering varieties: Marinara, Arribbiata, Roasted Garlic, Puttanesca and Eggplant Artichoke.
I recently received the Classico Riserva Roasted Garlic pasta sauce so that I could cook up something tasty and for a change, I decided to think outside the pot and make a non-pasta recipe! This easy Tomato Parmesan Pizza Sticks recipe with Warm Tomato Garlic Sauce makes a quick and delicious appetizer, side dish or snack that the whole family will love!
These pizza sticks couldn't have been simpler to assemble and once I pulled them out of the oven, a sprinkle of parsley had them ready for the table. My oldest son devoured the pizza sticks just as they were, while my youngest preferred them with plenty of the warm sauce for dipping. Personally, I enjoyed the snack both ways and the fact they took just over ten minutes from start to finish was the best part!
For other great recipe ideas using the new Classico Riserva sauces, make sure to visit the Kraft What's Cooking website! I can't wait to try the Quick and Spicy Tomato Egg Skillet the next time I need a fast and satisfying breakfast for a busy day.
And if you're looking for other delicious appetizer recipes, this Buffalo Bacon Cheddar dip is sure to wow guests at your next get-together!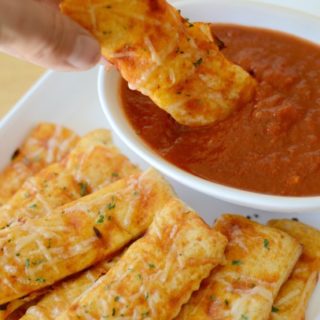 Easy Tomato Parmesan Pizza Sticks with Tomato Garlic Dipping Sauce
Deliciously simple breadsticks with pasta sauce for dipping.
Ingredients
1 package refrigerator crescent rolls
3/4 cup Classico Riserva Roasted Garlic pasta sauce
1/4 cup Parmesan cheese, grated
Instructions
Preheat oven to 375 degrees.
Open crescent rolls and separate into four rectangles, pressing diagonal seams together to seal.
Cut each rectangle into six breadsticks and place on parchment-lined baking sheet.
Pour 1/4 cup of Classico Riserva Roasted Garlic pasta sauce in small bowl and use pastry brush to brush over breadsticks. Sprinkle with parmesan cheese.
Bake approximately ten minutes, until cheese is melted and breadsticks are slightly browned.
Meanwhile, place remaining sauce in microwave bowl and heat approximately 30 seconds, until warmed.
Serve breadsticks with sauce for dipping.
Recommended Products
As an Amazon Associate and member of other affiliate programs, I earn from qualifying purchases.
Nutrition Information:
Yield:

4
Serving Size:

4 Servings
Amount Per Serving:
Calories:

244
Total Fat:

13.4g
Saturated Fat:

3.9g
Trans Fat:

0g
Cholesterol:

4mg
Sodium:

605mg
Carbohydrates:

23g
Fiber:

0.2g
Sugar:

4.7g
Protein:

6.1g