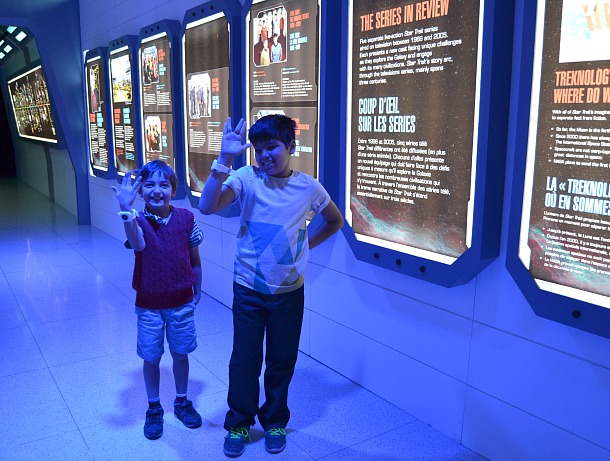 One of the best things about living in Canada is having so many amazing attractions and destinations that are just a short drive away.
I've had the chance to explore quite a bit of Saskatchewan and its surrounding provinces in my lifetime, yet I'm always amazed to learn about new family-friendly spots just next door.
That's why I was so excited to be able to take the boys on a road trip to Calgary, Alberta this past weekend to check out the TELUS Spark Star Trek: The Starfleet Academy Experience!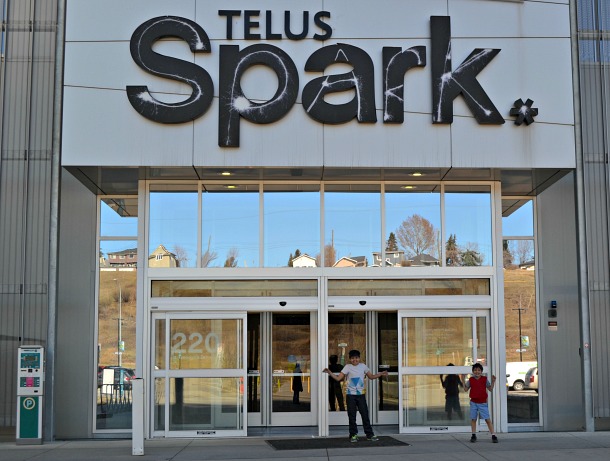 This special exhibit is at the TELUS Spark building until June 4, 2017, and as a huge science fiction fan, I couldn't wait to check it out.
My boys, on the other hand, weren't familiar with the Star Trek franchise, so I have to admit that I was almost as curious to see their reaction as I was to visit myself!
Our tickets included admission to Star Trek: The Starfleet Academy Experience and admission to the TELUS Spark building itself, so I knew we'd all be in for one fun and educational day!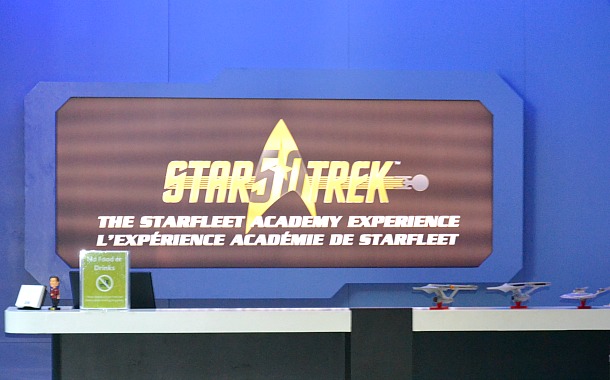 The Starfleet Academy Experience begins with new recruits receiving a special wristband to track progress and save unique experiences.
I registered the wristbands for the three of us by entering our names and an email address. Then we were ready to travel through the academy and discover our strengths!
The exhibit was divided into different testing areas including Medical, Communications, Science and Command. Each area had a fun and unique activity to test your aptitude for that specific Starfleet division as well as a quick quiz.
And, of course, there were plenty of displays of classic Star Trek memorabilia throughout the exhibit as well! I was especially fascinated to see how simple and toy-like many of the props looked compared to our modern technology today!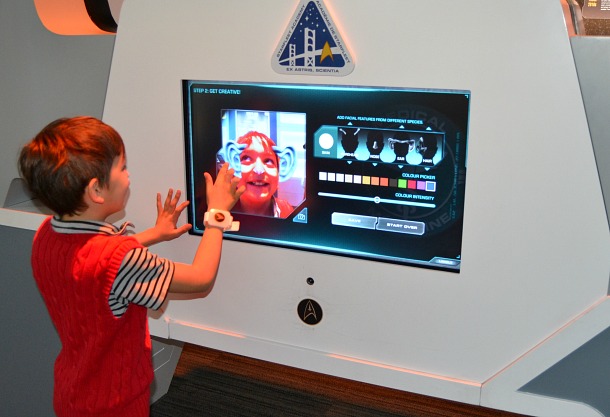 Our first stop was Medical training and Benjamin had a great time scanning a Klingon to diagnose the symptoms. He also enjoyed creating a wacky Species Selfie in the Communications section.
Zackary loved plotting a safe course around enemies during Navigation training and working in the Science division to select the safest planet for an emergency landing. And I was pretty proud of my ability to properly pronounce two out of three Klingon phrases during Communications training!
All three of us loved getting the chance to use a transporter for the first time, too. The display was cleverly set up so that when a person stood in the transporter booth, other people could watch him transporting away in the tubes!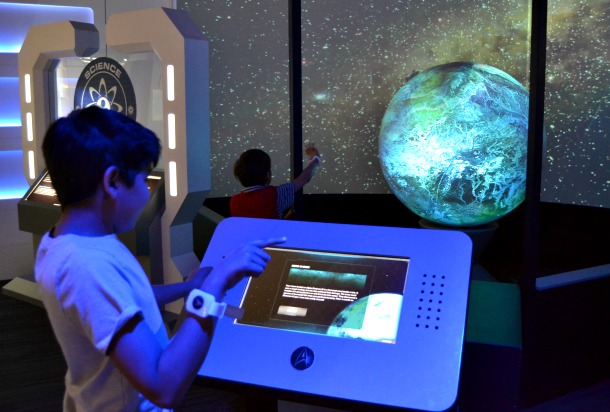 The experience concludes with a visit to the Bridge and a chance to test your command abilities during the Kobayashi Maru test. This was by far my favourite part of the Starfleet Academy Experience, though it was also incredibly challenging.
Faced with both a stranded crew in need of rescue and hostile Klingon ships, I had to choose between attacking, defending or evading the Klingons while also trying to rescue as many people as possible.
Eventually, despite my best efforts, my ship was destroyed. But puzzling through the situation was still so much fun that I wanted to try it again and again!
At the end of the exhibit, the boys and I had the chance to discover which division of the Starfleet Academy was most suited to our skills.
We also received copies of our Species Selfie and our transporting video to share with friends and family. Benjamin was thrilled to be assigned to the Command division, while Zackary showed strength in both Science and Engineering.
Of course, my own stellar command of Klingon had me assigned to further my skills in Communications!
After finishing our journey through the Star Fleet Academy training, we spent the next few hours exploring the rest of the TELUS Spark building and exhibits.
Just like the Star Trek Experience, the exhibits focused on hands-on learning, something both my boys love.
Zackary's favourite exhibit involved using tubes and connectors to build a marble maze. Benjamin, with his love of art, enjoyed working with toothpicks and a hot glue gun to make his own wacky creations.
After a unique and delicious lunch at the world food-themed Social Eatery, we finished off our day by spending an hour playing in the outdoor Brainasium playground.
While the giant rope-climbing structure with its twisting slide down from the top was by far the most impressive structure, my boys loved the climbing logs even more. Watching them burn off their energy inventing races and games on the unique equipment had me grinning from ear to ear.
Spending the day exploring the TELUS Spark exhibits and the Star Trek Experience made a perfect weekend getaway trip for me and the boys.
And since we'd taken advantage of one of the many deals offered by Calgary hotels that offered a discounted price for those visiting the exhibit, our excursion was incredibly affordable too!
The Wingate by Wyndham hotel was the perfect home base for our excursion and we ended our day with a delicious dinner and a little swimming at the hotel pool before heading to bed, ready to drive back to Saskatoon the next morning.
If you've been looking for a fun weekend activity the whole family will enjoy, a visit to TELUS Spark and the Star Trek Exhibit is sure to be a hit, whether you're a fan of the series or you've never seen a single episode or movie!
The energetic, hands-on training experience will have kids and adults alike caught up in the wonder and excitement of Star Trek!
This is a sponsored conversation written by me on behalf of Tourism Calgary. The opinions and text are all mine.