There's no doubt that having a baby in the house is a lot of work, but it's also a lot of fun! And I have to admit that one of my favourite things about having a little one is the toys! Infant and toddler toys have come a long way since I was a child, and I'm amazed at how many new innovations there are even since my boys were babies!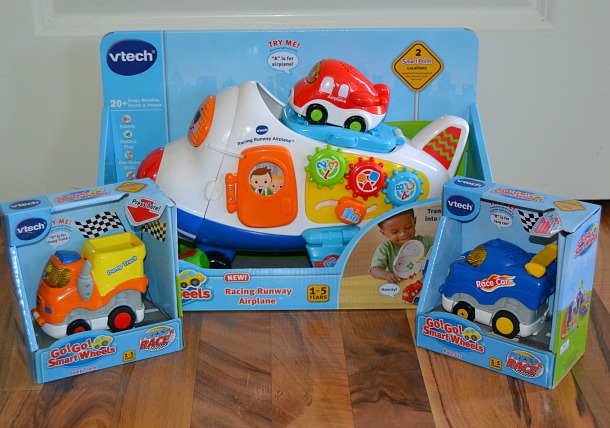 VTech's toys have been popular in our family ever since my oldest was a toddler and I've always loved the way the company combines fun and learning in its products. Now, they're doing that in brand new ways with the Go! Go! Smart Wheels collection. These play sets and vehicles are perfect for the little transportation nut in your household, and recently I received some of the newest Go! Go! Smart Wheels products to check out for myself.
I received the Go! Go! Smart Wheels Racing Runway Airplane playset and two of the Go! Go! Smart Wheels Press & Race cars to review. Since portability is always a plus in a favourite toy, I especially liked the compact size of the Press & Race cars that still had appropriate sizing for chubby little hands to hold. Both vehicles were also very simple to operate; simply press down on top of the vehicle for it to race ahead while singing and talking. The easy operation of the cars makes them ideal for children as young as one year of age and, best of all, the cars are compatible with SmartPoint spots on Go! Go! Smart Wheels playsets!
The Racing Runway Airplane is the newest playset in the Go! Go! Smart Wheels collection and with so many planning summer vacations, it's a great choice for little ones that may be taking their own first flight sometime soon! The airplane features swinging doors, turning gears and a squeaking front nose for plenty of fun when used as a plane. But then, when opened, the plane turns into a fun runway ramp that can be used with compatible cars and even connected to other Go! Go! Smart Wheels playsets!
Together, these new VTech Go! Go! Smart Wheels toys are sure to provide hours of entertainment for toddler and preschool-aged children this summer. And I can't wait to watch my youngest son teach his new baby brother how they all work once they start playing together. The recommended age for the VTech Go! Go! Smart Wheels toys is 1-5, but as with any racing toys, my older boys still have fun playing with them at times too. Find the cars and playsets at Toys'R'Us and other select stores across Canada and get your kids ready for some fast-paced summer fun!