There's nothing I love more than being in the water and even in landlocked Saskatchewan, I'm pretty good at finding ways to get to the beach as much as possible in our limited summer months. Since I love swimming so much, I have an extensive collection of beach gear including bathing suits, sarongs, towels, coverups and more. Needless to say, packing for a day by the water sometimes takes me a while! But this year, that's all changed since I discovered the LOLL Poncho Towel!
Part towel and part beach coverup, this towel is all functionality when it comes to enjoying a day at the beach. The clever design features a hood and zipped sides to provide superior coverage when worn as a coverup. Yet when unzipped, it also works as a comfortable and absorbent beach towel! I received the LOLL Towel in Green Ocean Waves to review and I couldn't wait to test it out for myself.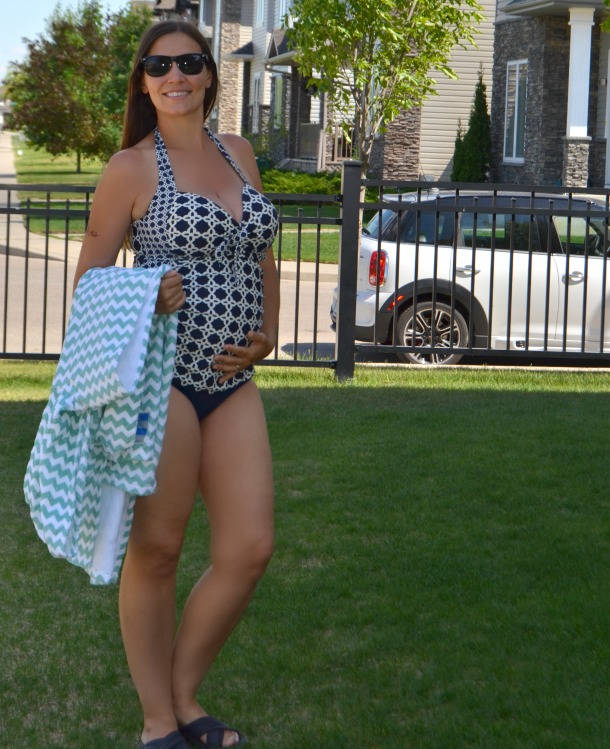 The towel was wonderfully thick and soft when I pulled it out of the package, and I could tell immediately that I would love using it after a chilly swim in the lake. The one-size-fits-all design worked perfectly for me even with my baby bump, with the bottom of the coverup hitting just above the knee on my 5'7" frame. An immediate plus to the design is the fact that it's longer in the back than the front, so I have extra coverage behind and can even sit on the towel while also wearing it as a coverup!
I also especially liked having the option of putting up the hood, a definite bonus for days that might be a little more cold or windy than I would like. And to use the LOLL Towel as more of a regular beach towel, I simply unzipped the sides and spread it out for instant relaxation. Best of all, to help keep items secure, the LOLL features a large inner pocket with waterproof lining and a sturdy Velcro closure to secure your valuables!
Want to give this versatile towel a try? LOLL Towels is very generously offering one lucky Mommy Kat and Kids reader a poncho towel in their choice of print, a $60 value! To enter to win, take a look at the available LOLL Poncho Towels and leave a blog comment about which design you would choose if you won.
While Saskatchewan weather has still been too cold for me to use my LOLL Poncho Towel as much as I would like, I've had a great time using it even just for lazing in the back yard in my swimsuit to soak up a bit of sun. And when we do head to the beach this summer, my LOLL Towel is going to be the first thing that I grab. Order yours online today and get ready for beach days that are more comfortable and fashionable than you ever thought possible!