When warm June weather finally arrives, I can't wait to get outside to enjoy it.
And whether I'm cracking an ice-cold beer after a day of yard work or sipping a pre-dinner drink as the barbecue heats up, the perfect beverage always makes spending time outdoors even better.
Of course, this year I've had to give up some of my favourite summer sippers since our new baby is arriving in a little over a month.
So, I got to work creating some cocktails that are perfect for summer refreshment both with and without alcohol added!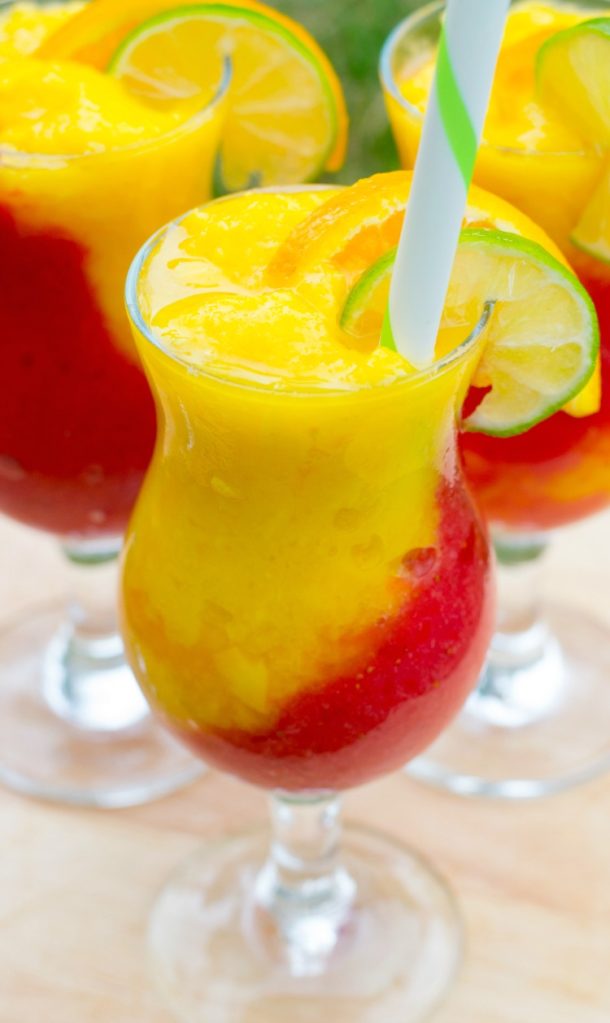 My family loves tropical fruit flavours, so I decided to combine two of our favourites, strawberry and mango, to create a show-stopping daiquiri that's tangy, sweet and perfect for a lazy afternoon relaxing on the deck.
Making the virgin version of this drink is as simple as leaving out the rum, and when it's served in stylish drinkware from Wayfair.ca, it's pretty enough for the poshest summer brunch or evening cocktail party!
One of my favourite things about this daiquiri is that it's full of fruity flavour without being too sugary.
I actually don't drink fruit-based cocktails very often because the added sugar syrup makes the drink overwhelmingly sweet after just a few sips.
Since all the sweetness in this daiquiri comes from the fruit and juice, it's tangy and refreshing to the last drop.
And best of all, customizing the drink with different types of fruit couldn't be easier!
I decided to make my Strawberry Mango Daiquiri because I had some ripe mangos just begging to be used, but my original plan had actually been to create a Strawberry Kiwi Daiquiri instead!
Banana, pineapple, passion fruit or even coconut milk would all be delicious choices for this fun layered beverage, so experiment a little and see which one your family likes best!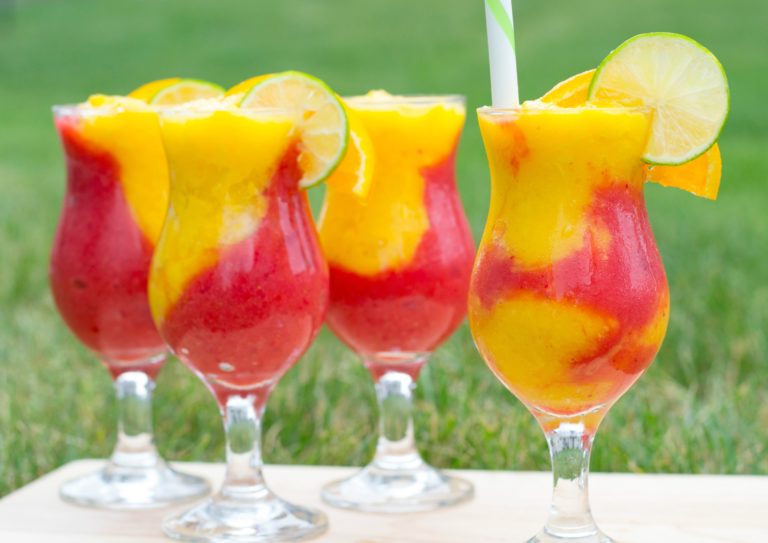 Looking for more delicious drinks to kick off your summer celebrations? Check out my Sparkling Grape Lemonade! It's not only a favourite in our house, it's the most popular drink recipe on the website!
And if you try a different variation of this dreamy daiquiri, let me know what you thought. I'd love to see if it's just as delicious using different types of fruit!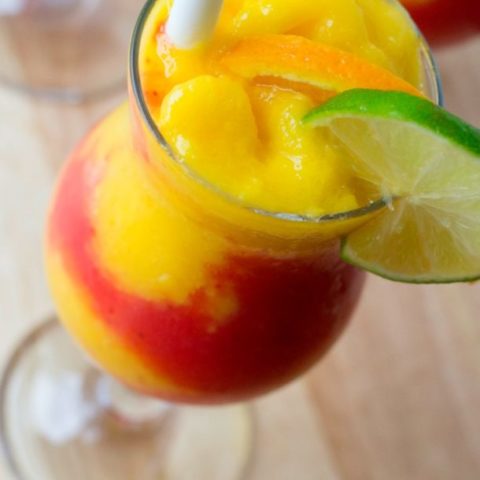 Strawberry Mango Daiquiri
A simple frozen summer drink featuring colourful layers of blended mango and strawberry. Leave out the rum for a virgin cocktail!
Ingredients
1 1/2 cups fresh strawberries
1 1/2 cups fresh mango
1 oz. lime juice
1 oz. orange juice
6 oz. rum, divided (optional)
3 cups crushed ice, divided
Instructions
In a blender, combine strawberries, lime juice, half of rum and half of crushed ice. Blend until smooth and pour into four glasses until half full.
Rinse blender jug well and combine mango, orange juice, remaining rum and remaining crushed ice. Blend until smooth and pour over strawberry mixture.
Garnish with sliced fruit and serve immediately.
Notes
If you prefer a sweeter drink, add 1 to 2 tbsp. simple syrup or white sugar to each fruit mixture before blending.
Recommended Products
As an Amazon Associate and member of other affiliate programs, I earn from qualifying purchases.
Nutrition Information:
Yield:

4
Serving Size:

4 Servings
Amount Per Serving:
Calories:

160
Total Fat:

0g
Saturated Fat:

0g
Trans Fat:

0g
Unsaturated Fat:

0g
Cholesterol:

0mg
Sodium:

4mg
Carbohydrates:

16g
Fiber:

2g
Sugar:

12g
Protein:

1g