While Canada is gearing up to celebrate its 150th birthday, one of my favourite Canadian companies, Live Clean, is celebrating a birthday of its own! 2017 marks ten years since Live Clean debuted its first six eco-friendly shampoos and conditioners to Canadians and while the product line has expanded, the company's values have stayed the same for the past decade. Today, the company continues to take pride in providing products that are cruelty-free, free of harmful chemicals and made of locally-sourced, plant-based ingredients.
Over the last few years, I've had the chance to try dozens of the products in the Live Clean collection for babies, children, men and women! And it goes without saying that I've got a few fast favourites after all my trials and testing. So, in honour of Live Clean's 10th birthday, I'm sharing my thoughts on the top ten must-try Live Clean products!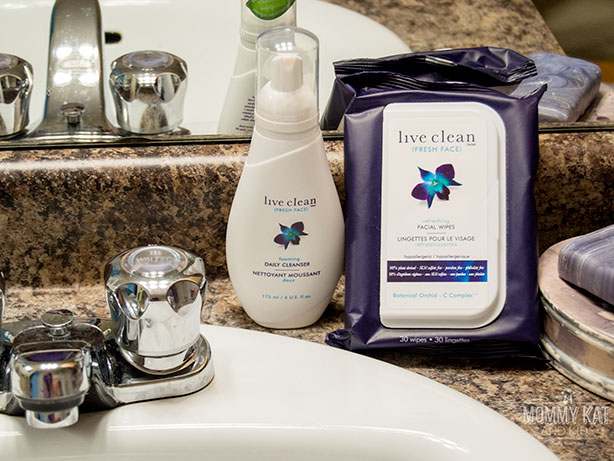 1) Fresh Face Foaming Daily Cleanser
This cleanser is everything I want in a face wash with nothing I don't. It's oil-free and so gentle that I don't have to worry about my usual hormonal breakouts when using it. It leaves my skin perfectly clean without drying it out. Live Clean's trademarked Botanical Orchid-C Complex seals in moisture while antioxidant Vitamin C protects and boosts radiance. Lavender, Cucumber, Chamomile, Milk Thistle, Mallow, Aloe and Buckthorn soothe and protect skin, and the foam formula means it's easy to apply to ensure my entire face is completely clean! – ARV: $14.99
2) Fresh Face Refreshing Facial Wipes
As a busy mom and travel addict, these facial wipes are a dream come true! Boasting the same soothing ingredients as the Fresh Face Foaming Daily Cleanser in a convenient pre-moistened wipe, I turn to this handy little package any time a long day has left me too worn out for my full cleansing and moisturising routine. And when we're on vacation, the facial wipes let me take care of my skin with just one easy-to-use product. The fact no water is needed is an added bonus, making them perfect for camping and outdoor adventures! – ARV: $9.99
3) Coconut Milk Moisturizing Shampoo
Haircare was the first offering from Live Clean and this shampoo is the perfect example of why. The vegan and eco-friendly formula provides all the moisture and nourishment that my dry locks crave, thanks to the natural rejuvenating power of coconut! The coconut oils both moisturize and protect, penetrating the hair shaft to help prevent breakage and seal in moisture. Vitamins C, E, Provitamin B5, and rice protein add to its nourishing, hydrating and strengthening properties. This shampoo really is natural beauty at its finest! – ARV: $7.49-$7.99
4) Apple Cider Clarifying Shampoo
As much as my hair usually needs that extra boost of moisture, I do sometimes find my tresses getting dull and limp from excess product buildup. And this shampoo made with Bragg Organic Apple Cider Vinegar is the perfect solution. When used once a week, it's designed to remove excess product buildup for shiny, bouncy hair that's full of life! – ARV: $7.49-$7.99
5) Argan Oil Restorative Conditioner
Finding a conditioner I love is something I find harder than finding the perfect shampoo. I want a conditioner that leaves my hair soft, shiny and manageable without weighing it down. And thanks to the Vitamin E and antioxidants in Moroccan Argan Oil, that's exactly what I get with this amazing plant-based formula. With added Panthenol for even more moisture and shine, certified botanical Olive Oil to protect against free radicals and certified organic Grape Seed Oil to regenerate and restructure damaged, stressed hair, it leaves my locks nourished no matter how much styling stress I've put them through. – ARV: $7.49-$7.99
6) Vanilla Oatmeal Soothing Liquid Hand Soap
I'm a huge fan of any skincare product containing oatmeal, since its soothing properties help ensure my sensitive-skinned family don't have to worry about skin irritation. But as much as I love the gentle cleansing soap and how soft it leaves our hands after washing, the scent of this product is what really makes it a winner to me. Sweet vanilla and calming chamomile combine to give this eco-friendly hand soap an aroma that instantly leaves me feeling a little less stressed, even on the busiest days. – ARV: $4.99
7) Fresh Water Hydrating Body Wash
The perfect morning pick-me-up, this body wash combines botanicals of rosemary and chamomile to create a light and refreshing scent perfect for the whole family. And with Vitamin E and Hyaluronate, skin isn't just clean after using, it's soft and moisturized as well! – ARV: $7.99
8) Sheer Light Skin Perfecting Dry Body Oil
This product was my first experience with a dry oil, and I fell in love with my first use. Living in a province with harsh winter weather, it was a saviour when my skin was at its most dry and weather-beaten. I simply smoothed it on after a shower, wrapped myself in my favourite terry robe and relaxed until the oil had absorbed. The potent blend of Safflower Oil, certified organic Argan Oil, Avocado Oil, Sesame Oil, Jojoba Oil and Coconut Oil absorbed quickly and left my skin luxuriously soft. Now that I'm pregnant, I have this no-mineral-oil formula out again to help keep my belly soft and moisturized! – ARV: $9.99
9) Argan Oil Replenishing Body Lotion
For less intensive day-to-day moisturizing, this body lotion once again uses the powerful benefits of Moroccan Argan Oil to help replenish skin's moisture barrier and heal dry skin. The light, slightly sweet scent is mild enough that the whole family can use this pleasant lotion, and it's ideal for keeping skin soft and smooth day after day! – ARV: $7.49-$7.99
10) Baby Mineral Sunscreen Lotion SPF 45
When it comes to a sunscreen that's suitable for a baby's delicate skin, most parents have a long list of requirements. And Live Clean fulfills every single one of them! This mineral-based formula is lightweight and easy to apply, but is still free of potentially damaging nano-particles. The high SPF protection ensures that Baby can enjoy hours in the sun safely and happily. – ARV: $16.99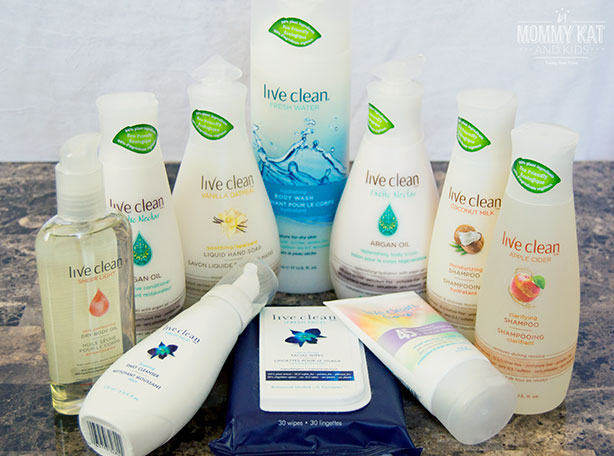 These are just a few of my favourites, but what makes me such a big fan of Live Clean is the fact that every single one of its products is made with ingredients that are safe for my family and safe for the earth. When the company first launched, some people thought eco-friendly living was more a fad than anything else but now, it's become a way of life! And Live Clean's products have evolved right along with the eco-friendly revolution to provide skincare, body care and haircare for the whole family.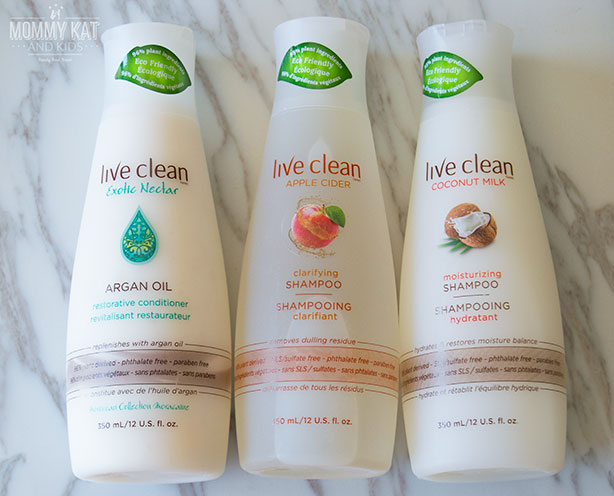 Live Clean products are available at stores across Canada, and as soon as you see the name, you can trust the product is free of parabens, phthalates, SLS, petroleum, phosphates and dyes. Containers are always recyclable, and formulas are always 98% plant-based. And for families with sensitive skin like mine, Live Clean ensures products are hypoallergenic and dermatologist or pediatrician tested. What more could an eco-conscious shopper ask for? Whether you're brand new to Live Clean or you have some favourite products of your own already, make sure to check out some of these top ten choices that might be new to you. Your family and the earth will be glad you did!