One of the things I remember most about my boys being young is how challenging it could be to keep them entertained when we were out of the house. And as a family of travellers, we're all out of the house fairly often!
While my boys have grown enough to entertain themselves on long car rides and other adventures, we'll soon be welcoming our newest addition to the family and already, we're planning some trips to visit loved ones and introduce them to our baby. So, I know keeping our newborn calm and peaceful on trips away from home may be a problem.
Luckily, technology has grown right along with our family's needs! And that's why the VTech Canada Safe & Sound Myla the Monkey Portable Soother will be one of our must-have baby accessories when we hit the road after the birth of our baby. This clever little animal offers some of the most popular soothing features for little ones using a handy portable design perfect for traveling.
Myla's soothing features start with five different relaxing melodies and five calming ambient sounds ranging from a trickling stream to white noise. I use a white noise machine myself every night, so I know firsthand how helpful the background noise can be to assist sleep. In fact, I may just be using Myla myself at times when we're travelling and background noise keeps me awake!
The toy also features a soft nightlight in the form of the monkey's glowing face. The light level can even be turned up and down for just the right amount of bedtime light. And the curved monkey tail handle lets parents quickly and easily hang Myla from a stroller, doorknob or car seat for the ultimate portability!
Best of all, Myla the Monkey features two of my absolute must-haves in any infant toy: automatic shut-off and a rechargeable battery. With two boys, I've had far too many experiences with toys accidentally being left to run until dead, resulting in tears and tantrums when the toy is most needed.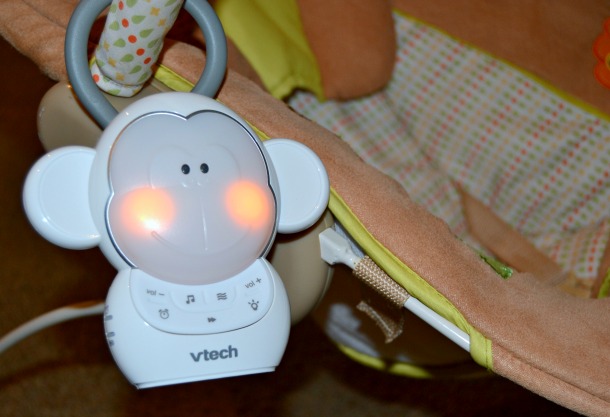 And when a toy does run out of juice, there's nothing worse than constantly having to buy new batteries to get it up and running again. With this VTech Safe & Sound Portable Soother, neither of those common parental worries is an issue!
Myla the Monkey is just one of the many great VTech Safe & Sound products available for nighttime soothing, so make sure to check out the full collection at stores across Canada. But if you do a lot of travelling with your little one, Myla the Monkey might just be the favourite toy of your summer adventures. Personally, anything that helps my baby sleep more comfortably and peacefully away from home is a must for me!