Like most travellers, I have a pretty extensive list of dream destinations that I plan on visiting one day. I want to show my husband the wonders of South Africa, a place I visited in my early twenties. I dream of setting sail on a European cruise. I'm even making plans to take the entire family on a trip to explore the wilderness of Australia. But of all those exotic destinations, not once did it occur to me to visit Bucharest.
That's exactly why I leaped at the chance to spend a week in the capital of the small European country of Romania, along with 100 other travel bloggers, video creators and influencers. I was curious about what this largely unknown destination had to offer travellers. I expected to see some amazing sights and learn a lot about the country. I didn't expect to fall in love. But the appeal of this vibrant city is irresistible, and the more I explored it, the more I wanted to keep exploring.
Must-See City Sights
There's no shortage of unique places to discover when you visit Bucharest and most of them are within walking distance, so pick one of the beautiful luxury downtown hotels as your starting point, grab some comfortable walking shoes and get ready to explore! I stayed at the Hotel Cigmitsu, and a quick walk up the street led me to the Palace of the National Military Circle and its beautiful fountain. This is a gorgeous photo spot and also a great place to relax and enjoy a coffee or a quick snack.
Just down the street from the fountain, past the many shops and hotels, is a narrow alley filled with rainbow-coloured umbrellas, one of the most popular photo spots in the city. Make sure to snap a picture here as you're passing by and maybe try a slice of pizza at the Colosseum for lunch!
Of course, no visit to Bucharest would be complete without at least stopping outside the majestic Palace of the Parliament. Its construction was started by the country's former Communist dictator Ceaușescu in 1984 and wasn't completed until ten years after his death, in 1997. The building is the heaviest in the world and is second in size only to the Pentagon. But it's also a symbol of the suffering of the Romanian people under the rule of their former leader, which means it's a building of very mixed emotions for the residents of the city.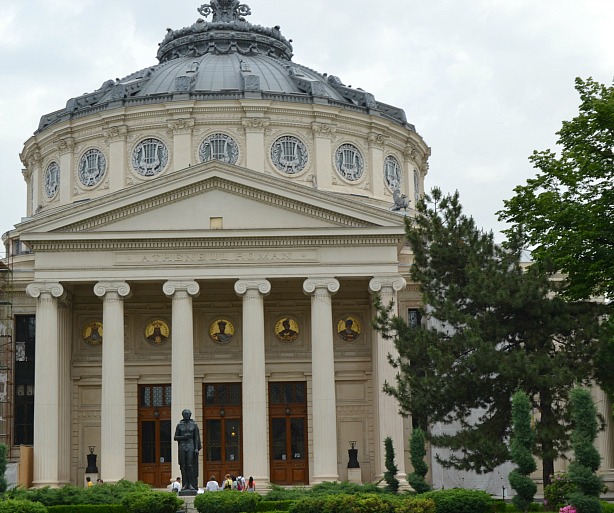 My personal favourite city spot, though, is the Romanian Athenaeum. This building is a treasure to the people of Bucharest and while it's not nearly as well-known as some of the city's other monuments, it is by far the one that the citizens hold most dear. It was built by the people with no sponsorship from businesses or government and is maintained by them to this day. If you knock on the door and ask nicely, you may be allowed to sneak inside and tour the building, possibly even as the orchestra is rehearsing!
Food Any Gourmet Will Adore
Of the many things that surprised me about Bucharest, the food was probably the biggest one. From traditional Romanian dishes to modern North American-themed meals, everything I ate in Bucharest had one thing in common…it was delicious!
For the best of traditional Romanian cooking, Lulu's Social Bistro is a must. Sample sumptuous dishes including traditional roast lamb, Romanian sausage, microgreen salad and more. My personal favourite was a sour soup, called Ciorba, made with a mix of fresh greens in a tangy cream broth. And after a single bite of Zacusca, I could see why so many Romanians mentioned their mothers and grandmothers buying baskets of tomatoes, red pepper and eggplant to simmer up this savoury spread.
Looking for more standard dinner fare? The Old Town in downtown Bucharest offers restaurants to suit every taste, from pizza joints to Italian bistros. Or for a truly decadent experience, visit the JW Steakhouse in the JW Marriott Bucharest Grand Hotel. The gourmet American steakhouse menu is pure decadence and sure to satisfy the most discriminating tastes.
For the perfect beverage with your meal, choose coffee over tea. Romania takes its coffee seriously; it's rich, dark and addictively flavourful. Whether you favour the Americano or a fancier latte, you're sure to love the quality of your drink. Or treat yourself to a shot of Tuica to stimulate your appetite! The traditional Romanian plum brandy packs a punch, so be careful!
A City Defined by its People
It's all too easy to fall in love with the shops, restaurants, museums and monuments when you visit Bucharest but in the end, what really makes this city unforgettable is its people. Their friendliness, resilience and desire both to share the best of their country and to make it even better will have any visitor wanting to come back again and again.
Want to connect with the people of the city while learning more about its history at the same time? Try a Bucharest Walkabout Tour! These free guided tours run every day and are staffed by volunteers with a desire to explain just what makes Bucharest so special. Not only is it a great way to visit all the must-see locations in the city, it also lets you learn about the history and the future of Bucharest from those that call the city home.
Or, head to the Main Square in Old Town every Saturday night to join in the Bucharest dance party in the streets! There's no better way to connect with the people of the city while also learning about its culture than by following along and learning some traditional Romanian dance steps, as well as various other dance styles. And best of all, it's tons of fun too! When the dance party is over, head out to one of Bucharest's many nightclubs to further enjoy conversation and interaction with the citizens of the city.
The Heart of Bucharest
Romania is a country that's seen more than its fair share of controversy, from the rise and fall of its monarchy to the disastrous rule of its power-hungry Communist leader to the eventual democratic government that still rules the country today, yet still struggles with corruption.
But through it all, Bucharest has stood strong and its people have continued to grow and share their history and culture with visitors from around the world. Whether you come for the food, the bustling nightlife, the architecture or the music, the people of Bucharest will be there to help you learn everything you want to know about a city that's sure to capture your heart!