My boys have always loved their special stuffed animal friends. From the giant duck my middle child found at a second-hand shop to the tiny husky puppy my oldest has had since he was a baby, their stuffies have been there through the years to cuddle them when they're sad, talk to them when they're angry and help them feel secure when they're scared.
But there's no stuffed animal friend quite as special as one that you make yourself. And that's why Build-a-Bear Workshop has long been a favourite destination for children of all ages in search of an extra special new best friend.
Despite my boys' love of plush toys, neither one had ever been to a Build-a-Bear Workshop before. So, when the company invited them to come create their own special Build-a-Bear, they were ecstatic. We headed to the Build-a-Bear Workshop in the Midtown Plaza in Saskatoon to see just what it was like to create a bear.
The Build-a-Bear experience starts with choosing an animal, because the store has far more than just bears available. Cats, dogs, and even Pokémon characters are all available to become best friends to lucky boys and girls. Both my boys chose classic bears; Zackary picked a fuzzy brown bear and Benjamin chose a green camouflage one.
Next, they added sound effects. They were able to use a computer to listen to available sounds and choose their favourites, then add that sound to a special squeeze-activated cube. My animal-loving eight-year-old chose a barking puppy dog for his bear when Jenn, our bear assistant, reminded him there were no rules when it came to making his bear. My oldest had spotted a Blue Jays jersey that had given him an idea of his bear's overall look, so he chose the Charge sports anthem.
Then came the fun part…filling up the bears to bring them to life! Benjamin was bouncing with excitement as he chose a heart for his bear and made a wish before putting it safely inside his bear. He loved being able to hug his newly stuffed friend to test the softness, and both boys also added an adorable pressure-activated heart that simulated a real beating heart when the bear was squeezed.
Jenn then sewed up each bear tightly and the boys fluffed and brushed their bears to perfection. With their new friends brought to life, it was time to find the perfect outfits. And Build-a-Bear Workshop had hundreds to choose from!
Zackary had already decided on the Blue Jays outfit for his bear. He also added a baseball glove, bat and ball, sports shoes and an adorable pair of sunglasses. He noticed the jersey number on the back, a one, and immediately announced that he'd come up with the perfect name.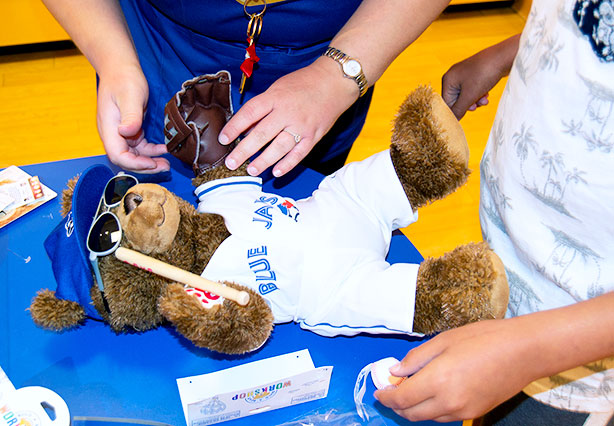 Benjamin, on the other hand, wasn't quite sure how he wanted to dress his bear. He looked briefly at the camouflage soldier's outfit, but decided that wasn't what he wanted for his bear. Instead, he chose the cute explorer's t-shirt and cargo pants. He added black combat boots, a camouflage jacket and a matching camouflage hat. Finally, he added a football for some outdoor fun!
With that, all the boys had to do was name their bears! Benjamin had named his "Camo" as soon as he picked up the unstuffed bear, and Zackary decided his bear would be "Raffy Lopez," the Blue Jays player that currently wears a number one! They filled out their bears' information, collected the birth certificates, recited the Bear Promise and gave a big "thank you" to Jenn for all her help. Both have been inseparable with their bears ever since!
Our Build-a-Bear Workshop trip was so magical for my boys, and Build-a-Bear wants every child to be able to experience that same magic. So, the company is hosting an incredible promotion in honour of National Teddy Bear Day that you won't want to miss! On Friday, September 8 and Saturday, September 9, kids can create their own limited-edition National Teddy Bear Day bear for just $5.50!
This cuddly bear is perfect for dressing up in a special outfit and even has a special National Teddy Bear Day patch on his foot. Visit the Build-a-Bear website to learn more, and don't forget to share your favourite Build-a-Bear memories on social media using the #NationalTeddyBearDay hashtag too!
Seeing my boys with their bears is something that's brought a smile to my face again and again. Benjamin loves dressing and undressing his bear, and will carefully fold Camo's clothing when he takes it off. My husband has jokingly noted that's something our son doesn't even do with his own clothes!
And Zackary has shown off Raffy Lopez (more often called Blue Jay Bear), to all his friends. According to our oldest, they delightedly exclaimed, "I didn't know Build-a-Bear had Blue Jays jerseys! I didn't know Build-a-Bear had sunglasses! I didn't know Build-a-Bear had sports gear!" Listening to my boys' excitement about their bears really made me appreciate the difference that Build-a-Bear Workshop's personalized touch makes to a child.
Whether you're new to Build-a-Bear Workshop like we were or your child has been before, make sure to mark your calendar to take advantage of the National Teddy Bear Day deal on September 8 and 9. It's an amazing way to let your child create a new best friend that will be loved for a lifetime!