One of the hardest things about having a baby is all the "stuff" that tends to accumulate as a little one grows. And that's why I've always been a huge fan of products that grow along with my children. Whether it's a car seat that converts to a booster or a crib that turns into a toddler bed, multi-use baby gear means more bang for my buck!
That's why I was thrilled when SmarTrike offered me the chance to review the smarTfold 500 7-in-1 tricycle. Not only is this ingenious trike appropriate for babies from 9 months to 3 years, it's also perfect for travelling! And with a trip to Europe being planned for this spring, I'm sure the SmarTfold will be essential.
The smarTfold starts off as a three-wheel stroller, featuring a secure five-point harness, leg rests, a safety bar and a sun shade. The stroller can be used as soon as a baby can sit up and fit the harness properly, and the three wheels make it easy to manoeuvre.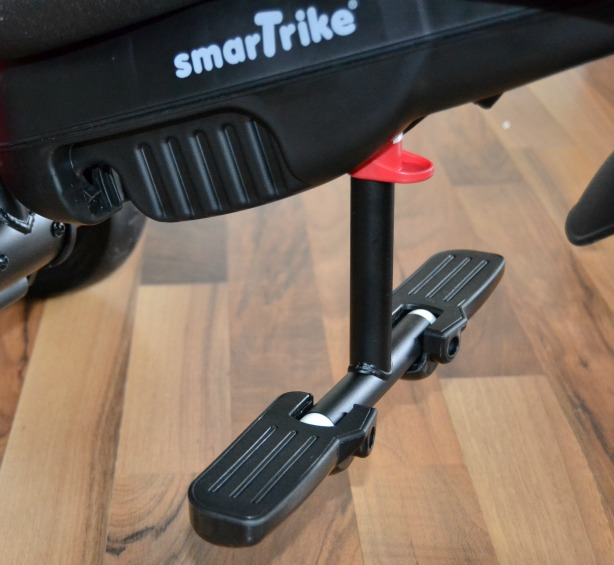 When Cormac grows a little, the back of the seat can be adjusted and the leg rest can be removed. My little one can then rest his feet on the fold-down foot rests built into the base of the smarTrike. The safety bar can be removed when appropriate as well.
When my baby is big enough to start pedalling, the included pedals snap into the front wheel to convert the stroller into a tricycle. The back handlebar can either be left on the tricycle so that a parent can lend a hand pushing the trike or moved down out of the way so that a little one can drive on their own.
While Cormac is still a bit too young to actually ride his smarTfold, that didn't stop me from setting it up and trying it in all its different configurations. And what really impressed me about this stroller/tricycle was how easily I could switch from one configuration to the next. I was a little intimidated by the smarTfold 500 at first, but transforming it was basically as simple as pushing a button.
And I absolutely adored how this smarTrike could be folded up to just 15% of its assembled size and rolled around for easy portability. Since we're all passionate travellers in this family, the smarTfold 500 will be ideal for every journey we make, from road trips to flights.
The newly designed smarTfold 500 7-in-1 Trike is available exclusively at Toys'R'Us for a retail price of just $229.99, and considering it provides years of use for a little one, I think the price is an absolute steal! If you're looking for a tricycle that will last for years and is easy to bring anywhere, look no further. The smarTfold 500 has all the functionality that you and your little one will need!