When it comes to cleaning, I'm always looking for ways to make the job easier. With two older boys and a newborn, the mess is nonstop and staying on top of it takes every trick in the book. Luckily, I recently discovered the best possible solution for cleaning my hard floors…get the kids to mop them!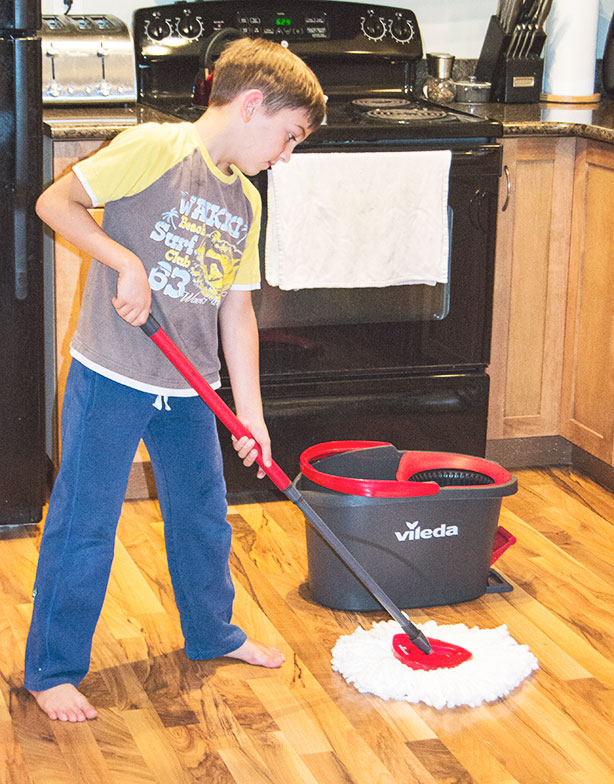 Of course, having kids do all the cleaning is an ideal solution for keeping the house tidy. But if a job isn't fun, a child will do everything in their power to avoid it. That's why I'm in love with a new product I was recently sent to review, the Vileda EasyWring. Using this innovative mop and bucket system is so much fun that my boys actually volunteer to mop the floors!
So, what makes this mop system different from others? It starts with the bucket, which features a built-in wringer and foot pedal for hands-free wringing. The foot pedal was what first attracted my boys to the mop system; they loved stepping on it to wring the water out of the mop.
Next, the mop's telescopic handle ensures that the mop is the perfect height for whoever is using it. Not being able to manage a full-sized mop is the biggest deterrent to my boys when it comes to helping with floor cleaning. This mop eliminates that concern and makes cleaning more comfortable for whoever is mopping the floors!
Finally, the mop's deep-cleaning microfibre head easily removes tough grime so that my boys' imperfect mopping technique still results in perfectly clean floors. I loved how well the mop cleaned up even tough spills, and the fact that the mop head can be cleaned in the washing machine up to ten times before being replaced made it a great eco-friendly choice.
Want to get your kids cleaning too? Vileda is very generously offering one lucky Mommy Kat and Kids reader their own Vileda EasyWring Spin Mop and Bucket System, a $40 value! To enter to win, just leave a blog comment about why you'd love to try this mop.
Of course, the Vileda EasyWring system is so simple to use that I don't mind mopping the floors myself either. But I like giving the job to my boys even more! Whether you have kids to help you clean or not, this mop and bucket are a great way to ensure your floors are cleaner quicker. Keep an eye out for a $5 off coupon in flyers this week, find the system at stores across Canada and take the hassle out of your floor-washing routine!