This is a sponsored post written by me on behalf of Mattel Canada. All opinions are 100% mine.
When my youngest brother was a toddler, he loved watching Thomas, the plucky tank engine, and his friends as the got into mischief and had adventures on the Island of Sodor. When I had my own boys years later, I had the chance to see how Thomas had evolved for a new generation with the debut of the Thomas & Friends series.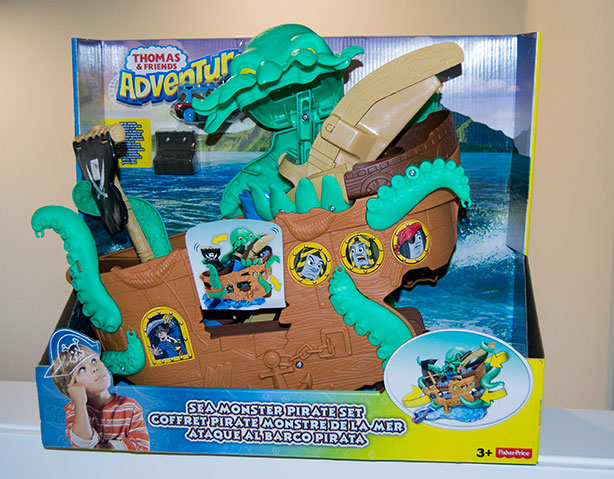 I'm sure that Thomas will continue to be a favourite for years to come, and that's why I was so excited to receive the new Thomas & Friends Adventures Sea Monster Pirate Set to review. My eight-year-old son loves creating stories with playsets and I knew he would have a blast with this one.
The set takes Thomas off the rails and onto the big blue ocean as he tries to evade a fearsome sea monster and win a chest of treasure. As the ship rocks back and forth, Thomas rolls to the top and triggers a switch that lets him roll away safely with the treasure following close behind.
Benjamin loved rolling Thomas up the ship and then seeing how far the engine rolled when the train finally made its escape. The chomping sea monster mouth added a touch of extra fun to the adventure, and had Benjamin making up stories as he rolled the train through the ship.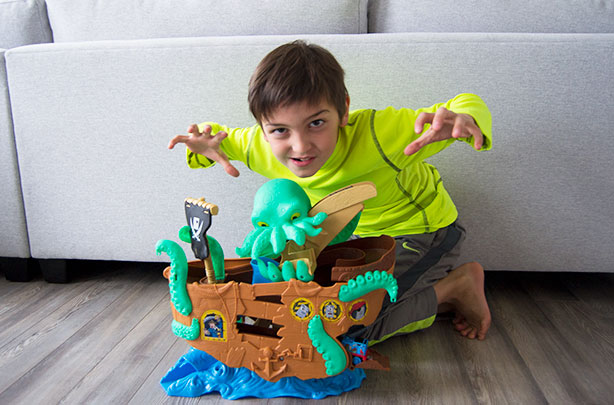 Personally, my own favourite feature was the hooks on the tentacles of the sea monster. Benjamin could use them to attach Thomas as if the monster had grabbed him. It added an element of danger to Thomas's adventure and really stimulated my son's imagination as he played with Thomas.
The Thomas & Friends Adventures Sea Monster Pirate Set is available at Walmart, Real Canadian Superstore, Toys "R" Us and Amazon. With the holidays approaching, it makes a great battery-free gift for your favourite little one! See all the See all the Thomas & Friends toys, pick a favourite and get ready for hours of fun and adventure with Thomas!