One of my must-haves for my boys when they were younger was a good balance bike. It helped to get them on the road to real bike riding all the sooner and since I love a leisurely bike ride, that was a priority for me!
Now I have a new little one and I can't wait until he's old enough to learn to ride a balance bike too. When that day comes, he'll be cruising in style on the Chillafish BMXie-RS Balance Bike I recently received to check out!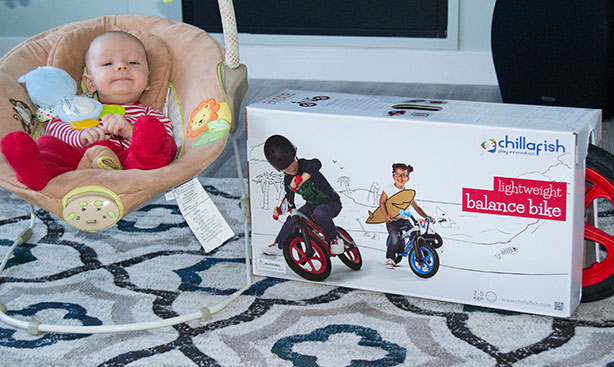 This balance bike has a fantastic lightweight design that I absolutely love, yet is still sturdy enough for children from 2 to 5 years of age. The BMX styling gives this bike extra cool factor, and the seat can easily be adjusted for different heights without tools.
My personal favourite feature of the bike is the extra accessories that let kids personalize their ride. From an included decal set to a detachable front number plate, it's so easy to give the Chillafish BMXie-RS added kid-friendly style!
Looking for something a little more versatile for your little one? The Swagatron 2-in-1 Scooter and Balance Bike makes a great first balance bike that doubles as a fun scooter for kids!
While Cormac can't use his balance bike just yet, I know he'll be cruising around on it in no time! And with the sturdy construction and fun look of the bike, I'm sure he'll be the envy of the neighbourhood! Check out the full line of Chillafish products on the company website and find the perfect ride for your little speed demon!