Ever since I was a child, Triscuit crackers have been my very favourite crackers. I love the crunch and texture of the whole wheat squares and I often have them with a few slices of cheese and some fresh veggies for a light lunch.
I'll always have a special place in my heart for the original Triscuits, but I also adore the different flavoured crackers that are now available. The Roasted Garlic Triscuits are perfect for a charcuterie board. And the Balsamic & Basil crackers have the most addictive tangy-sweet flavour.
So, of course, I couldn't wait to try the new Nutmeg & Cinnamon Triscuits! And when I was challenged to come up with a recipe using this festive new flavour, I decided to create a cracker-based candy that's perfect for gift giving: Chocolate-Dipped Cinnamon Triscuits!
The best thing about this recipe is how easy it is to make. Just melt the chocolate, dip the crackers and let them set. If desired, sprinkle them with vanilla sugar or sea salt for added crunch and flavour. Or drizzle the hardened milk chocolate with white chocolate to dress up the crackers even more!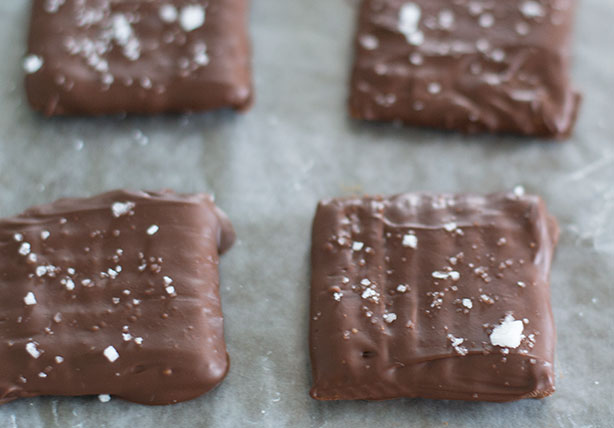 I actually created this recipe with regular Triscuit crackers as well, and their classic salty flavour is a great compliment to the sweet chocolate. But it's especially festive when made with the new Nutmeg & Cinnamon Triscuits and I can't wait to surprise my family with these fun crunchy treats this Christmas.
Even though the Nutmeg & Cinnamon flavours of these crackers are traditionally used for sweet treats, rest assured that the crackers are perfect for savoury foods as well! The spices are combined with a touch of salt for a cracker that's as versatile as it is delicious, no matter if you prefer your treats sweet or salty!
Nutmeg & Cinnamon Triscuits are only available for a limited time, so whether you want to try out this tasty recipe or add them to your next festive cheese tray, grab a box to try now before they're gone. Their fragrant blend of spices is sure to fill you with holiday cheer.
Chocolate-Dipped Cinnamon Triscuits
A unique sweet and salty snack perfect for holiday gift giving.
Ingredients
12

Nutmeg & Cinnamon Triscuits

3/4

cup

semi-sweet chocolate chips

1/4

cup

white chocolate chips

(optional)

1

tbsp

sea salt or vanilla sugar

(optional)
Instructions
Line baking sheet with parchment paper.

In microwave or small double boiler, use low to medium heat to melt semi-sweet chocolate chips, stirring occasionally until smooth.

Dip crackers into chocolate and place on parchment paper. When all crackers have been dipped, sprinkle with salt or sugar if desired and place in fridge to set.

Alternatively, chill crackers for approximately five minutes. Melt white chocolate chips and drizzle over crackers.
Recipe Notes
If desired, regular Triscuit crackers can be used in place of the Nutmeg & Cinnamon Triscuits.