When it comes to holiday baking, there are a few tried and true favourites that my family absolutely can't live without.
Benjamin always requests his favourite No Bake Chocolate Peanut Butter Bars. And Zackary and my husband are both fans of my foolproof Butterscotch Oatmeal No-Bake Cookies.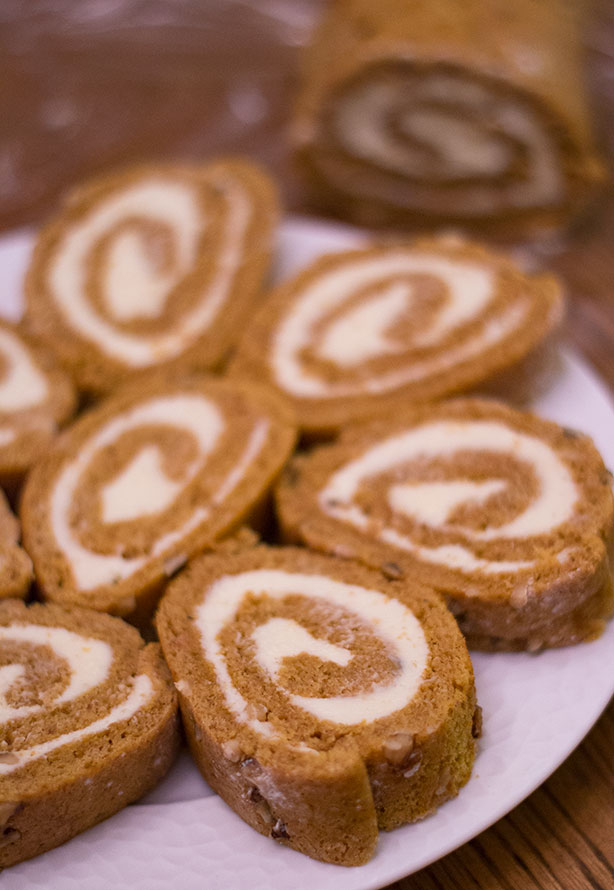 But personally, my favourite holiday treats must have my favourite holiday ingredient…Philadelphia Cream Cheese!
The smooth, tangy taste of Philly is good for so much more than just cheesecake. And that's why my holiday baking always includes this scrumptious Pumpkin Cream Cheese Roll. It's easy, looks fancy and tastes absolutely divine!
For me, the best thing about this roll is that it's so quick. With about half an hour of work and baking time, you'll have a tasty treat the whole family will love.
Of course, the rolled cake does have to cool before being filled, so make sure to factor that time in as well. In a pinch, popping it in the fridge will have it ready to unroll and fill in no time.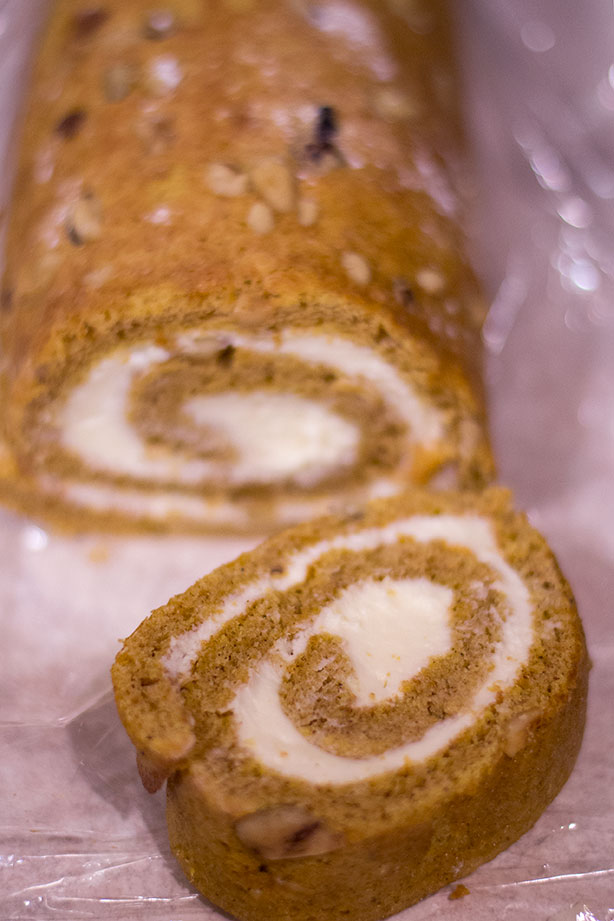 I've often made my Pumpkin Cream Cheese Roll without walnuts as well, so if you're cooking for somebody with nut allergies, just leave them out.
The roll looks just as pretty without them, and will still wow with its creamy Philly filling.
If you just can't get enough cream cheese, try this potluck-sized Cookies & Cream cheesecake, too! Cut into small squares, it's the perfect addition to a holiday baking tray.
But whatever you decide to whip up, Philly is a great way to make sure that your desserts are a hit.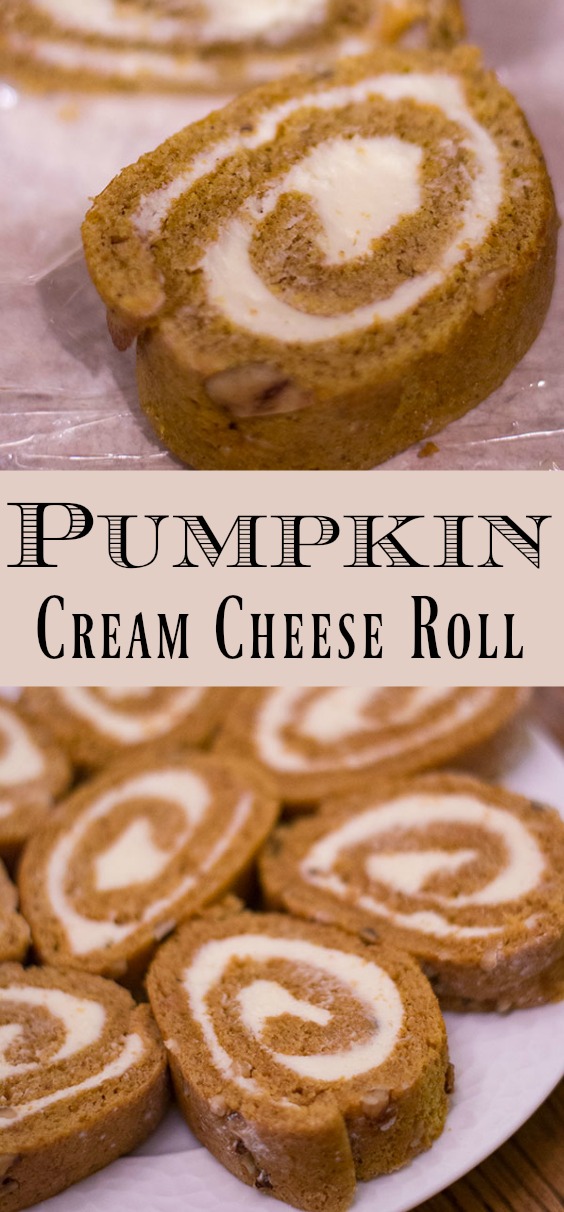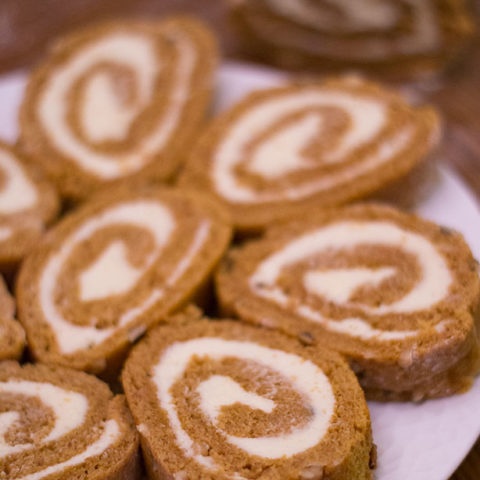 Pumpkin Cream Cheese Roll
An easy and impressive pumpkin roll cake with a scrumptious cream cheese filling
Ingredients
Cake
1/4 cup powdered sugar
3/4 cup flour
1/2 tsp baking powder
1/2 tsp baking soda
1/2 tsp cinnamon
1/2 tsp cloves
1/4 tsp salt
1 cup granulated sugar
3 large eggs
2/3 cup pureed pumpkin
1 cup chopped walnuts, optional
Filling
1 package Philadelphia Cream Cheese, softened
1/3 cup butter, softened
1 tsp vanilla extract
1 cup powdered sugar
Instructions
Lay out clean kitchen towel and sprinkle with powdered sugar.
Grease a 10"x15" jelly roll pan. Line pan with parchment paper, then grease and lightly flour the paper.
In small bowl, mix flour, baking powder, baking soda, spices and salt until fully combined.
In large bowl, beat together eggs and sugar. Slowly beat in pumpkin. Add dry ingredients and mix until fully combined.
Pour batter into the pan and spread evenly. Sprinkle with walnuts if desired.
Bake at 350 degrees for 12-15 minutes.
Turn hot cake onto the towel, carefully peeling off parchment paper.
Roll up cake and towel together. Let cake cool completely, about 30 minutes.
Meanwhile, prepare filling by beating Philadelphia cream cheese and butter together until light and fluffy. Beat in vanilla and icing sugar until smooth and creamy.
Unroll cooled cake and spread with the filling mixture. Roll up cake with filling on the inside. Wrap in plastic wrap or foil.
Refrigerate or freeze. To serve, cut cake into 12 slices.
Nutrition Information:
Yield:

12
Serving Size:

12 slices
Amount Per Serving:
Calories:

295
Total Fat:

15g
Saturated Fat:

6g
Trans Fat:

0g
Unsaturated Fat:

9g
Cholesterol:

67mg
Sodium:

203mg
Carbohydrates:

37g
Fiber:

1g
Sugar:

29g
Protein:

5g